Cancun is widely known for being one of the world's top beach destinations. And as people increasingly want to invest in real estate outside of the Western world, Cancun is an obvious real estate investment destination as it is an easy flight away from North American and European cities.
I understand the appeal. It's possible to find affordable housing, there are amazing beaches, and Cancun International Airport is right around the corner, which happens to be Latin America's 4th largest by passenger volume (after Mexico City, Bogota, and Sao Paulo). Almost 15 million (mostly tourists) pass through its terminals every year, and it boasts even more direct connections to Europe than Mexico City.
What's not to like?
If we're being honest from an investment point of view, quite a lot.
In this article I will lay out my thesis as to why I would not make an investment in Cancun real estate, and suggest what I believe are better alternatives.
To be clear, this article is not meant to be a hit piece on Cancun. I spend of lot of time in the Riviera Maya, obtained residency here, and occasionally go to Cancun to enjoy the lovely beaches. I like Cancun, but not to make a real estate investment there.
1. Cancun represents the past
Cancun was first started as a Mexican government project to develop the country's Caribbean coast. The first hotels were public/private partnerships with full support from the central government, and it was a raging success. Over the years Cancun has cultivated a reputation for being the go-to destination for all-inclusive vacations, beautiful beaches, and Spring Break.
However, this success came at a cost which is now evident.
Cancun was overbuilt and everything now looks old and outdated.
All along the hotel zone, which is prime Cancun, most of the buildings look like they were built in the 80s and 90s and there is nothing premium about it anymore. Compare this with Tulum or Playa del Carmen architecture and the difference is glaring.
2. Cancun is not suited for Digital Nomads and people who want to live there full time/ part time – which means missing out on a large real estate investment growth story
Cancun represents a formula that did great in the past. You fly in, get shuttled to some all-inclusive resort, book activities, and then fly out a week later. As real estate investors it is hard to tap into this market. We can just try to target the side Airbnb game.
However, Cancun is absolutely unsuitable for Digital Nomads and people who want to move down to Mexico for a few months per year or even full-time, as everything is centered around all-inclusive resorts that guests never need to leave except to go on day excursions or to get drunk in a club.
Why is this particularly important?
Because a large percentage of the future growth in the Riviera Maya will be based on Digital Nomads and people who move full-time from North America and Europe for a variety of reasons.
The reality is that a two-hour flight away from Cancun is a massive market of high-earning Americans who simultaneously realized a few things:
They can work almost entirely remotely.
They can work from abroad, thus leaving behind an increasingly toxic environment. This perception of toxicity applies to Americans of all political stripes.
They can live a cheaper, nicer life abroad and in many cases can save on taxes if structured properly (feel free to get in touch with my tax consultants here)
Millions of Americans have either reached these conclusions, or soon will. The same goes for Canadians, and Europeans who will seek to escape troubles on the continent.
We can expect a lot of cost-of-living refugees as well as Westerners increasingly struggle to make ends meet due to inflation.
Many trends points towards millions of North Americans and Europeans moving to lower cost countries with better weather over the coming decades.
Cancun is not a good market to capture them. Who wants to stay in a town centered around all-inclusive resorts when there are so many other options?
3. Cancun has zero walkability and bicycle friendliness
Cancun has a fair amount of traffic, and it is not pleasant to go experience on foot. You need to either own a car, or take a taxi everywhere as public transport is of very poor quality. If you're a tourist for a week in an all-inclusive resort, it's not an issue. But if you're a tourist in an Airbnb, or wish to live there for a few months, this sort of logistics is extremely disappointing.
Compare this to the likes of Playa del Carmen, which is extremely walk-able, and Tulum which prides itself on the amount of cycle lanes it is building everywhere. It's easy to see why people will much prefer these two destinations.
At the end of the day, people don't want to take a taxi to go to the beach. They want to walk there in peace, or cycle there. If they do have a car, God bless them, but they will struggle to find parking in Cancun.
As a real estate investor, my investments in Playa del Carmen and Tulum will be more aligned with the general trends.
4. Cancun has a bad layout / Cancun Real Estate Investment heat-map
It's like buying a condo with a crappy layout, it might look like a good deal at first but you always get punished in the end. Here's a heat map of Cancun real estate investment areas.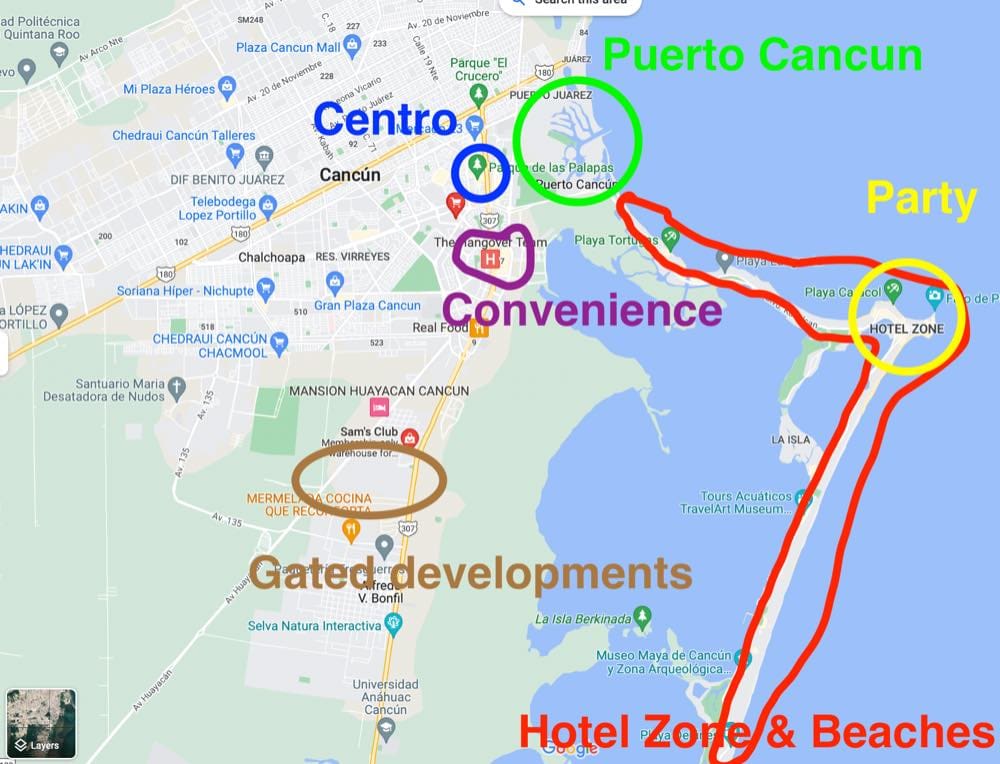 Hotel Zone & Beaches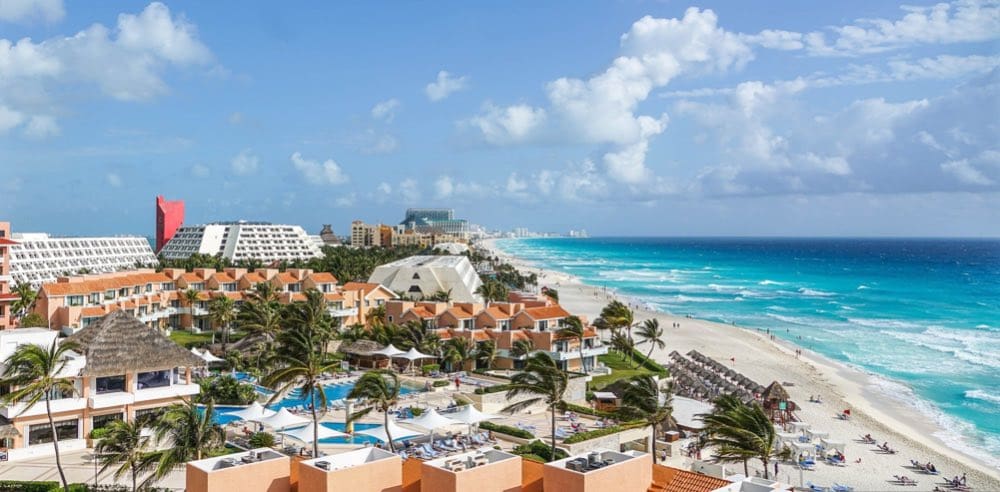 This is where all the hotels and beaches are located / the beating heart of Cancun. The only issue is that it's a very long stretch, parking is tough to find, the buildings all look a bit old and there aren't actually that many apartments to invest in. It's simply not a very investable area.
Party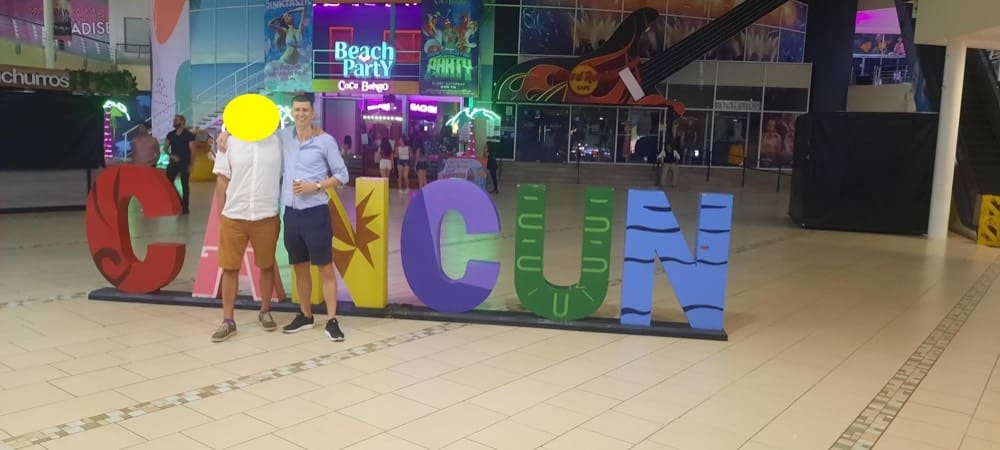 Cancun is known for its parties, and this is where they take place. You invariably need to drive here or take a cab.
It's a fun, rowdy place. But not much real estate around.
Centro
This is the historical center of Cancun. It's where the locals go partying, and there are quite a few restaurants and bars. However, it is quite run down, and you are far from the beaches. It's one of the only walkable areas, but it's not particularly pleasant.
Convenience
If you want to stay in an area that is a bit walkable, with good amenities, you want to stay here. You'll find shops, banks, restaurants, a few bars, etc. What's the catch? The beaches are far, everything was built in the 90s, and it's essentially a large mall. So if you like living a life that revolves around a 90s mall, you'll like it here.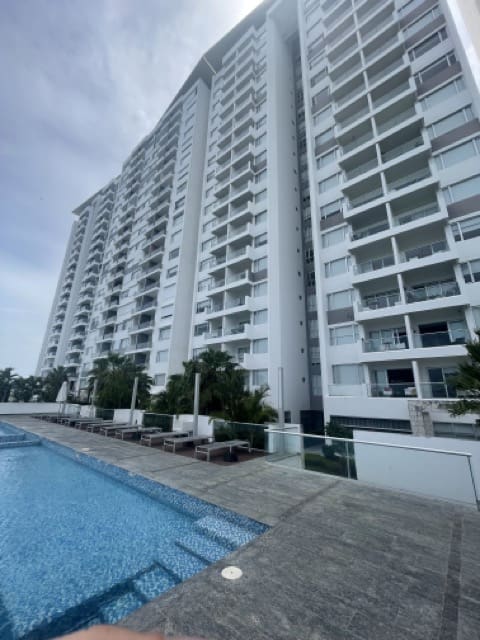 There are decent condos to be found, with nice views. But again, they are attached to a 90s mall. This whole area is about the "mall life".
"Gated developments" do not make for a good real estate investment in Cancun
This area has a number of high-end luxury developments with lovely homes, condos, and triple A amenities. There is absolutely nothing wrong with these communities from a lifestyle point of view, but I cannot make the case for them from an investment point of view.
Why would people rent there short term? It's far from the beach. Additionally, the long term yields in such high-end communities are invariably low due to high HOA (Home Owner's Association) fees.
Finally, they are questionable long-term investments as the value of these communities depreciates over time in an accelerated manner. There is always a newer, better, cooler community being built somewhere.
Lifestyle? Yes. Investment? No.
Puerto Cancun
This is an interesting case study. This whole area is being developed as a massive luxury development, which a new mall, high-end restaurants, luxury towers, a marina, etc. It is objectively very nice.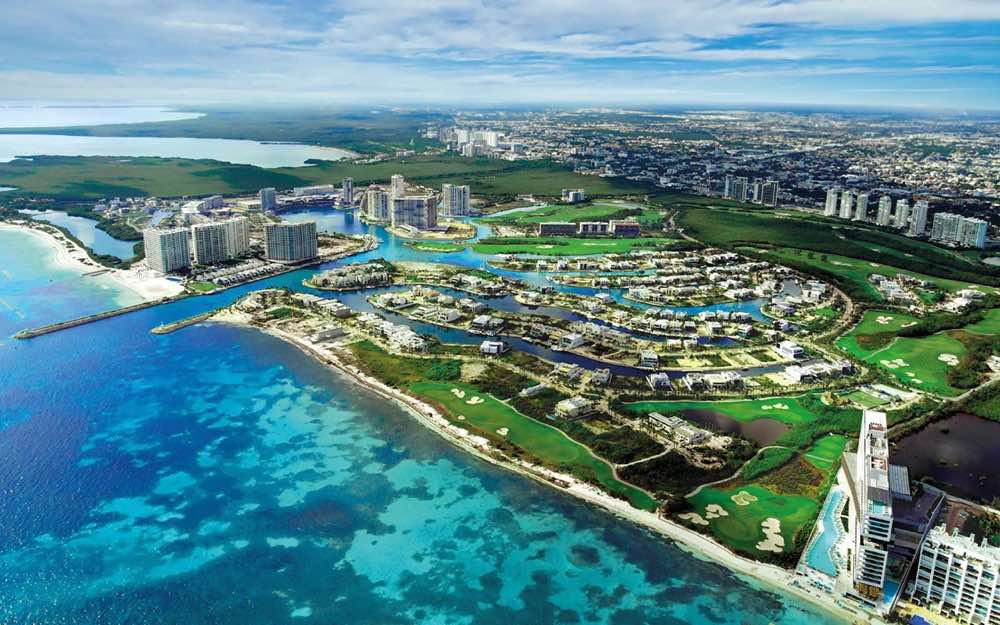 Very high-end
There is absolutely nothing wrong with Puerto Cancun. If I had to live in Cancun, this is where I would choose to live. My issue with Puerto Cancun is that I don't see good rental yields or long-term capital gains.
The prices are already way up there – between $5,000 and $10,000 per m2 ($450 to $900 per ft2). This here is an example of one of the developments. It's objectively very nice, but there's a catch.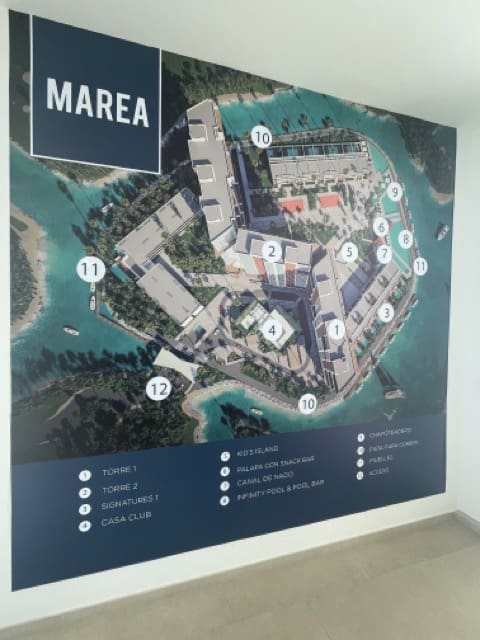 The Mexican dream
The thing with Puerto Cancun is that over 95% of sales are to Mexicans. In many ways this is healthy as there is local demand, as opposed to international demand. However, looking at the psycho-demographics there is a case to be made that such real estate makes for a bad investment.
People who buy such expensive Puerto Cancun real estate are mostly rich people from Mexico City and Monterrey as well as a few narcos. The game here is all about having an address at Puerto Cancun, and being able to tell people you own property there. The vast majority of apartments are used for lifestyle wherein owners jet into Cancun airport to stay in their Cancun pads for a few days before flying off again. For locals, the purpose for buying such an apartment is rarely about ROI or capital gains, it is mostly about showing off.
Most buildings in Puerto Cancun don't even accept Airbnb rentals, so it is quite restrictive. A case could be made for investing in the few that do allow it, but they come with very heavy price tags.
Overall, I feel that the "capital gains" are made by the developers rather than the investors. So yes Puerto Cancun is lovely, but I don't think it's a worthwhile real estate investment.
5. Because the growth story is elsewhere
The Mexican government is now doubling down on the Riviera Maya. It is building a whole railway system linking Cancun to the rest of the Southern coast and Yucatan. People call it the "Maya train" as it'll cover all the main tourist attractions such as nice beach towns, airports, Maya ruins, and colonial cities such as Valladolid and Mérida.
It's not just a far-fetched plan; it's actually happening. I saw some of the construction and building myself. There are some hiccups due to environmentalists wanting to stop the economic development, but the first stations will be operational from late 2023.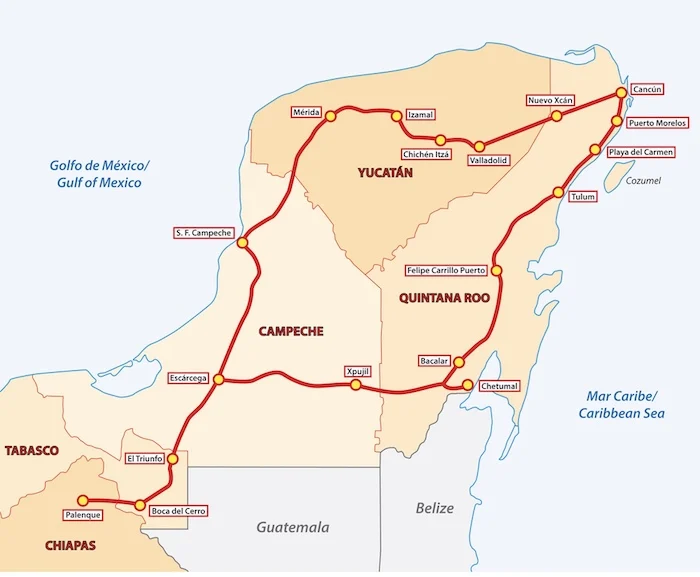 Additionally, the government is working on a second international airport in the region, in Tulum.
The airport should be operational within a few years (constant delays), and will be an hour's drive away from Playa del Carmen. There will be direct flights to Chicago, Dallas, Panama, Mexico City, etc.
So while the Riviera Maya development story is good news for Cancun, in many ways all the development is happening AWAY from Cancun. What made Cancun particularly interesting historically is that it was right there, next to the airport, which was unparalleled from an access perspective.
But from here onward, with the new international airport and train network, other destinations will become more accessible at Cancun's expense.
6. Because Playa del Carmen and Tulum have much stronger real estate investment theses than Cancun
I just cannot think of any reason why Cancun would be a better real estate investment than either Playa del Carmen or Tulum. Both have major catalysts in tow, and offer the sort of lifestyle that people are looking for nowadays (walkability and cycling), as well as much nicer architecture.
Anyone who is looking at making a real estate investment in Cancun should rather be looking at these other two cities. Feel free to read my real estate investment guide on Playa del Carmen, and my real estate investment guide on Tulum.
Again, I am not saying Cancun is a bad place; I like it, and the beaches are amazing. I just would not make a real estate investment in Cancun.
If you want to read more such articles on other real estate markets in the world, go to the bottom of my International Real Estate Services page.
Subscribe to the PRIVATE LIST below to not miss out on future investment posts, and follow me on Instagram, Twitter, Linkedin, Youtube, Facebook, Rumble, and Odysee.
Available services in Mexico:
Articles on Mexico:
My favourite brokerage to invest in international stocks is IB. To find out more about this low-fee option with access to plenty of markets, click here.
If you want to discuss your internationalization and diversification plans, book a consulting session or send me an email.