When I mention investing in historical buildings in Kyiv, I often get a strange look.
Just look at this beautiful chart of:
a crash
followed by
a few years of consolidation and an uptick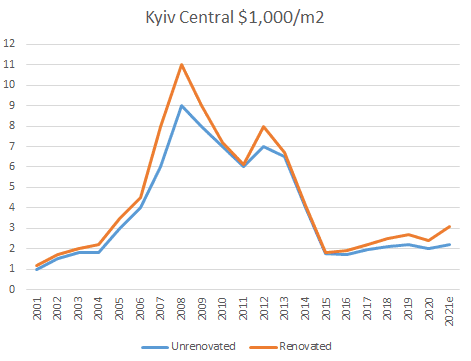 Agricultural exports have been booming as well. Though this must be counterbalanced with the fact the country has a significant energy issue with Russia likely to reduce gas transits through Ukraine once Nord Stream 2 goes live.
Real Estate prices have been gradually going up, but high rental returns are still the norm. You can get anywhere between 7% and 23% gross rental yields depending on the type of real estate you invest in, and the size. In a leverage-free market, the more you invest, the higher the returns.
Cash is king in Ukraine.
Counterintuitively, there is not much construction going on in Kyiv. The reality is that there is barely any leverage in the market, so all projects have to be financed with cash. The result is that the rental market is extremely tight, and is not about to become any looser.
I love historical buildings in Kyiv
There are a few types, such as buildings from Tsarist times, and quality Soviet buildings.
When buying real estate in old European cities, I like to own a piece of their history.
This is what John does. Not only does he manage a fund (videos here, here, and here) focusing on Kyiv real estate, but he also helps individuals invest in Kyiv historical buildings.
In this video, he took me to one of his projects in a historical building, in one of Kyiv's best neighbourhoods, that is currently being rented out to an EU embassy. You can watch the video here.
"But what about the Russian invasion?"
Nobody in Kyiv, apart from clown politicians, seem to care. People have heard this over and over for the past few years. Even if there was an escalation of the current issues, it is unlikely they would hit Kyiv in any significant way. If anything, it might send a wave of new internal migrants to the capital.
I won't play the prediction game though. Clowns will be clowns.
But, what I do know is that Ukraine has already seen war, revolutions, devaluations, and real estate prices did not go below a certain level (see chart). We are barely above those levels, so downside is fairly limited.
As there is hardly any leverage in the system, when you buy real estate in Ukraine, you buy an actual hard asset. Buying real estate in Western countries is a different ball-game.
In many ways real estate in Western markets has partially become a financial asset.
Not in Ukraine.
So what you get when you invest in a historical building in Kyiv is:
A true, hard asset
A piece of history that is a pleasure to own
High rental yields with a very tight rental market
Potential for capital appreciation
If you structure things properly, Ukrainian permanent residency
But yes, such an investment is not for everyone. One has to be able to stomach, and afford, political and economic volatility. Ukraine is never a smooth ride. Mouth-watering returns are not risk-free.
Make sure to subscribe to John's free mailing list on Kyiv real estate
It great. He sends regular reports and analysis on the Ukrainian economy and the Kyiv real estate market.
You can sign up to it here. You can also send John an email: jdsuggitt@gmail.com. He only takes clients willing to invest at least $250,000.
If your budget is smaller, Alex is an option.
To a World of Opportunities,
The Wandering Investor
Articles on Ukraine:
Available services in Ukraine:
If you want to read more such articles on other real estate markets in the world, go to the bottom of my International Real Estate Services page.
Subscribe to the PRIVATE LIST below to not miss out on future investment posts, and follow me on Instagram, Twitter, Linkedin, Youtube, Facebook, Rumble, and Odysee.
My favourite brokerage to invest in international stocks is IB. To find out more about this low-fee option with access to plenty of markets, click here.
If you want to discuss your internationalization and diversification plans, book a consulting session* or send me an email.
*a consulting session is a discussion about your portfolio and objectives. It does not constitute legal, financial, tax or investment advice.