Video: Investing in Airbnb multifamily housing in Bogota, Colombia
I've been a few times to Bogota, the bustling Colombian capital city of over 10 million people. In 2021 I made a video with my friend Arcesio showing a typical investment in student housing. The numbers were not particularly attractive. However, there are opportunities in Airbnb multifamily units.
Bogota suffers from an oversupply of individual units for sale and the real estate market is not doing great. However, as it's a low liquidity market with hard access to mortgages, if you arrive with a decent amount of cash you can make interesting deals.
Arcesio & I ran the numbers for an interesting project, which is already permitted (which is a big deal). Essentially, you'd buy a house, tear it down, and build an entire multifamily unit building comprised of 16 Airbnbs and two retail outlets.
The total outlay is reasonable, about $650k, and the investor can expect double-digit net yields before income tax.
Such is the Power of Capital
Bogota, with a large middle class of investors who typically like to invest in real estate, is flooded with small investment properties that locals can afford to purchase without leverage.
However, due to this relative lack of easily available capital, if you invest more important sums of money into pure investments, you can expect higher returns. You can also read my written report on investing in Bogota real estate or get in touch with Arcesio.
Personally, I am in the process of buying a penthouse apartment in Medellin with a partner. I'll give an update on this at some point.
To a World of Opportunities,
The Wandering Investor
Subscribe to the PRIVATE LIST below to not miss out on future investment posts, and follow me on Instagram, Twitter, Linkedin, Youtube, Facebook, Rumble, and Odysee.
My favourite brokerage to invest in international stocks is IB To find out more about this low-fee option with access to plenty of markets, click here.
If you want to discuss your internationalization and diversification plans, book a consulting session or send me an email.
Articles on Colombia:
Other services in Colombia: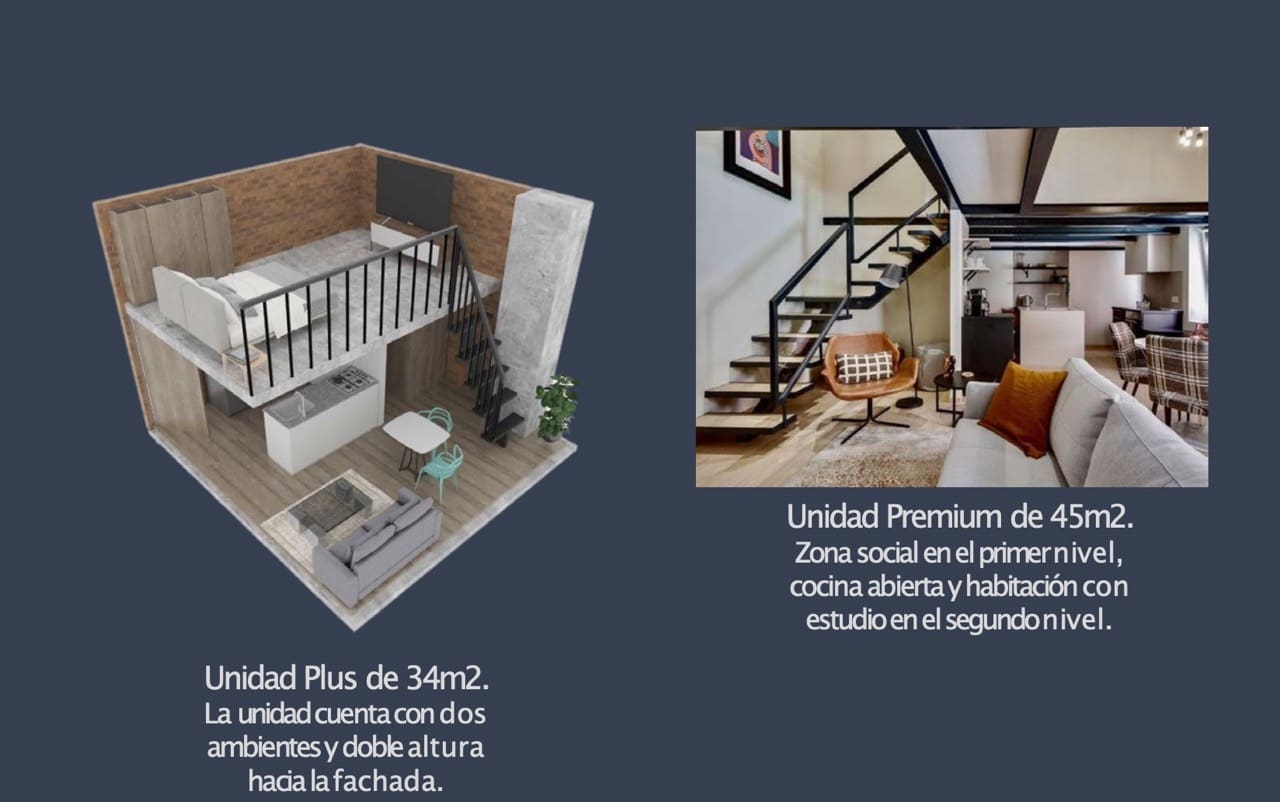 Transcript of "Double-digit yields in Bogota for Airbnb multifamily units"
LADISLAS MAURICE: Hello, everyone. Ladislas Maurice from thewanderinginvestor.com. So today, I'm in Bogota with my friend, Arcesio. Arcesio, how are you?
ARCESIO: Hi, Ladislas.
LADISLAS MAURICE: Great. So what is interesting, so we're going to be looking at a really unique project, is that, for only $650,000, it's possible to buy a plot of land, build a five-story building consisting of 16 Airbnb units and two retail outlets, to essentially have control of the whole building. And you can put all of that on Airbnb for only $650,000. And the cash flow numbers are quite attractive. So we did an analysis, last year, of the Bogota real estate market with Arcesio. And looking at individual apartments, it's hard to find very interesting deals from a cash flow point of view. But when you actually go and buy an entire building, or build, rather, an entire building based on Airbnb-specific specs, then that's how you can get very interesting cash flow for not that much of an outlay.
Investing in the neighbourhood of Galerias in Bogota
So Arcesio, we see the building, we're going to go into the specifics of the building in a bit. Can you, please, tell us about the neighborhood? Why this neighborhood? Because it's not the most premium area of Bogota. It's not a bad area at all. It's upper middle class. But can you tell us a bit about the area?
ARCESIO: Yes, exactly, we're talking about upper middle class area. It's in the neighborhood of Galerias. It's in the localidad of Teusaquillo. It's a neighborhood that is middle disposable income. There is a lot of commerce. It is located around Calle 51 with 18, which is right a few blocks down from the center of Chapinero, which a lot of foreign people know. It is a neighborhood that has two main roads, we're talking about La Caracas, where the metro is going to be constructed.
LADISLAS MAURICE: When's the metro going to be constructed?
ARCESIO: It's probably going to end around 2028. So it's fairly soon. And we have like Carrera 30, which is one of the main roads of Bogota. So we have like a sandwich between La Caracas, where the Metro is going to be, and La Carrera 30, which are two major roads in Bogota. A little bit more about the neighborhood. The neighborhood is a mixed area, in general. It has commerce, it has residential, it has office space, it has a mall. We have the stadium that is the biggest soccer stadium in Bogota. And we also have like a concert area that is called Movistar Arena, major concerts come here.
LADISLAS MAURICE: I think, and that's really important for the investment case, is that, essentially, though it may not be the best area in town, it's located right next to all the big games are being played, where all the big concerts are happening as well. So whenever you have an American artiste coming down, or a famous reggaeton artiste coming down to Bogota, they invariably go to this location. Same thing when the Colombian national football team plays, it's right there in this location. So it ensures a steady stream of people for the Airbnb operation.
Definition of estratos in Colombia
ARCESIO: Exactly, that's true. And in general, it's like, if we look at estratos, which, in Colombia, is like, to a certain degree, like income levels, so we have from estrato 1 to estrato 6 in Bogota, this would be like estrato 4, which is a middle upper class, what we have in that neighborhood.
Specs of the Airbnb building
LADISLAS MAURICE: Cool. So we're going to go into all the numbers in a bit in terms of profitability, line item by line item. First, let's discuss the building. Can you give us details, Arcesio?
ARCESIO: Yes, we're going to have a building that is a five-storey building. We're going to have 16 units, 16 apartments of 23 square meters. On the first floor, we're going to have two retail outlets. One is going to be around 20 square meters, and the other one is going to be probably around 30 square meters.
LADISLAS MAURICE: Cool. So for the apartments, in square feet, that's approximately 250 square feet per apartment, so small apartments.
ARCESIO: Exactly. In particular, we have, on the second floor, we're going to have a height of three meters from floor to ceiling. And the plus, on this building, is that we're going to have, on the floors three, four, and five, that's what we call here double height, which is around 4.2 meters from floor to ceiling. This will let us do a mezzanine on the apartments, and we can increase the usable area. We can go from 23 square meters, or 250 square feet, to 34 square meters or 45 square meters.
LADISLAS MAURICE: Cool. So there's potential upside there. Also, the neighborhood is becoming better, we're seeing new buildings pop up right across the street. You were showing me there's a building that's going to be demolished, they're going to do the same thing, a five-storey building for residential. So the area is becoming better. So there's a bit of upside from that point of view, both from the area and from the actual structure of the units where you can increase.
Bogota and capital appreciation
Now, do I think that Bogota is going to bring a lot of capital appreciation in USD terms, just in terms of the overall market? Personally, I don't quite see it because the currency is always going downhill. But then again, that's why when you invest here, you want to run with an Airbnb operation, because you can always adapt your pricing and you're not stuck into long-term leases with local tenants. So that's really the very attractive feature of such an investment. Can you tell us about the rooftop as well?
ARCESIO: Yes. The rooftop of the building is going to be a common area, because you're going to have a jacuzzi, you're going to have a small gym, you're going to have a barbecue, and it's the right place to enjoy a nice Sunday, a nice Friday night. I mean, it's very amenable.
Case study of Airbnb investment building in Bogota, with exact numbers and costs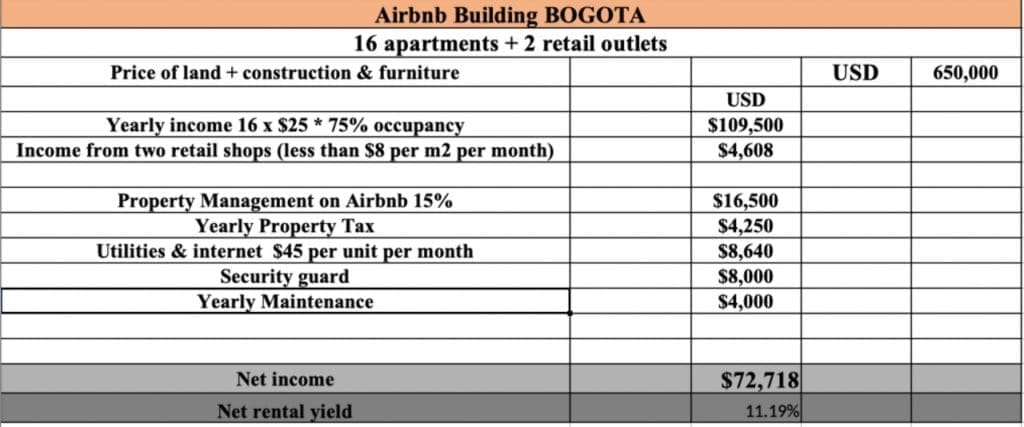 LADISLAS MAURICE: There's a bit of a gap in this whole area in terms of nice amenities for buildings for the short-term market. So having this is definitely a plus on the market. Cool. So Arcesio, so we understand the neighborhood, we understand the building. Let's go into the numbers. So these units, assuming that we just leave them at 23 square meters, that we don't build the mezzanines, how much do you expect we can rent them out per night?
ARCESIO: We expect to rent them out around $25 per night.
LADISLAS MAURICE: So we're going to be giving all the numbers in dollars because the currency fluctuates a lot in Colombia. But yeah, $25, we went through Airbnb, we really looked at the area, we compared with the competition, etc., $25 per night is an absolutely fair price. So $25 × 16 × 365 days, and what occupancy rate did you go for?
ARCESIO: We can go for 75% occupancy.
LADISLAS MAURICE: Seventy-five percent occupancy. Again, because these are units that are relatively affordable, we would be able to get a higher than average occupancy rate. So 75% is essentially in the average. But, overall, it's a fairly conservative number for such low-price units. Great. So this gives us almost $110,000 of gross revenue in terms of the Airbnb operation. What about the two retail outlets? How much do you think we can get from that?
ARCESIO: Well, the two retail outlets at a very conservative price, we can probably get around $4,600 per year out of both of them.
LADISLAS MAURICE: Cool.
ARCESIO: Being very conservative.
LADISLAS MAURICE: Cool, great. The commercial market isn't doing fantastic in Bogota. It took a hit after the whole virus situation. Now it's coming back to life. But essentially, the numbers that we put are conservative, they're below the market rate to ensure that we can get some tenants. And also we have to be very selective in terms of the type of stores, we want to not devalue the building.
ARCESIO: Yes, we can have maybe a cafe, which is very common and it's very good for the same tenants. We can have a small restaurant. I mean, there are many, many possibilities.
LADISLAS MAURICE: Yeah.
ARCESIO: Even a pharmaceutical store, it's good for the neighborhood. It's easy.
LADISLAS MAURICE: So what's the property tax, roughly?
ARCESIO: Okay, the property tax is going to be around $4,250 per year. We will know that when the building is finished and priced by the local municipality. But that's a very close estimate.
LADISLAS MAURICE: And what's interesting here is that roughly the income that you get from the retail outlets is roughly the same as the property tax. So essentially, taking into account inflation, blah, blah, blah, they'll be cancelling each other out over the years. So really what you own is an Airbnb building with 16 units, with two retail outlets that essentially cover your property tax. Cool. What about Airbnb management?
ARCESIO: Airbnb management will be usually they charge around 15%, that's what the company will charge. Or, they go 15% to 20%, but you're going to offer a whole building, you can probably get a deal for 15% of the income. You know that Airbnb includes cleaning fees, so that's very interesting for this kind of deal, too.
LADISLAS MAURICE: Yeah, because essentially, the cleaner that is being paid by Airbnb guests is also going to be taking care of the common areas. So you essentially get a free cleaner for the common areas as well. Great. So what about utilities, roughly?
ARCESIO: When we're looking at utilities, we're looking at natural gas, we're looking at water, we're looking at trash services, we're looking at energy. We're talking about $8,640, approximately, per year. It could be a little less because of the estrato 4 that is in the area.
LADISLAS MAURICE: Yeah. And that includes the internet numbers as well. Again, the advantage when you have the whole building, you can go to the internet company, you can negotiate a better price. And like you say, for the bills in Colombia, the utility bills become more expensive as your area is classified as richer. So with estrato 4 being right there in the middle, the utility fees are not too high at all.
ARCESIO: Exactly. So we're going to have very competitive utility fees.
LADISLAS MAURICE: Cool. And then we also need, so during the day, we were talking about this, you said that it would be just normal security, people come in with Digi codes or with keys. But at night, a security guard is probably recommended. Correct?
ARCESIO: Yes, it is recommended. I mean, most of the houses there don't have a security guard. The buildings, some of them have. So it would be recommended maybe only at night. So we only probably one shift. And we can check the cost of the guard could be around $8,000 per year.
LADISLAS MAURICE: Cool. So that's really depending on the investor, whether he or she wants to have a security guard at night. So it's really up to people to decide. And then in terms of maintenance, you put an allowance in there?
ARCESIO: Yes. The maintenance will be around $4,000. We are taking into consideration that it's a new building, so there won't be much to fix. There will also be some warranties from the builder. And so it will be small details, we think that around $4,000 is more than enough.
LADISLAS MAURICE: Yeah, so $4,000 is putting a bit of fat in the numbers. But essentially, there's a lot of a lot of buffer here. So overall, we had a total turnover of $114,000 per year. And the net, once we reduce all the expenses, with an occupancy rate of 75%, we are down to almost $73,000, right? And the total investment to buy the land, build the building is $600,000. And we had taken into account about $50,000 for furniture, and decorations, and all of that. So the net rental yield is approximately 11% with all these figures being conservative.
ARCESIO: Yes, these are very conservative. I think we can go a little bit higher on the tariff. For Airbnb, it's really competitive tariffs. And if we increase the usable area of the apartments, we can probably rent a little bit higher, too, so with a small investment. So we can definitely increase the yield.
Who is the target market?
LADISLAS MAURICE: And who would be the guests?
ARCESIO: The guests will be locals and foreigners. This area, there is a foreign population, but there is also people that come from other cities, from our towns, they come to see a game, they come to see a concert, they come to do a treatment in a hospital. They want to be in Bogota in a not very expensive but a safe area. I mean we have multiple options. It's close to main roads. Or, sometimes, they want to be close to their family, their family lives in Galerias. So there are many, many options to get the clients, the tenants.
LADISLAS MAURICE: And I think this is also what makes this investment rather unique, is that when I was looking at Airbnb apartments, for example, in Medellín, the really expensive ones, they principally target Americans, North Americans. Same thing in Calle, when I was looking, with Patrick, at a whole building for $1.2 billion. But this here, you get to invest in a growing city of 10 million people in Latin America, so one of the biggest cities in Latin America, in a very decent area. And you get a whole building that you completely control yourself. And that you, then, rent out the units for very reasonable prices that are even affordable to locals. And still, by targeting the local market, you're getting some very decent yields. And then you also have the foreigners as upside that come in, there's always a bit of tourism, etc., in Bogota. But being able to rent out units for $25 a night in a city of 10 million people is very competitive.
ARCESIO: Yes. And also, as you said, the location is very good, we have a good price. We have a good builder with known experience. So we're going to demolish the existing house, we're going to build the structure, the building. And it's going to take around 12 to 15 months. This is because the property is not going to have an underground, which makes it easier to build faster. So it helps to improve also the return on investment.
LADISLAS MAURICE: And it's already permitted.
ARCESIO: It's already permitted.
LADISLAS MAURICE: Okay, so already de-risked majorly. So already permitted in hand, so it's just about putting the money and starting to build the thing. And like you say, it's not a complex structure, there is no underground parking or anything. So it'll be fast to build.
ARCESIO: Exactly. So we're going to have around an investment that is going to be around $650,000, that is going to start producing probably around 15 months, and is going to be a new building in an area that is overcoming transformation, that has mostly old structures, some new structures. So we're going to be one of the new structures. People may want to go there because we're the new structure. So that makes like a good competitive advantage.
The thesis for this investment
LADISLAS MAURICE: Yeah. So essentially, the thesis for such an investment is that, for $650,000, which gets you a condo in Vancouver or whatever, here, in Bogota, you get an entire building in a large city. You control it. You target both the local and the foreign markets, in terms of tourism. You get some very decent cash flow. There are two upsides. One is in the structure of the studios, where you can add mezzanines if you want to, to make the apartments bigger and then, potentially, make more money on Airbnb. And also the whole street in the neighborhood is becoming a bit better.
But do I see capital gains from inherently the Bogota market doing a lot better? Personally, I don't see this. I see the upside coming on the micro level, and then the focus on the control and the high cash flow. So this, for me, is the investment thesis for this building. So I know, Arcesio, you've been in real estate in Bogota your whole life?
Arcesio's background
ARCESIO: Yes, I've been in real estate for more than 10 years.
LADISLAS MAURICE: Okay, so not his whole life. (laughs)
ARCESIO: (laughs) Yeah. I'm a little bit older. But yeah, I've been long in– I mean, the last 10 years, I have been exclusively in real estate. I've been working as a broker, I have done investments, too. And I, mostly, work or with investors or in commercial real estate. So that's my focus. And I'm very numeric, just as Ladislas, and I try to find projects that make sense. Of course–
LADISLAS MAURICE: I mean, you did your MBA in the States, right?
ARCESIO: Yes, I went to Emory University, I focused on real estate and alternative investments. And I just like the commercial part of it, basically.
LADISLAS MAURICE: Cool, fantastic. Great. Arcesio, thank you very much. So for anyone who's interested, whether in this project or any other projects here in Bogota, Arcesio is the person you should be talking to. There's his email right below, you can get in touch with him directly. Arcesio, thank you very much for your time today. Really appreciate it.
ARCESIO: Thank you very much to you, Ladislas. It's glad to have you in Bogota.