A question that people are increasingly asking me is how to buy international real estate with crypto. This article will describe some interesting ways this can be achieved as well as the following topics:
Why people are buying international real estate with crypto
Top 6 countries to buy international real estate with crypto
Risks related to buying international real estate with crypto
Why are people buying International Real Estate with crypto
1. Banking issues
A problem many crypto investors face is fiat off-ramps. In many cases, it can be quite challenging to convert crypto holdings, especially if they are significant, back into fiat in a bank account. Many banks refuse to deal with crypto, especially if the sums are significant.
In some cases, even if you manage to convert large crypto gains into fiat in your bank account, banks in other countries will not accept the transfer. If for example if you send $500k to the UK to buy an apartment there, the bank in the UK is almost guaranteed to ask for "source of funds" documents. This means the receiving bank in the UK, not even your own bank, wants to know where the money came from. If all you manage to show are documents from crypto exchanges, in many cases the receiving bank will simply send the money back (minus transfer fees).
2. To hedge with real assets
Real estate is a completely different asset class to crypto. It is a hard asset you can touch, and that has been proven as a generally good store of value for thousands of years, unlike fiat currency.
For crypto enthusiasts who don't want all their eggs in one basket, owning some real estate as a hedge is a sensible diversification, albeit less exciting than an all-in YOLO.
3. International real estate can be a great plan B
Many, though not all, crypto investors are known to be skeptical of Government. Owning real estate in another country is a great way to hedge against political and economic risk in your own country. In some of the countries I will mention below, owning real estate even entitles the property owner to residency in the country (!). So not only do you own real estate there, but you also gain the right to move there and live there full time.
Additionally, some of these countries are known to be low-tax for tax residents.
Top 6 countries to buy International Real Estate with crypto
1. Buy real estate in Ukraine with crypto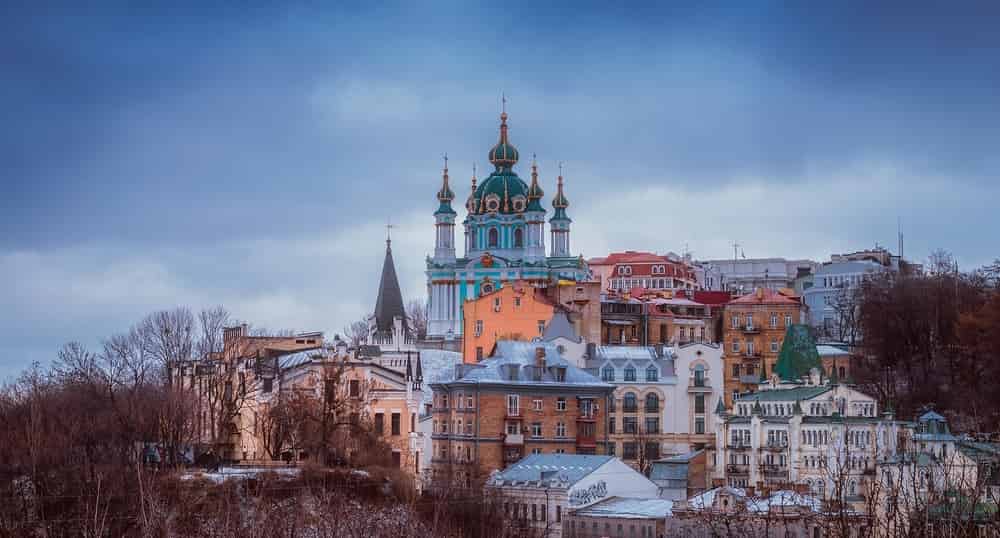 I wrote extensively, and produced several videos, on real estate in Kyiv, the capital of Ukraine. It is, I believe, the highest yielding real estate market in the world. If you play your cards right, you can get rental yields of 8-10%, sometimes even more for larger sums invested.
Why?
Because the market crashed hard and then bottomed for so many years
The war in Eastern Ukraine has led to massive internal migration to the capital city
A substantial housing deficit
Almost no mortgages, so cash buyers are king
Obviously Ukraine comes with its own set of risks (potential war with Russia, general instability), but nothing a crypto investor can't handle 🙂
If you are interested in buying real estate in Ukraine using crypto, my real estate buyer's agent Alex can help you. He can help you convert crypto locally for a 3.5% fee, and you can then use his buyer's agent services to find a good property for your portfolio. Click here to get in touch with him.
Before contacting Alex, you must read the section on risks related to buying international real estate with crypto.
2. Buy real estate in Montenegro with crypto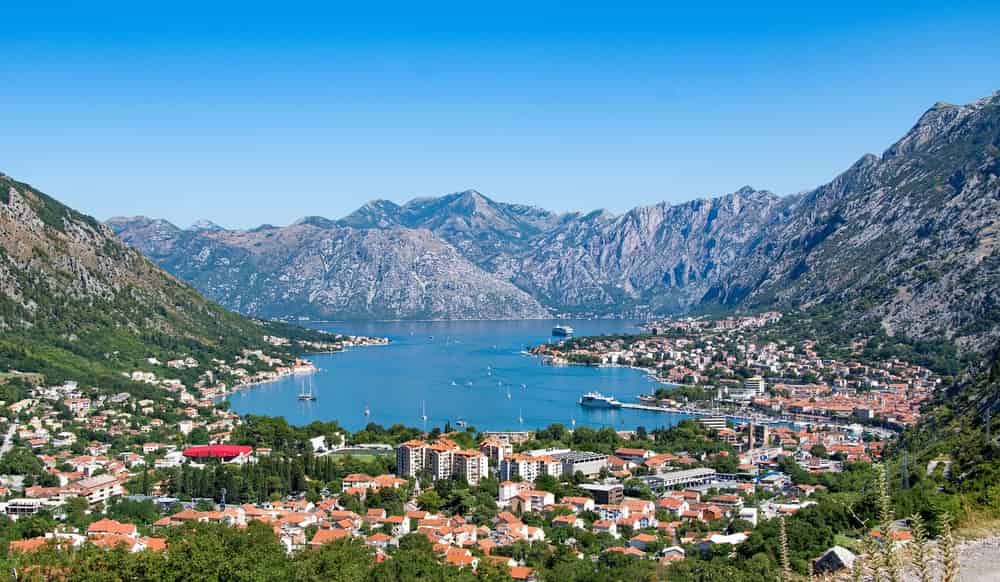 Montenegro is a stunningly beautiful country on the Adriatic coast, just across from Italy. I typically spend my summers there, and have done many real estate deals in the country. I wrote an article on the real estate market in Montenegro here.
In the summer you can go swimming, and in the winter you can go skiing against the backdrop of massive wealth, super-yachts, luxury marinas, as well as local inexpensive places. It is a fascinating little country where you can access high luxury, yet live comfortably nearby on the cheap like a local.
There is amazing real estate to be bought, with stunning views, swimming pools, etc.
One attractive feature of buying real estate in Montenegro, is that being a real estate owner in Montenegro entitles you to residency there. Montenegro also has a low-tax regime of 9% personal and corporate income tax. Many investors and digital nomads live semi-permanently in Montenegro. This gem offers a unique lifestyle in southern Europe.
How can you buy real estate in Montenegro using crypto?
Step 1
Get in touch with Davide who collaborates with a local bank. Essentially you transfer crypto to an exchange, and then the money gets transferred to a bank account in Montenegro in your name, which Davide will help open for you.
You will then have a bank account in Montenegro in your name, and will have to go through the whole banking KYC (know your customer) process. Davide charges about 5% for this service depending on how much the bank will charge him, for example whether the purchase is for a company or an individual. You can reach Davide by sending him an email: davide@thewanderinginvestor.com.
He is Italian, runs a Fintech company as well as a business consulting firm based in Montenegro.
Step 2
Get in touch with one of my favourite real estate agents in Montenegro here. They will be able to source great real estate for you. Once you are ready to buy, Davide will work with the team to make the transaction happen. Steps 1 and 2 should happen concurrently.
Step 3
Make sure to get a good real estate lawyer. I recommend that you work with Bojana and her team. They are a large law firm in the capital city but I negotiated a fair flat rate for real estate transactions. You can find out more about her law firm's services here.
Step 4
If you want residency, get in touch with Andreas my immigration agent and he will explain it to you. More details here.
Or buy real estate from me in Montenegro 🙂
I regularly do real estate deals in Montenegro, and am currently selling two small studios. They are located in Donja Lastva (Tivat), 7 minutes away from the sea, in a quiet area. Porto Montenegro is a mere 20 minute walk away. It's a great location.
Unit 1: 17m2, fully furnished, access to swimming pool, with designated parking spot for €45,000
Unit 2: 30m2, fully furnished, access to swimming pool, with designated parking spot €69,500
I accept full payment in crypto. The transaction can be done remotely through power of attorney (in which case I would recommend you find a different lawyer from the one I recommend, simply due to the conflict of interest). Of course, I strongly encourage you to view the properties in person.
I don't charge any crypto transaction fees.
If you are interested send me an email info@thewanderinginvestor.com.
3. A number of countries in Central America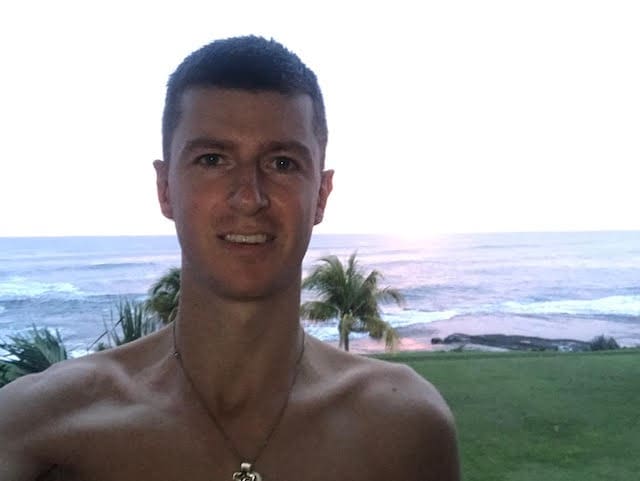 We are all aware that El Salvador legalized Bitcoin, so theoretically you can just fly to El Salvador and buy international real estate there with your crypto. However, it is possible across a number of other countries as well.
I work with this US developer that is building communities in many countries (Panama, Costa Rica, Nicaragua, Belize, etc). You can buy real estate from them using crypto directly. It's extremely convenient. They are even planning communities in Mexico and some South American countries.
You can find more information here.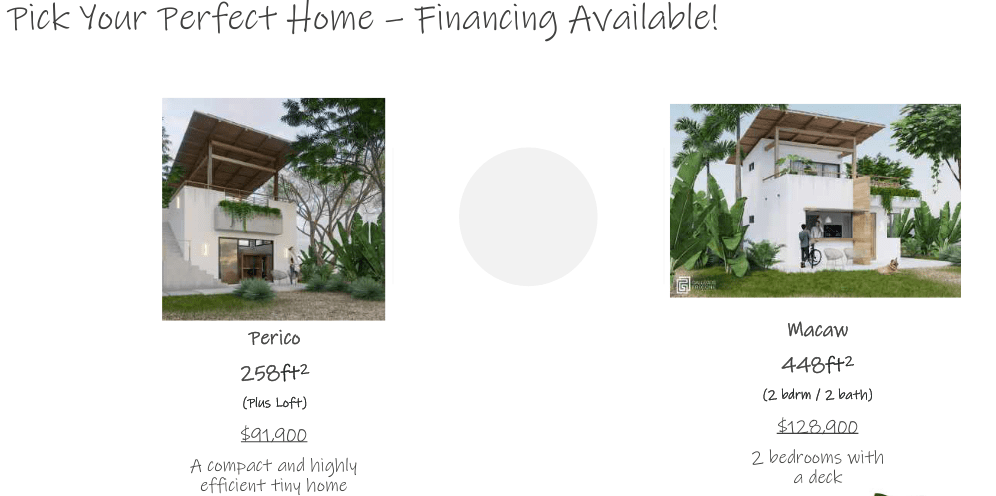 I have to say that I like their communities. Most buyers are freedom-oriented, and the developer manages the communities keeping this in mind.
Having said this, I believe that the developer's projections in terms of investment outlook and rental income are a bit high. I would view these properties purely as a lifestyle and diversification play. In some cases the developer can even get you a residency permit in the local country depending on how much you invested.
Find out more here.
With regards to Nicaragua, I also happen to know a Canadian real estate agent who can help you buy any real estate in Nicaragua using crypto. Get in touch with me if you want an introduction.
4. Buy real estate in Turkey with crypto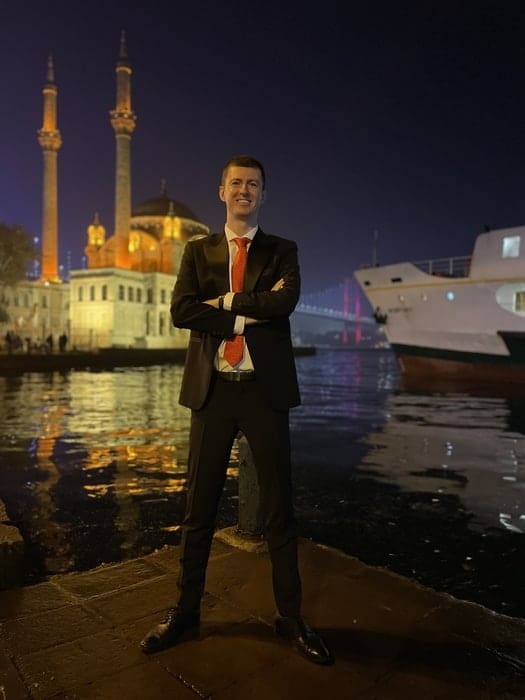 Turkey is a case study in why people invest in crypto. The Turkish Lira has been in free fall. The result though, is that real estate in the capital Istanbul has become incredibly good value. Where else in the world can you buy near-prime real estate in a bustling city of more than 15 million for $1,000-$2,000 per m2?
It's truly amazing, and Istanbul is fun, exciting, cosmopolitan and never boring. It truly is one of the world's great cities. I wrote in detail about the Istanbul real estate market here.
It's possible to obtain Turkish citizenship if you buy $250,000 worth of real estate (article here), but with crypto this is complicated because of the source of funds.
However, owning any apartment or house in Turkey entitles you to residency.
How does it work?
Get in touch with my real estate buyer's agent, Keith (here), and he will take you to a place where you can exchange your crypto for a fee of 3.5%. You will then have the money to buy real estate in Istanbul. Keith can then help you find a great property in former Constantinople :). More details on his services here.
5. Ivory Coast – probably the least-known country in which to buy international real estate with crypto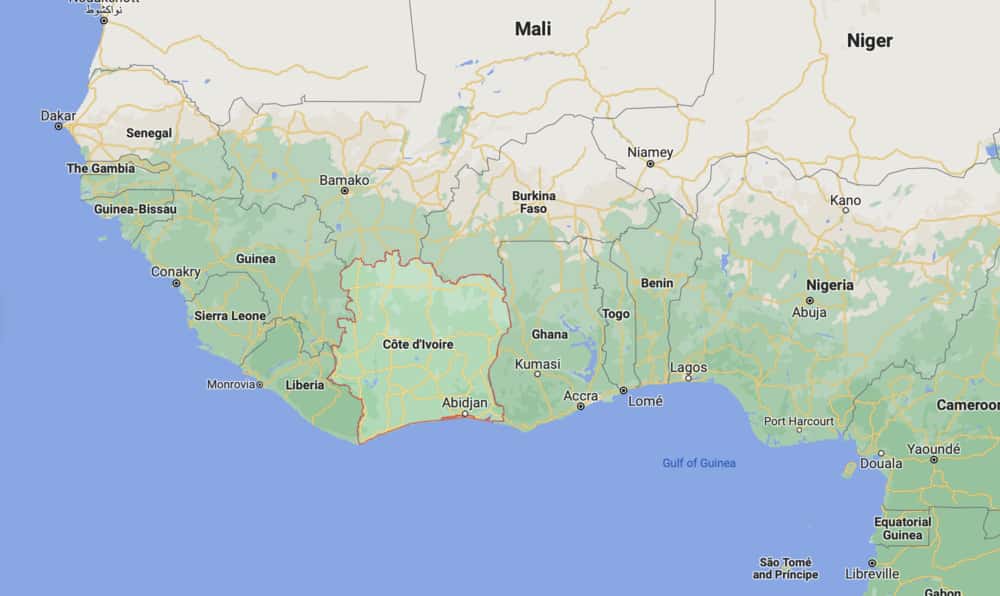 I know, this one is strange. Ivory Coast is a booming francophone country of 27 million in West Africa. Its business capital, Abidjan, is known as Francophone West Africa's economic heart.
Ivory Coast emerged from its second civil war in 2011 and has since been booming on the back of better-than-average-education levels, oil exports, local manufacturing, and agriculture.
Buying real estate in a city that is set to more than DOUBLE its population by 2050 is rather attractive long term. By 2050 Abidjan should be home to over 10 million people. I can't think of many cities in the West and in East Asia that can make such claims 🙂
The local currency, the CFA Franc, is pegged to the Euro. You can buy nice villas by the sea, or apartments and villas in the center of the city. Yields vary greatly, and it is not a very liquid market due to the lack of mortgages. However, you can expect net, net yields of about 4%-5% which is much better than in the West.
How does it work?
I work with a French-owned real estate agency and crypto exchange in Abidjan. You send them crypto, they convert it into FCFA for 3.5%, and they can then help you source an attractive investment. If you want to get in touch with the agents directly send an email to sylvain@thewanderinginvestor.com.
West Africa is a very risky place to do business. But in Sylvain's case I have done business with him before and can confirm I was very satisfied. He speaks English fluently.
The great thing about buying in Ivory Coast is that you get exposure to Africa's growth story, and real estate there is very uncorrelated to your other assets. It's also a discreet place to own real estate, and offers substantial asset protection.
6. Buy real estate in Georgia (country) with crypto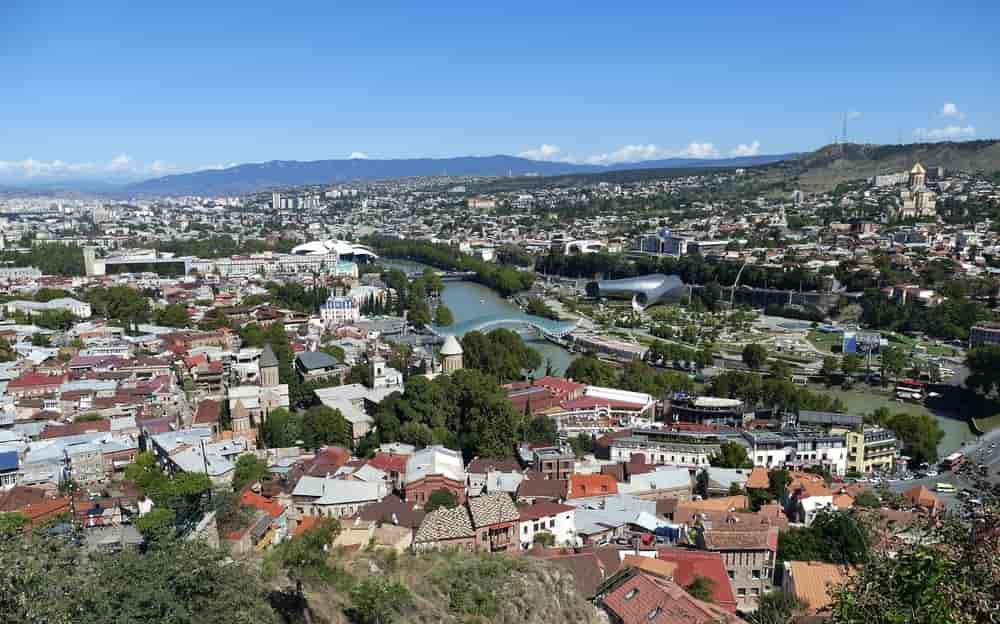 Georgia is an absolutely lovely country in the Caucasus with a dynamic economy, World Bank "Ease of Doing Business" rankings and low taxes.
I wrote a long research article on real estate in Tbilisi, the capital of Georgia. The yields are low, but the quality and value is quite appealing.
One of the great appeals of Georgia is that it is Europe's only territorial tax system, which means that it does not tax its residents on income from outside of Georgia.
Banking in Georgia is very appealing, as well as creating local companies. I did a lot of content on the subject.
Importantly, if you buy $100,000 worth of local real estate, you are entitled to residency. If you invest $300,000 or more, also in real estate, then you can even get permanent residency.
My legal services provider can help you with the following
So if you are having issues getting your crypto back into the system, he can help you get a nice apartment, in a low-tax jurisdiction, and with a residency permit, whilst ensuring the whole transaction goes through smoothly.
If you are interested, send him an email georgialegal@thewanderinginvestor.com
Risks related to buying international real estate with crypto
Scams
If you're reading this article, you are most likely involved in crypto, so you are well aware of the risk of scams in this space.
Regulatory issues are the main issue with buying international real estate with crypto
In Ukraine for example, to be able to get money out of the country later on, you must prove that the money when through proper channels when entering the country as there are capital controls. So if you were to buy real estate in Ukraine using crypto, when selling the real estate you would not be allowed to repatriate the funds as things stand, because your source of funds would be weak, to say the least. So you'd have to go through crypto again, if possible at that point in time.
Some of these countries involve large cash transactions. In some countries it is perfectly legal, in others it is in a grey zone whereby you go to the notary public with a suitcase of cash and do the transaction there and then. It's a common practice that is done in front of notary publics, but that is in a grey zone legally speaking.
Crypto is still at the mercy of mainstream and regulatory acceptance, and this translates into ambiguities of various sorts when buying international real estate.
Also, be aware that things change fast. If you try to sell the real estate in five years' time, the bank may ask you how you bought the real estate in the first place.
Taxes back home
Using your crypto to buy international real estate somewhere far from home does NOT exempt you from paying capital gains taxes where you are deemed to be a tax resident. It's not because you think your tax authorities won't be able to find out that you should not pay them. The onus is on you to pay your taxes back home. And do remember that with many (not all) of these blockchains being transparent, you can get caught in 7 years for what you are doing now.
Conclusions on buying international real estate with crypto
Buying international real estate with crypto is a great way to avoid issues with banks back home, an interesting diversification strategy, and in many cases a great plan B to hedge against potential issues back home.
Only a few countries offer this opportunity for now.
If you want to read more such articles on other real estate markets in the world, go to the bottom of my International Real Estate Services page.
Subscribe to the PRIVATE LIST below to not miss out on future investment posts, and follow me on Instagram, Twitter, Linkedin, Youtube, Facebook, Rumble, and Odysee.
My favourite brokerage to invest in international stocks is IB. To find out more about this low-fee option with access to plenty of markets, click here.
If you want to discuss your internationalization and diversification plans, book a consulting session* or send me an email.
*a consulting session is a discussion about your portfolio and objectives. It does not constitute legal, financial, tax or investment advice.