After writing about real estate in the tourist hotspots of San Juan Del Sur and Granada, I was asked a few times about my thoughts on other cities in Nicaragua. Here's my take on real estate investment in Managua and real estate investment in Gran Pacifica after having spent a few days looking at the market there.
The real estate investment market in Managua, the capital city of Nicaragua
Just over one million people live in Nicaragua's capital city. It is the heart of business, politics, education and pretty much everything. Nicaragua is a rather centralized country, so most of the action takes place in Managua.
That said, Managua has zero tourism potential. It is objectively an ugly city without anything to offer to tourists. There is an old church and a sad waterfront. However, this doesn't mean that Managua is a lousy place to live.
It's quite pleasant, with upscale neighborhoods offering a great value real estate, lots of trees, and space. If you buy there, don't expect a successful Airbnb operation targeting tourists. Tourists generally stay at most one night in Managua, often just to make an early flight the next day.
For those familiar with South Africa, it's a bit like Johannesburg; a great place to live in the upmarket areas, but a horrific place to spend time as a tourist.
An Americanized market
While North Americans are familiar with the following concept, Europeans may not be.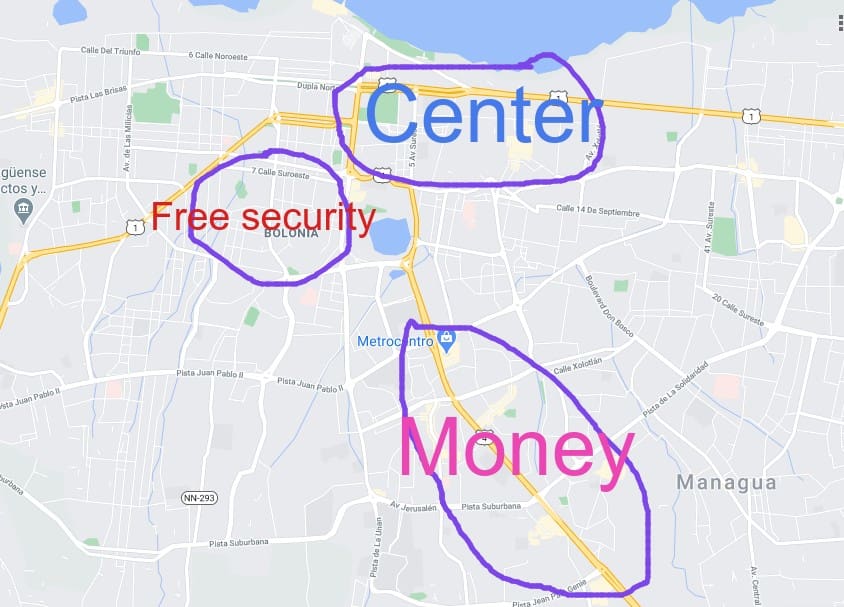 Managua is not a cute colonial town – it's an ugly Central American capital city. The core center is of no interest. It has a few parks, a lovely cathedral, an ugly waterfront, and old malls. Nobody wants to live there

The upper-middle-class suburbs ("money") are where you will find what people want: new malls, American fast food outlets, bars, and restaurants. If you wish to live in Managua and have the budget, this is where you would want to live.

The area called Bolonia ("Free security") is an area that was not recommended by any agent I met. The area was cheaper than the "money area," and the houses were older. What I found interesting is that there were army and police checkpoints on every second street 24/7. The area has ministries and governmental interests, so security is tight. In a city where crime is a concern, free security combined with cheap real estate can appeal to some.
Another very North American aspect is that housing is disposable. Rich people move into a neighbourhood when it's brand new, stay there ten to fifteen years, and then gradually migrate to the "newest" and "coolest" suburb with the latest bars and restaurants.
If you keep a house for a long time, bear in mind that there is higher depreciation than Europeans would typically expect, and your tenant profile will go down in quality as the years go by.
Incredibly good value real estate in Managua
As I wrote in my previous articles, the real estate investment market in Managua has been dead for a couple of years now, and there are deals to be had regarding overall value for money.
The listings are endless, especially in the higher end segment. You can negotiate hard.
I went to see a few houses and this one below was fairly typical of the mid-upper class rental market.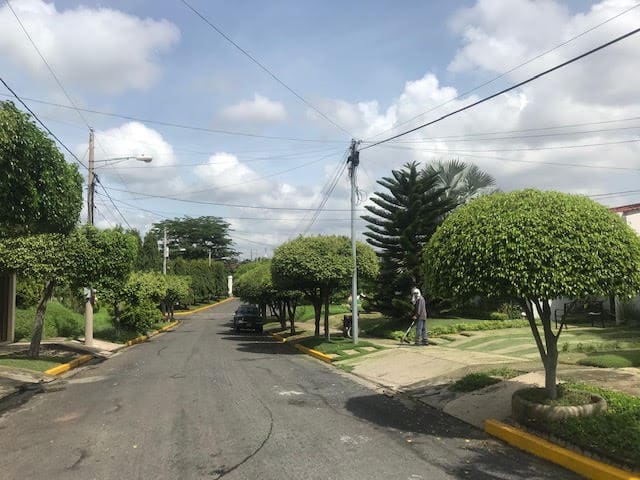 This four-bedroom house is listed at $140,000 for 170m2, or roughly $823 per m2 ($77 per ft2). However, I must mention that how the Nicaraguan real estate market calculates, m2 differs from most of Europe. They take into account the whole surface area, including terraces. This means the actual, livable m2 is smaller. But still, you end up at less than $1000 per m2 ($93 per ft2), including furniture.
I know of very few capital cities in the world offering such low prices for core property, especially considering the quality you get. Here you get a satisfactory house with a garden, in a gated community, in one of the best neighbourhoods in town "La Colinas".
A favorable aspect of owning real estate in Nicaragua is that renovation costs are reasonable due to cheap labor. For example, this bathroom from the 90s could get renovated to a decent standard for about $1,500. In Western Europe, I've seen similar work quoted at €13,000.
Utilities would set you back about $100 per month, internet about $40, and the gated community fees for gardening and security amount to $40 per month. All of this is payable by the tenant.
In all likelihood, you could probably get it down to $120,000 with some tough negotiation. For this price, you can live in a nice house in a gated community, in the best neighbourhood of the capital city of what is objectively a beautiful country. If you buy the house using a local company, you can get permanent residency which entitles you to live, work and play in Nicaragua.
Living in Nicaragua offers amazing tax benefits due to its territorial tax system, and even Americans can benefit from it thanks to the foreign earned income exclusion.
However the yields of a real estate investment in Managua are atrocious
There are many empty homes in the city, and rental demand for this segment is not very strong as the middle class has been hit hard by the consequences of American sanctions.
You can expect about $400 per month for the property. However, liquidity is low, so you'd have to be patient. If you want to find someone, lower your expectation to $350 per month.
| | |
| --- | --- |
| + 1 year rental based on $375 per month | $4500 |
| – vacancy of 15% | $675 |
| – Management fees & finders fees 15% | $675 |
| – Property tax +- $100 | $100 |
| – maintenance 10% | $450 |
| – income tax 15% | $390 |
| Net, net yield | $2210 |
| Yield on total purchase price of $130,000 (including transaction fees) | 1.7% |
While not an interesting investment option it's still a great place to spend time, or to use to get permanent residency in Nicaragua to optimize your taxes or use as a plan B if you like to live in cities.
Are there better yields in Managua real estate?
Yes, but you have to go down the income scale. I also explored some cheap housing, and you could achieve gross yields of 8-10%. However, this was verging on slumlord territory, which I prefer to avoid.
I don't want to own real estate with strong yields but with leaking roofs, that I'll be reluctant to fix for fear of depressing my yields. I also don't want to have tenants on the cusp of poverty that can take months to evict. Nicaragua has pro-tenant laws so evicting a bad tenant is a complicated and lengthy process, and even more so if the family is poor. They are a core constituency of the government.
The reality is that if you want to become a successful slumlord, better to do it in your own backyard. You must know the market and know how to get people kicked out using extra-judicial methods, and constantly deal with people trying to screw you over.
Being a foreign slumlord and outsourcing the day-to-day management to a local agency is a complete recipe for disaster. As such, I don't even consider such investments. If I want high-yield / high-risk then I'd rather invest in some specific financial assets.
I'll sleep better at night and with a clear conscience.
A real estate investment at Gran Pacifica, near Managua, Nicaragua
Gran Pacifica is a Pacific Ocean front gated community located about 1h30 away from Managua.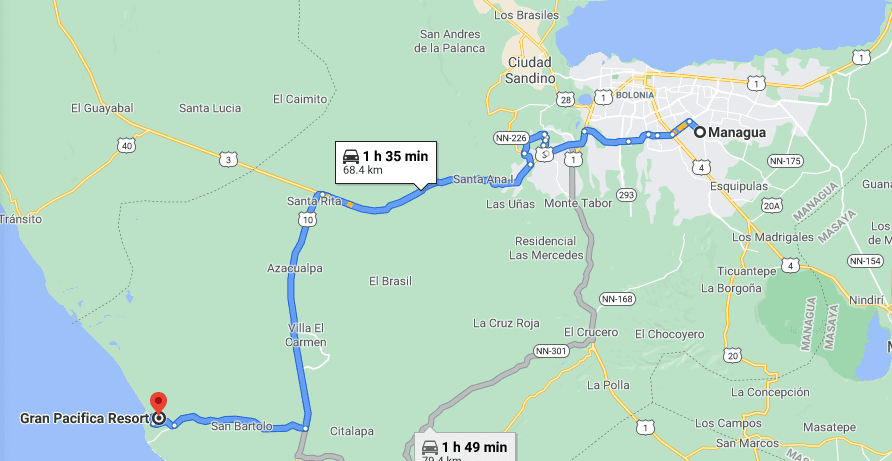 I was contacted by the developer, as he had read a few of my articles on Nicaragua. He offered me a free two-night stay and clarified that I could write my honest opinion. I also wrote an article about his teak plantation (here).
But did I mention that real estate investment in Gran Pacifica can be a great choice for people that need rest and a fantastic sea view?
That was in June after I had traveled all around the country during the early Covid days. I had time to kill before my flight to Europe, so I gladly accepted.
I was not disappointed. This was the view from my balcony.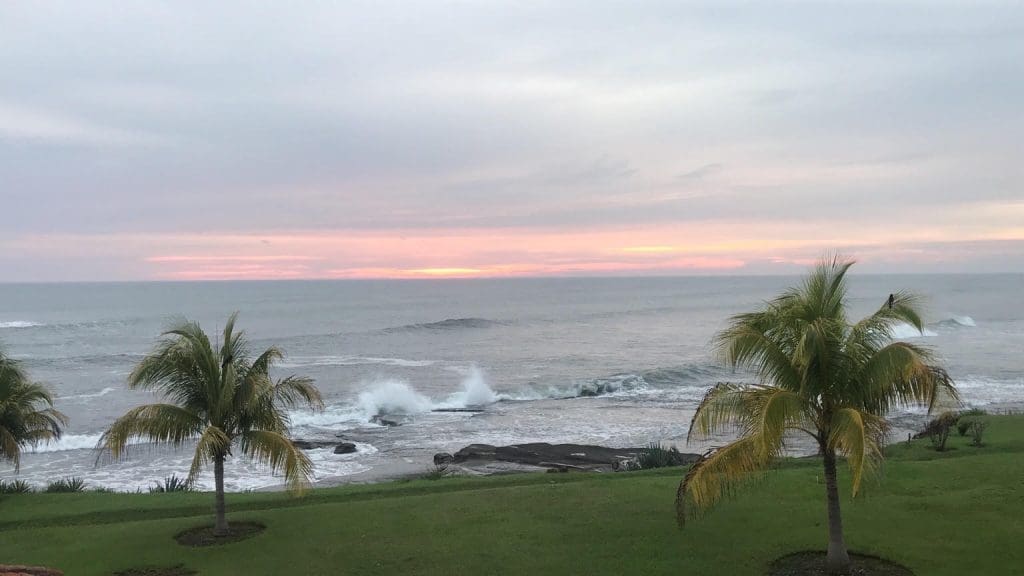 And this is me with a happy face, wondering if I should skip my Europe-bound flight (I didn't – Montenegro is unbeatable in the summertime).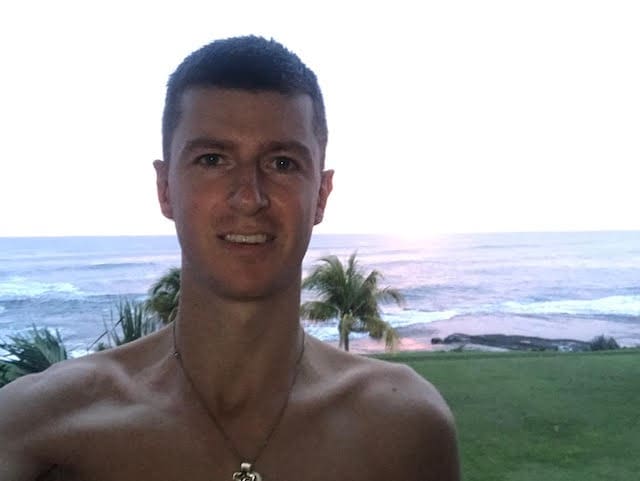 A gated community without the disadvantages of a gated community
Generally, I abhor gated communities. I dislike rules and don't like people telling me what to do. Live and let live is my motto.
For once, I found a gated community that operates this way. The rules are quite flexible, and people behave like adults. You immediately notice that there are no restrictions regarding what you can build on the plots of land.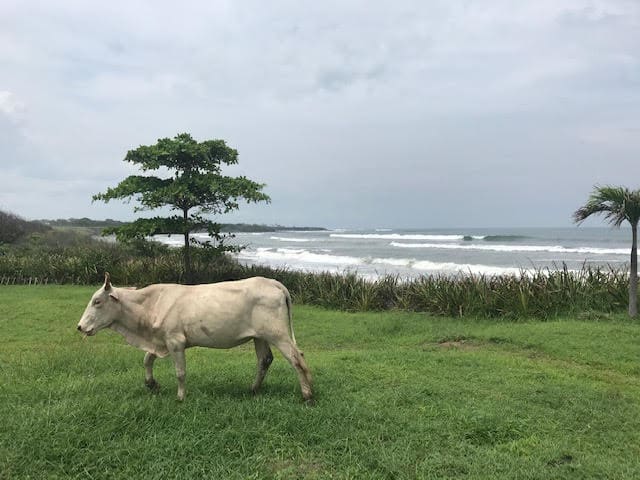 The development feels like a mix of luxury, peaceful suburbia, and a nature reserve. The development has a land bank of 1100 hectares, with a massive stretch of ocean-front land. The surfing is good, and you can go around in golf carts, your car, or a horse (there are stables on the property).
There are some beachfront apartments that are nice, but I felt like they just weren't that relevant for such an environment. For less money, you can get a house without views. Still, you have a lovely house, in a safe community, with what is essentially a private beach, with nobody bothering you, a mere one h away from the nearest Walmart and great, affordable health care in Managua.
There are many options for real estate investing in Gran Pacifica. You can buy apartments from a few different projects, buy a plot of land, or an existing house, or build your own house. One option I find particularly appealing is the $100,000 houses—more on this below.
Is Gran Pacifica a good real estate investment?
So, there is one big question here. Is real estate investment in Gran Pacifica good for you? I'll put it this way:
If you are looking for yield – no. The most you can expect from the rental pool is to cover your running costs. Tourism has been dead in Nicaragua since 2018 and though there are some weekend guests from the capital city, you are unlikely to make much. Of course, this could change if tourism were to boom again, but as long as there are US sanctions it'll be problematic.

If you are looking for capital appreciation, why not? Short term, probably not, but longer term I can see this happening. Nicaragua is by far the best deal in Central America. Bargain homes for $100k in a beachfront development, in a secure gated community, close to an international airport, are completely unheard of in Costa Rica, Panama, and Belize. Expect to pay at least double that price, if not triple.
The $100,000 homes at Gran Pacifica near Managua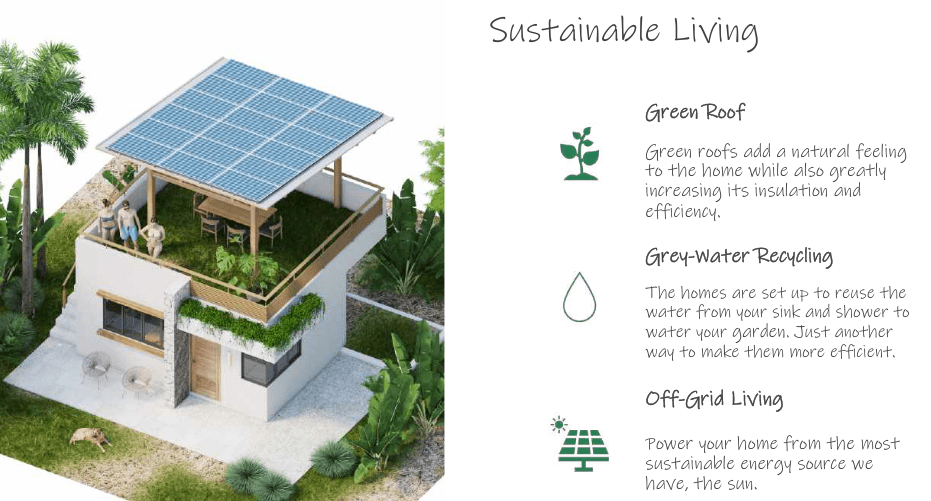 These homes are designed to be off-grid, which is extremely relevant these days. They also include smart locks, smart thermostat, smart TV, smart security, etc.
There are multiple models on offer, and up to 80% financing is available.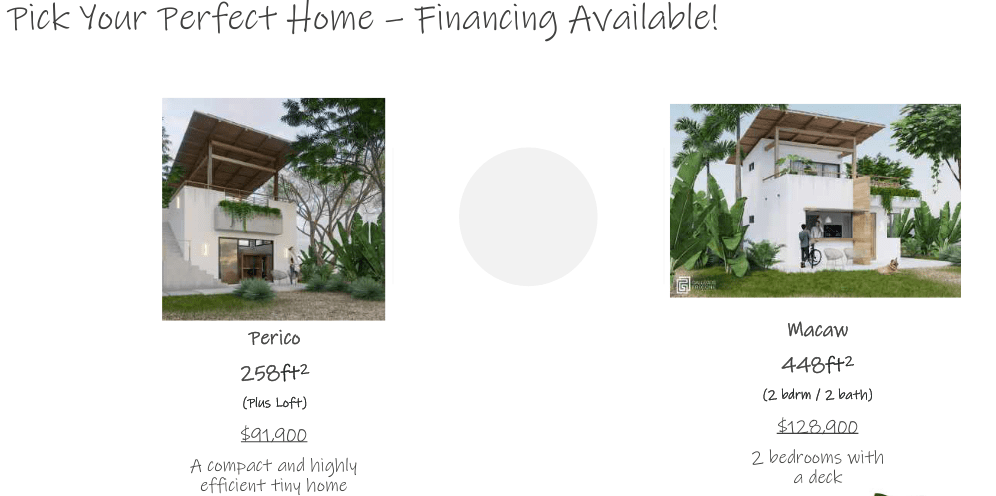 The developer presents some bullish return on investment (ROI) numbers. I think the ROI should be better than that of the other houses in the same development due to the low initial price tag, but I'd be wary of basing my investment decision on those numbers. You'll probably get a small ROI of some sort, though likely not the projected numbers. I don't see how one could get a 60% occupancy rates in the short to medium term.
Most importantly, I see these homes as a terrific Plan B and solid option for remote workers.
These homes are off-grid, in a secure community, lock & go and have fast internet access. They are a 5-minute walk from the beach and surrounded by nature, yet with all the amenities of a big city a short drive away.
You can contact the developer here.
Be aware that you are paying a premium for real estate at Gran Pacifica near Managua
Such a house for $100,000, which can get you permanent residency, sounds like a steal. In many ways it is. But if you venture outside of the community, you can get a bigger house, with a much larger garden, though definitely without all the specs.
You get better deals as soon as you leave the community. However, the reality is that managing a house from afar is quite complicated, and there isn't much "property management talent" in that location. Also, there is a security risk. If you are away months on end, you'll return to a jungle, and burglary potential is medium to high.
So what these houses offer is very different. All the first world amenities, a nice community of people (mainly North Americans and wealthy locals, though I met some Russians as well), a private beach, a competent rental pool and security.
Not only do they offer financing, but they accept payment in Bitcoin as well.
So once Bitcoin reaches $100,000, I'll be very tempted to buy one, if there are any left 🙂
My conclusions on making a real estate investment in Managua, or Gran Pacifica, Nicaragua
Don't expect good yields or immediate capital appreciation. But do expect great value for money, a comfortable lifestyle, and a great real estate arbitrage opportunity compared to nearby Costa Rica, Panama, and Belize.
Nicaragua has a place in one's general lifestyle, residency, and wealth preservation portfolio. I like it. If you want something closer to San Juan Del Sur, feel free to get in touch with Joel, my favorite real estate buyer's agent in Nicaragua.
He will explain everything about real estate investments in Gran Pacifica, but, feel free to ask him questions about real estate investment in Managua, I'm sure he will be more than happy to answer these questions.
Other articles on Nicaragua:
Available services in Nicaragua:
If you want to read more such articles on other real estate markets in the world, go to the bottom of my International Real Estate Services page.
Subscribe to the PRIVATE LIST below to not miss out on future investment posts, and follow me on Instagram, Twitter, Linkedin, Youtube, Facebook, Rumble, and Odysee.
My favourite brokerage to invest in international stocks is IB. To find out more about this low-fee option with access to plenty of markets, click here.
If you want to discuss your internationalization and diversification plans, book a consulting session or send me an email.
*a consulting session is a discussion about your portfolio and objectives. It does not constitute legal, financial, tax or investment advice.