I stayed for a month in Kenya. My first ten days were dedicated to traveling along the coast and going on Safaris. Thereafter, I spent time in the capital city, Nairobi, to meet with fellow investors, developers, lawyers and various businessmen to analyze whether a real estate investment in Kenya is right for me.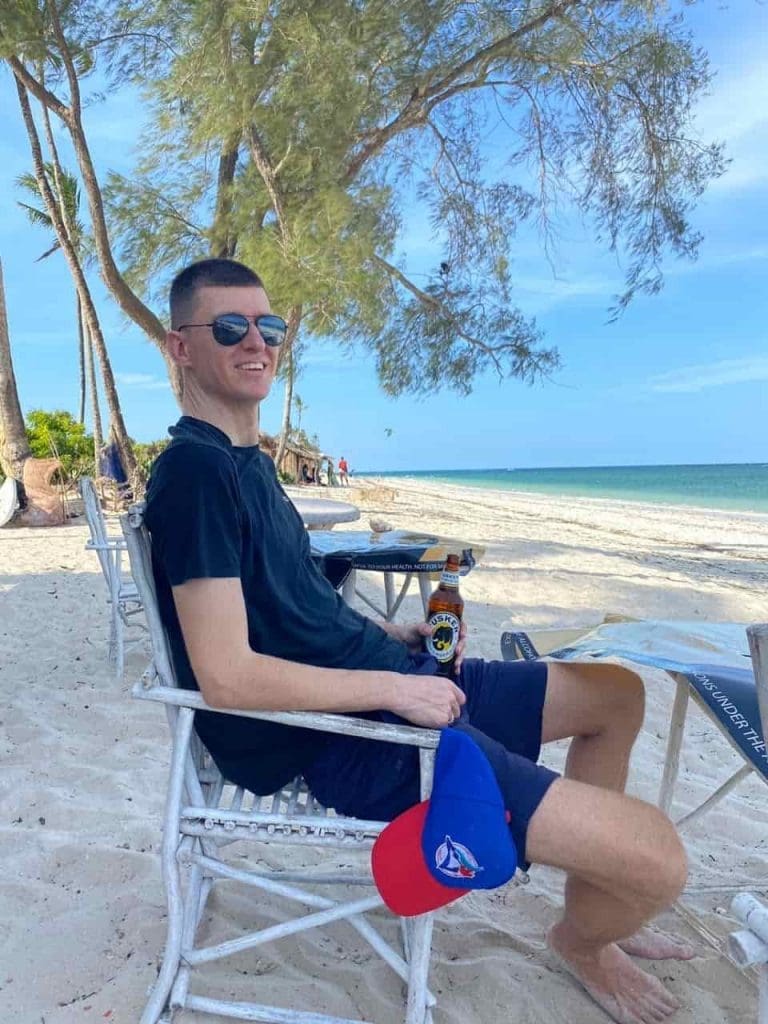 In this article we'll have a look at:
Four macro reasons for investing in Kenya
Macro risks to be aware of before making a real estate investment in Kenya
Overview and full analysis of the real estate investment market in Nairobi, Kenya
Kenya investment alternatives to buying real estate in Nairobi
Reason 1 for investing in Kenya: Demographics
Kenya boasts a large, internal market of 54 million souls, with an extremely healthy population pyramid.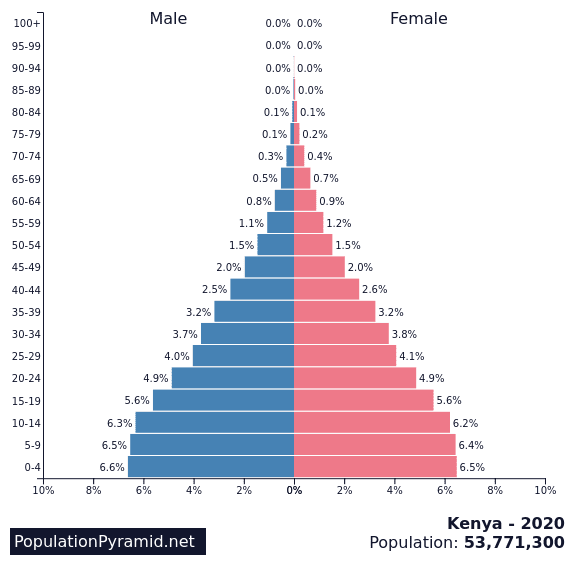 This population pyramid of Kenya, combined with a fertility rate of 3.5 births per woman, promises decades of demographic dividends ahead and demand for real estate investment in large cities such as Nairobi.
Reason 2 for investing in Kenya: East Africa's hub
Even though population-wise Kenya is smaller than Tanzania (54 million vs 58 million), and just a bit more populous than Uganda (44 million), its geographic location makes it central to East Africa.
Moreover, Kenya is the richest of the three. According to the World Bank, in 2019 Kenya's GDP per person was $1,816, Tanzania's was $1,122 and Uganda's $794. Rwanda, a darling of the Western Press, stood at $820.
These higher GDP figures are not just a fantasy. Kenya is the regional manufacturing hub. Unlike in most African countries, much of the food found in supermarkets is produced locally. I noticed that my Weetabix cereals were manufactured here, as well as my peanut butter, the milk, all my fruit and vegetables, the pesto sauce, etc.
Kenya's hub status is visible in its export data. Its main exports are tea, flowers and textile.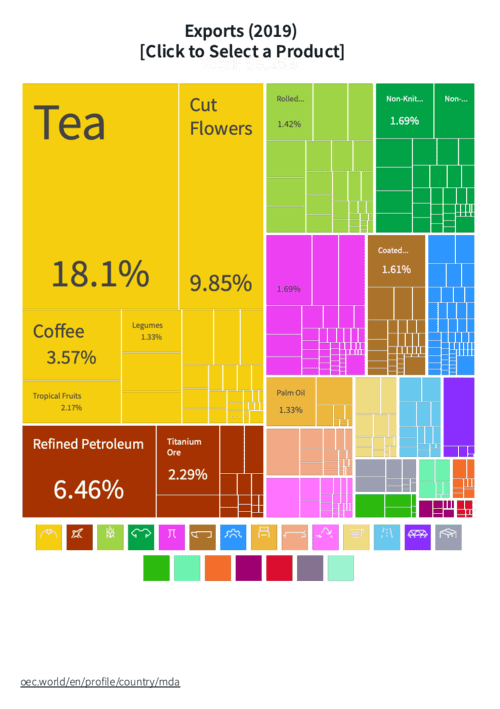 The tea is sold all over the world, especially in Asia, the flowers to the Netherlands, and the textile to the US. However, it's interesting to note that Uganda is Kenya's biggest export market.
Kenya's exports to Uganda are very diversified, and the vast majority of the volume is produced or assembled in Kenya. Ugandan direct imports from overseas, which mostly come through Mombasa port in Kenya, do not get registered in this data.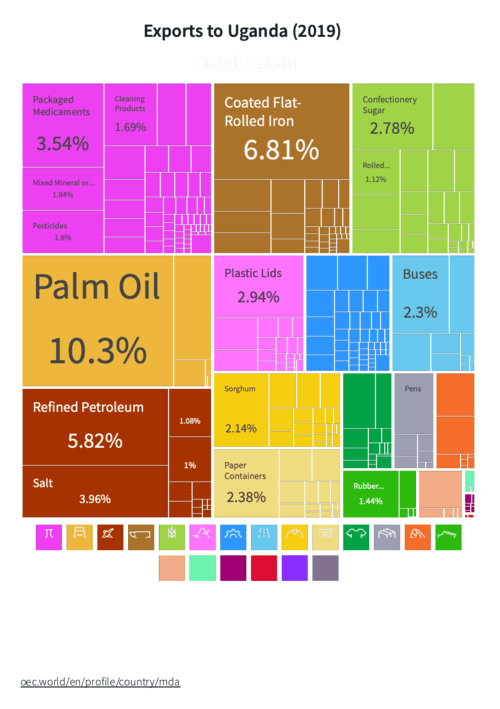 Kenya is indisputably the region's economic, manufacturing and political powerhouse. Also, all major international companies have their regional headquarters in Nairobi. Additionally, when small countries want an embassy for East Africa as a whole, such as Switzerland, Nairobi is invariably the chosen location.
Reason 3 for investing in Kenya: Massive infrastructure works
Mombasa Port controls most imports and exports into and out of Uganda and South Sudan. Nairobi is a giant construction site with new highways, high rises, overpasses, and many types of infrastructure being built everywhere you look.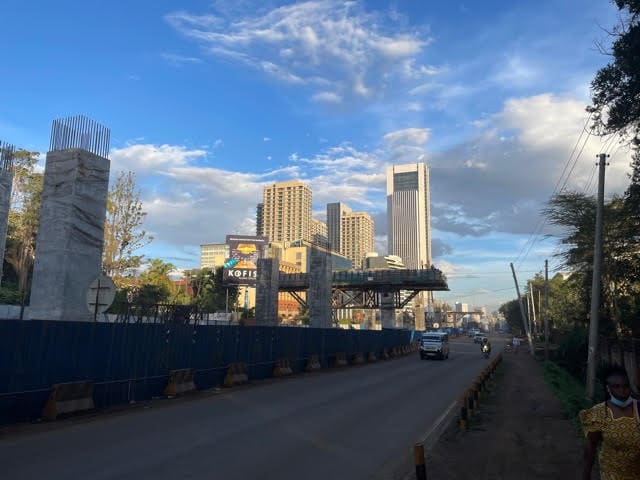 Same thing in the port city of Mombasa, the second biggest city in Kenya, where infrastructure development is running at a fast pace.
I had always wanted to try the new Chinese-built train between Nairobi and Mombasa. The train ride is along national parks (I even saw zebras running along the tracks) and is a great alternative to the very dangerous, and much slower, road connection the two main cities.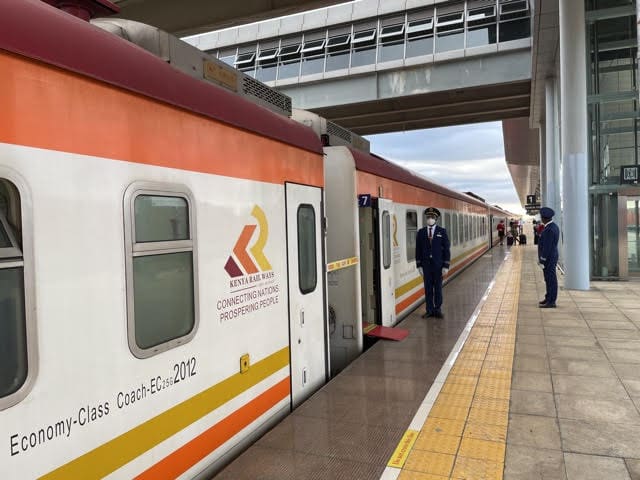 Essentially, Kenya is building capacity and scale for growth.
Reason 4 for investing in Kenya: Reforms are taking place
Kenya has been shooting up the World Bank's Ease of Doing Business rankings since 2014. This demonstrates that it values, appreciates, and wants to grow its current position as East Africa's economic powerhouse.
Ease of Doing Business Rankings (World Bank)
source:
tradingeconomics.com
It's easy to fall in the trap of only looking at corruption figures. In the 2020 Corruption Perceptions Index done by Transparency International, Kenya ranked 124th in the world without much improvement to exhibit. It actually worsened since the early 2000s
Kenya Corruption Perceptions Index
source:
tradingeconomics.com
However, when making a real estate investment as an individual in countries such as Kenya, corruption is rarely much of an issue apart from property management. If you hire a good lawyer and go through the proper, legal process you are very unlikely to encounter issues.
The Doing Business ranking is more important, especially as it takes into account the ease of completing tasks such as getting electricity and paying taxes.
Macro risks to take into account before making a Real Estate Investment in Nairobi, Kenya
Obviously, investing in frontier markets is not risk-free. But don't fool yourselves by thinking that investing is risk-free in developed markets. Just look at the rent moratoriums all over the Western world.
The biggest risk in Kenya is the Government Debt to GDP
It keeps climbing, and climbing. The current situation has only made it worse.
Kenya Government Debt to GDP
source:
tradingeconomics.com
In March the government signed a "Support Programme" with the IMF worth about 2.5% of GDP. A few days later the country entered a lockdown. People protested massively as they were furious and felt the country is too deep in debt already.
#stoploaningkenya even started trending on Twitter. Government debt to GDP is clearly an issue that must be addressed, and that will be addressed through either austerity or market forces down the line.
Learnings from Kenya's debt issues
1. A lot of the debt was used to build capacity and infrastructure. Kenya from 10 years ago, and Kenya today are different countries. The infrastructure is much better, there are new train-tracks, new highways, FDI has boomed, and Western brands are everywhere (Carrefour, KFC, Porsche, Burger King, modern malls, branded stores, etc). If you are sitting in France, the UK, or the US, I challenge you to point to the massive improvements around you that your government can show for the huge increase in debt levels there.
2. The fact that people are protesting "free money" from the IMF (in reality not free) shows the degree of financial and economic literacy that the country has achieved. 30 years ago Kenyans would not have had a clue what it meant. Now they do. And what we now see is the opposite – Westerners are too brainwashed to understand that all the money printing and debt levels in their own countries are unsustainable and will have to be paid back in one painful form or another. Trillions get added to the debt clock, and all they get is a stimmy check.
The Netherlands, Switzerland, and Norway are more responsible than many of their Southern European comrades. Just as in Europe not all African countries are the same. There is huge diversity in economies, political regimes, and culture.
As long as the current account is negative Kenya will have issues
Paying back government debt to foreigners is hard when more money is leaving the country than coming in (and you can't print like in the West). According the the European Central Bank, there is generally a link between government debt to GDP going up and increasing current account deficits up to a certain debt level.
Kenya Current Account to GDP
source:
tradingeconomics.com
A big export earner for Kenya was tourism, and this has been hit hard by the situation.
Kenya Tourist Arrivals
source:
tradingeconomics.com
When I was in Kenya, all my beach accommodation and safari tours turned out to be about 50% off regular prices. So not only was everything mostly empty, but they were making much thinner margins too.
The other risks in Kenya are linked to security risk
The threat of terrorism is ever present. Everywhere you go in Kenya there is (excessive) security in malls, office buildings, and even to take the train. To be fair, there have been attacks in Nairobi, but most of them are linked to Somali groups that are more active in the north-east close to the Somali border.
Whenever there is an attack in Kenya, it makes headlines in the West, which is a large contributor to tourism not having done great in the past 10 years, even prior to the current situation.
Overall, I don't believe this is much of an impediment to making a real estate investment in Kenya. The threat, though ever present, is not a systemic risk that would put Kenya in a very bad situation. I would tend to think that again, there is a perception of risk that is higher than the actual risk.
The second security risk is related to ethnic tensions within the country. Voting is largely done along ethnic lines, and politicians are known to fuel tensions to increase voter turnout. I haven't spent too much time researching this, but the reality is that many African countries have descended into chaos due to such tensions.
Kenya is facing economic challenges, and elections are looming (in 2022), so a flare-up in violence is not to be excluded.
Overall though, Kenya is very investable
Yes, the country has issues, but it keeps moving forward, the progress is very visible, and the strong demographics are extremely bullish. As I like to say, in Africa's best investment spots you can generally expect two steps forward for one step back.
Kenya GDP in USD
source:
tradingeconomics.com
The question therefore is: are assets fairly valued and is a real estate investment in Nairobi, Kenya, a smart move?
Overview and full analysis of the real estate investment market in Nairobi, Kenya
Have a look at the following graphs which I obtained from one of the main real estate agencies in Nairobi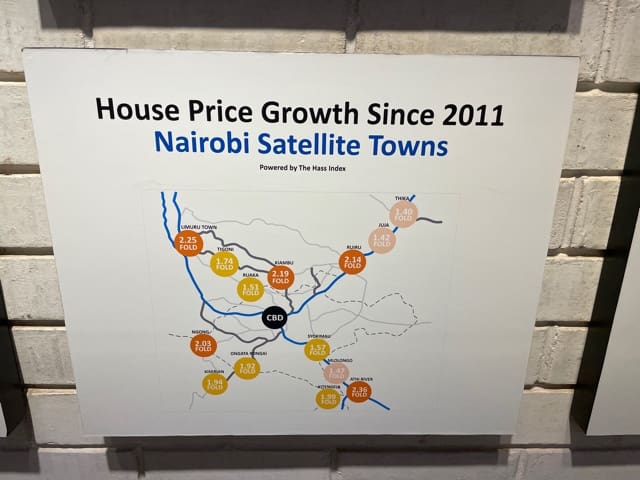 A few observations:
All numbers are in Kenya shillings, which has devalued over the years
"Since 2011" but not clear what the end date is
Nairobi itself has shown more price growth than satellite towns. Core location wins for capital gains.
House prices have generally gone up more than rents like in most places in the world, thus compressing rental yields.
In the following Youtube video, I discuss these topics in detail and show an example of an apartment in one of the nicest areas in Nairobi – Westlands:
Overview of the real estate investment market in Nairobi, Kenya
Overview of real estate prices in Nairobi, Kenya
Some segments have too much supply
Maintenance issues when making a real estate investment in Kenya
Example of an apartment in Westlands
Examples of a few real estate developments in Nairobi
On the reputation of developers in Kenya – how to choose as a non-resident
The challenge of property management in Kenya
Real estate taxes in Kenya
No taxes on investment income outside of Kenya for Kenyan tax residents
Listed equities with high dividend yields, good growth and low debt
The Kenya Citizenship by Investment programme
Watch the Youtube video by clicking on the image below or here
I am not interested in the real estate investment market in Nairobi, Kenya, for now
Oversupply, average yields, and property management challenges are not that appealing, in spite of the deep value of real estate in Nairobi. The real killer is the tax aspect, which renders the market uninvestable for non-residents.
However, Kenya is investable and I want exposure
Following my trip and time spent meeting with many people in Kenya, I reached the conclusion that buying listed equities in Kenya is the best way to go. I interviewed the CEO of the Nairobi Securities Exchange (here) and a fund manager (here).
My preferred way to get Kenya exposure is as part of a basket of listed equities across Sub-Saharan markets. For example, the African Lions Fund, managed by an Australian based in Tanzania, invests in top notch blue chip companies across various African markets (subscribe to this free newsletter on African equities here).
This fund is on 6.9 P/E ratio and a 8.5% dividend yield. When I compare it to making a real estate investment in Kenya, with all its issues, smaller yields and bad taxation, then it's quite glaring that it can be considered an interesting alternative.
Most of the companies in the fund have low debt, are exhibiting double digit growth every year, and are number 1 or 2 in their respective markets.
Moreover, the stock markets in many of these countries have crashed over the past 5-6 years, so we are either at a bottom, or close to a bottom.
I see much more upside in listed equities in Kenya than in real estate
To be clear, I am not against making an investment there for now. I'll be waiting on the sidelines for the Kenya citizenship by investment programme to see whether it incorporates real estate. In the meantime, I plan on getting exposure through the African Lions Fund which I explain in this article. Make sure to subscribe to this free newsletter on African equities here.
I shall continue investing in real estate, but in other markets.
If you want to read more such articles on other real estate markets in the world, go to the bottom of my International Real Estate Services page.
Subscribe to the PRIVATE LIST below to not miss out on future investment posts, and follow me on Instagram, Twitter, Linkedin, Youtube, Facebook, Rumble, and Odysee.
Other articles on Kenya:
My favourite brokerage to invest in international stocks is IB. To find out more about this low-fee option with access to plenty of markets, click here.
If you want to discuss your internationalization and diversification plans, book a consulting session* or send me an email.
*a consulting session is a discussion about your portfolio and objectives. It does not constitute legal, financial, tax or investment advice.