After helping family members of mine make a real estate investment in Medellin, I flew to Ecuador for a few weeks to investigate the market there. More specifically, I decided to focus on Cuenca, the lovely UNESCO-protected Andean city.
This will be a thorough analysis of the Cuenca real estate market, with exact capitalization rate and rental yield calculations from an investment point of view. We'll be discussing the following points:
The macroeconomic environment in Ecuador
Why Cuenca versus other cities in Ecuador?
The real estate market in Cuenca
In which neighborhoods to make a real estate investment in Cuenca, Ecuador?
Airbnb regulations in Ecuador
Two examples of Cuenca real estate investments with exact rental yield calculations and all assumptions
My favourite realtor in Cuenca
Ecuador boasts very attractive demographics, which is a plus for real estate investors
A growing population is obviously a tailwind for real estate investors, and provides inherent diversification compared to the demographically stagnating and declining Western markets. There isn't a single country in the West that has a fertility rate even coming close to Ecuador's total fertility rate of 2.1.
Good demographics are a positive, but are far from being the only factor.
A key issue with investing in Ecuador is that it is an unreformed economy
The Heritage Foundation ranks Ecuador near Argentina and Brazil in terms of economic freedom in its 2022 index. And let's face it, Argentina and Brazil are not known for being particularly easy places to conduct business.
The World Bank agrees. It ranks Ecuador as one of the regional laggards in its Ease of Doing Business 2020 ranking.
To give an anecdotal example, the time it takes to obtain a local sim card is often a good indication of a country's bureaucratic culture. In Mexico, Panama and Colombia you can get a sim card as a non-resident at a gas station or wherever, and easily load it with data. In some countries, your card will get deactivated after a few weeks if you don't register it with your passport, but at least if you are traveling it's very easy and quick to get connected.
As soon as I arrived in Guayaquil, the commercial capital of Ecuador, I avoided the expensive airport sim card scam, opting instead for local shops. But nobody would sell me a sim card without a local ID. I was told to go to the shop of the actual cell phone networks.
I opted for Claro, a reputable network operating across Latin America. I did not have to queue and immediately found help. The lady then asked for my passport and proceeded to type furiously on her laptop, making me e-sign a bunch of e-documents, and made multiple copies of my passport. She was hard at work and only after 30 minutes did I receive a functioning SIM card.
Such bureaucratic culture, replicated across an economy, is absolutely not a positive. So I'll count this against Ecuador.
Similar to most of Latin America – a relatively unsophisticated economy
Ecuador exports pretty much only commodities like crude and agricultural products. It is a net importer of of refined petroleum even as it exports crude because it does not refine much. Seeing all the bureaucratic hurdles, I can understand why businesses just choose to dig stuff from the ground and ship it overseas.
If you are of the opinion that we are on the cusp of a secular bull market in commodities, then this is a good export profile. But overall, despite cheap labour costs and multiple ports on the Pacific, Ecuador is clearly under-exploiting its potential.
Tourism (personal travel exports) was growing very strongly before Covid and is now back on track. It is a very nice source of foreign exchange for the country.
It earned the country almost as much as the export of processed fish and Cocoa beans.
With regards to its number one export, crude oil, Ecuador fails to keep production stable. This demonstrates a clear lack of CAPEX in the industry. Ecuador needs to either boost CAPEX in the oil industry, or compensate through other industries, or more preferably both.
The dollarization of the economy forces decent economics onto Politicians
Ecuador is the only country in South America with official dollarization. The official currency of the country has been the US dollar since 2000.
Using another country's currency is generally a negative from a sovereignty point of view. Unelected bureaucrats in another country set your country's interest rate policies. Rather shocking when you think about it.
However, for a country such as Ecuador, it is a positive. The prime reason being that it would be hard for a local central bank to remain independent from some politician who just has the next election cycle in mind. Though the Dollar and the FED are far from perfect, the reality is that the dollar still, counterintuitively, remains a haven of stability.
Dollarization forces relative economic sanity onto Ecuadorian politicians as they cannot print their way out of a situation. Imports = bad. Exports = Good. The result is that they must constantly focus on the current account of the country, and on minimizing debt levels, which are all dollar denominated and cannot be inflated away.
Since the dollarization of the economy, the current account of Ecuador has been well balanced because the government has to keep things under control.
The government should instill more reforms to boost Foreign Direct Investment (FDI), which has been stable / lackluster over the years, but it is choosing not to.
We can also see the impact of dollarization on the country's debt to GDP ratio. Ecuador was forced to restructure debt and improve its financing in the 00's. Thereafter, debt to GDP climbed slowly but steadily until it peaked during Covid. Overall, the debt burden seems to be relatively manageable if there aren't any strong external shocks.
Economically speaking, what emerges for Ecuador is a story of relative stagnation
Judging by GDP growth figures, the performance has been far from impressive over the past 10 years, but also not catastrophic. Ecuador just muddles along.
Ignoring the Covid situation, this subpar performance happened during a commodities bear market, which partially explains the lackluster performance. But it further makes the point that:
Ecuador is shooting below its potential
Its unreformed, bureaucratic economy is what is holding it back. Foreign investment is generally staying away
Tourism is a big earner
Dollarization keeps politicians "honest" in a region that is generally full of politicians of very poor quality, probably even worse than in the West, as hard as that it to believe 🙂
Financing the country's external debt is an on-going concern. In early 2022, it had the world's highest yielding sovereign bonds until matters calmed down with strong oil prices and resurgent tourism.
For real estate investors, I would summarize by saying that Ecuador's economy at large won't be a negative, nor a positive, catalyst if there aren't any significant external shocks. Having said this, Ecuador is vulnerable to external shocks as its bonds demonstrate.
The risk in Ecuador is rather political
A constant in Ecuador is relative political instability with political parties politicking, and the streets often partaking in the clown-show. Ecuadorian politicians are far from impressive and are more busy focusing on power and money, than on reforming the economy.
Ecuador ranks 105th in Transparency International's 2021 Corruption Perception Index. Then again, to be fair, high-level corruption is not much of an issue for an individual real estate investor who buys a few apartments or houses in the country.
The risk, as always in the Andes, is indigenous revolutions that result in chaos for a few weeks and tourists staying away for a few months. This is something that also periodically happens in Peru and Bolivia.
Cuenca is a pocket of excellence in a troubled country
Excellence may be an exaggeration for a sleepy town of 300,000 inhabitants, but there are a few trends that make Cuenca particularly attractive from an investment point of view.
1. Cuenca constantly makes it onto every list of top places to move to in Latin America
Just go on Google and search for "Top Destinations Latin America", or "Best places to retire in Latin America", or "Where to live in Latin America" and you will find Cuenca on the majority of such lists.
Why is this important? Because part of my thesis for Cuenca is that I expect millions of North Americans and Europeans to move to Latin America in the coming years for a host of reasons.
People looking to beat inflation by moving somewhere more affordable
People fleeing political tensions in North America and Western Europe
Digital nomads who can work remotely and would rather do it from somewhere cheaper and more peaceful
Boomers looking to retire somewhere with a lower cost of living and affordable healthcare
These trends are extremely strong. And most people simply go on Google to look for destinations, and consequently all herd around the same top spots such as Medellin, Cuenca, Mexico, Costa Rica, Panama, etc.
Cuenca makes the cut on most of these "top cities" lists, whether or not you believe it deserves to be there. This is a major tailwind for the city.
Speaking to people on the ground here in Cuenca, the demographics of people here are changing. Historically, it was almost entirely American and Canadian retirees. Now, many more Europeans are moving here as well as young families and digital nomads.
2. In a world of energy tensions and crisis, living in Cuenca requires very little energy
Though I personally prefer warmer weather, the reality is that the weather is very temperate and pleasant for a lot of people. It's never too warm, nor too cold. Importantly, for real estate investors, just as in Medellin, you do not need A/C nor heating. This is amazing from an investment point of view as your real estate investment in Cuenca requires less CAPEX upfront, less maintenance over the years as well as much lower utility bills.
Being in the Andean mountains with many rivers around, water is also plentiful and affordable. Finally, as the city is walkable, money spent on transport is minimal.
3. Affordability
Though the economy is dollarized, the cost of living remains very low. You can live very comfortably as a single person for about $1500 per month. Taking the bus or tram around town costs 35 cents.
4. Ease of transport and walkability
Walkability is a huge plus in Cuenca. One can quite literally walk everywhere. Unlike in many parts of Latin America, the sidewalks are well-constructed and everyone walks or cycles around. There are even nice bike paths around town.
Not only is there a brand new tram line, the whole public transport network is functional and used by locals and gringos alike.
Not only can you walk, cycle, or take public transport, but taking cabs is extremely affordable. A ride across town will set you back $2. Taxis are abundant so you never need to wait long to get one.
People across the world increasingly look for walkability and ease of life.
Finally, Cuenca is an easy four hour bus from Guayaquil, Ecuador's commercial capital with its well-connected airport. Buses leave every half hour, and the trip is easy and cheap (I paid $9 one way).
Cuenca also has an airport, with daily connections to Guayaquil and Quito on Latam and Avianca. Finally, a significant catalyst is that Cuenca airport recently changed its status to international. There are now flights to Miami and more international flights are planned, including to Colombia and Peru.
5. A ton of activities in the region
I was quite impressed by what I saw in Cuenca. There were heaps of cute restaurants and bars and the supermarkets were full of fresh produce and products from back home at reasonable prices.
I travel full-time in emerging countries, and I often struggle to find western products that I miss from back home. For example, in some parts of Mexico it can be a challenge, or in countries such as Montenegro. However, in Cuenca, I was not expecting to find such good food everywhere. Even the imported food was reasonably priced.
As for outdoor activities, I don't feel I need to elaborate on this. Cuenca is quite literally in the heart of the Andes, so outdoor activities are endless. The Pacific Ocean and its choice surf spots are a few hours away. You can easily hop on a domestic flight to the Galapagos for a few days.
6. Healthcare and Schools
Cuenca is a healthcare tourism destination locally within Ecuador. Look at the tourist map I received here.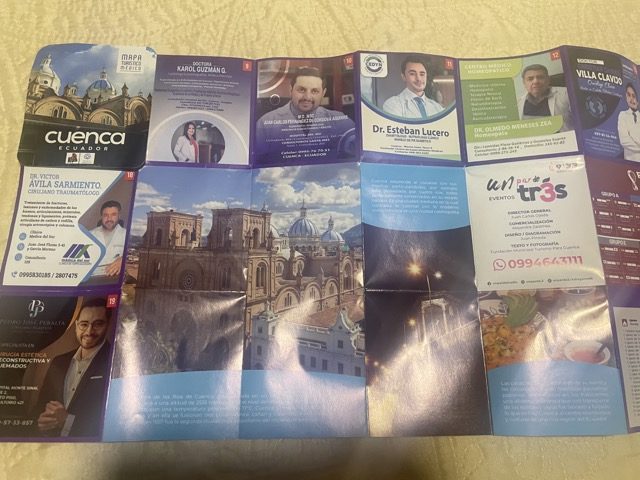 In most places such tourist maps would be composed of ads for bars, nightclubs, tour buses, girls, massages, restaurants, etc.
Not in Cuenca; almost all medical services. When walking around town you will notice that private clinics are ubiquitous.
Affordable healthcare is a huge draw for retirees.
Finally, there is a solid concentration of local private schools. For now there isn't any full-fledged international school, but objectively this isn't much of an issue for a few reasons:
Homeschooling with online tutors is increasingly doable
There are even international online schools for expats
Spanish is very easy to learn for children, and it's an incredibly useful language. Going to a good, local private school such as this one would be a positive for children.
7. Cuenca is a safe haven for Ecuadorians
Growth in Cuenca won't just come from foreigners. Locals are moving here in droves too, primarily because of safety. Many Ecuadorian cities such as Quito and Guayaquil are particularly violent, but Cuenca is safe. Though there are a few issues with small-time theft, the reality is that people walk around everywhere day and night.
The city also has several universities. Overall, talk to any Ecuadorian and they all love Cuenca. I believe that this trend is set to continue. Both locals and foreigners will be driving strong demographic growth in the city, which is a boon for your real estate investment in Cuenca.
8. Ease of immigration is resulting in many people moving here
People wanting to move somewhere is one thing. Being able to move there is another. In many countries obtaining residency is challenging. But to obtain residency in Ecuador, all you need to do is invest $45,000 in a term deposit or local real estate. There are also immigration programs for retirees, professionals, and earners of passive income.
The path to permanent residency is clear, as well as the path to citizenship. I wrote a whole article on how to obtain residency in Ecuador and discussed the topic with my lawyer.
In which neighbourhoods to make a real estate investment in Cuenca?
As always, choosing the right neighbourhood to invest in is crucial. Sometimes being wrong by a block or two can make a world of a difference for your real estate investment. This map is a useful guide.
"Centro"
The Centro is where most of the action takes place, and where most tourists like to stay. It's historical, there are many bars, restaurants, and there is activity throughout the day. When people come to Cuenca for just a few days, this is typically where they like to stay.
There is also strong demand for long term rentals to people who like to live in the thick of things. Parking is however an issue.
My relative chose to invest in the Centro as his objective was pure return on investment (ROI) without any lifestyle component. I'll share what he bought below along with all the numbers.
"Prostitutes"
I had to highlight this area as it is very close to the Centro and it is important not to buy there. This is where understanding the local dynamics is important. It's extremely close to the Centro, so one might think this would be a decent area to invest in, especially as the prices are extremely low there, but there is a reason for this. On top of this area in red, I would avoid Avenida Huayna Capac as a lot of girls seem to be working these sidewalks.
"Gringolandia"
This area in the West of Cuenca is known as "Gringolandia" by all, even the locals. It's where the Gringos like to congregate. It is one of the few areas with high-rises, and has one of the nice supermarkets "SuperMaxi" where Gringos can find the food they like.
It's an easy place to find tenants as there is always strong demand. There is easy access to the Centro with public transport thanks to the tram.
Personally, I find that this area lacks charm, but many would disagree with me given all the people moving there, including wealthy locals. It's definitely a prime area.
My only worry is that the zoning laws are extremely loose, so it's easy to build more. The river access is also not as nice as other areas.
"San Joaquin"
This is an area that is developing fast, but which is still semi-rural. Between houses and buildings there are still plots of land with cows and horses as well as agriculture.
If I were to buy here I wouldn't count on it being easy to find tenants. However, from a lifestyle point of view it's pleasant if you want to live in a semi-rural setting close to town. Seeing the demographic pressure in the city, I would expect capital gains on the land in the long run.
"Primero de Mayo"
This is my absolute favorite from a lifestyle point of view due to the proximity to biking lanes and nice walking paths along pretty rivers. There is also a ton of parks around, and another SuperMaxi not too far away for those who want Western comforts.
I find this area more pleasant than Gringolandia, and I think it will develop over time. The issue is that public transport to the Centro is not as good, so you might have to pay for a $2 cab ride…
There are some new buildings being built here, but fewer than in Gringolandia. Long term rentals would do well here as well, though there is less demand. Supply is also more limited.
My personal favourite for lifestyle.
"Solano and el Vergel" in Cuenca
This area does not look like much during the day, with a lot of administrative buildings and traffic. But at night it comes to life with plenty of eateries and bars. It is definitely a preferred hang out spot for moneyed locals and it is right next to the centro.
"Monay"
Seems to be emerging as an area where foreigners like to move to. I think it's mostly for people on smaller budgets looking for low prices.
I don't think this is where you would want to concentrate your efforts as an investor as I don't see many catalysts for the neighbourhood as a whole The area is not central nor does it have anything particular to offer.
It's a decent option if you want to buy something affordable to live there yourself and live amongst the locals.
"Challuabamba"
About 20 minutes out of town, you will find yourself in splendid, peaceful rolling Andean hills. You can find options for all budgets but is it decidedly upmarket, with a number of premium developments. The highway to town is in great condition.
The only downside is that you'll need a car if you want to get to town. But objectively this area is very nice; much nicer than emerging San Joaquin on the other side. There is a high concentration of foreigners who retired here.
While in Cuenca itself you see non-retired foreigners, here in Challuabamba it really is almost all retired people apart from locals. There are even premium retirement homes specifically targeting Americans and Canadians (About $2,000 per month).
I'd say this is a lifestyle option. No real Airbnb potential, nor is there much liquidity in the rental market.
Airbnb Regulations in Ecuador
Essentially, there are no Airbnb regulations in Ecuador. Most realtors will therefore be quick to tell you that you can do Airbnb anywhere.
And this is true. As long as your building's Home Owners Association (HOA) does not ban short-term rentals you are good to go, and things operate smoothly for most landlords.
However, what they often fail to mention, not necessarily out of malice but simply because it's not an issue yet, is that the same HOA could decide to ban short-term rentals in the building. And you would be powerless.
So it's very important to choose wisely in which building to invest. For example, my relative almost bought an apartment in a building, but the issue was that most of the other owners were old ladies. At some point they could have gotten together to ban Airbnb.
Ideally for Airbnb you buy in one of the following:
a single house
in a building that explicitly authorizes short term rentals
in a building where you can tell the other owners will be fine with it (generally when there is a portero (doorman) people are less worried)
where your ownership is big enough to veto any changes to the HOA rules
I absolutely don't mean to fear-monger on the topic of Airbnb. Objectively, the odds of the owners getting together to ban Airbnb are generally low due to the tenant profile. We are talking about Cuenca, where most people come for medical tourism, retirement exploration trips, hiking in the Andes, chilling in a beautiful historical town, etc.
It's not Medellin or Rio where many of the target tenants come for partying, drugs and hookers.
An example of a real estate investment in Cuenca with exact rental yield and capitalization rate calculations
A family member of mine bought this apartment in the Centro. It's the middle floor in an older building.
The average price for newer buildings in Gringolandia for example is about $1,200 per m2 ($110 per ft2). This one was particularly cheap, but the building does not have any amenities, nor private security.
He paid $88,000 for this apartment which in the title deed is 165m2 (1775 ft2). Measured, it is closer to 135m2 (1450 ft2). Importantly, it has two private parking spots as well at the back, which is a rare find in the Centro. At a cost of $650 per measured m2 or $60 per ft2 it's fair to say that it fits the definition of cheap.
The apartment requires a renovation as well as furniture (the current furniture is to be removed by the seller). My family member plans on:
Remodeling the kitchen and terrace
Remodeling the two bathrooms
Repainting all the bedrooms and living room
Furnishing the place
What we found unique about this place is that it is in the Centro, has a low price per m2 and ft2, has parking, and a bright interior.
Why make this property investment in Cuenca?
Complete diversification from Western markets
Immediate capital gains. Could sold for $120,000 after renovation
Option to do Airbnb in this apartment because the apartment has 37% of voting rights in the HOA yet 2/3rd of voting rights are required to ban Airbnb
Extremely low carry cost of less than $200 per year if empty
Expectation for capital gains and increased rental rates as more people move to Cuenca
Limited supply of such properties in the Centro (large, bright, with parking, on a quiet street)
Another advantage is that round-trip costs are low in Ecuador. Selling incurs minimal capital gains taxes, reduced for owners aged 65+, and 3% in agency fees.
Making a real estate investment in Cuenca, Ecuador, makes even more sense for people aged 65+
Why? Because of special government benefits for people aged 65+
Reduced capital gains taxes for people aged 65+
Property taxes for one property per person aged 65+ are reduced to a nominal amount. I put $100 in the numbers, but from $250 for normal people they will probably go down to less than $50 for my retired family member
Utilities are slashed in half (water, electricity, trash services) for for owners aged 65+
This effectively makes Ecuador one of the real estate markets in the world with the lowest carry costs.
Video "Cuenca Real Estate Investment Case Study".
In this video I met up with Veronica, the realtor in Cuenca who helped my relative find his investment. We made a case study out of this gorgeous historical house in the core Centro.
Cuenca offers interesting diversification
It is a unique play on people leaving the West for good and immigrating to a pleasant town with a low cost of living. Obviously, as with any investment, there are risks. Here the risks stem from macro and political considerations as well as the odd earthquake.
Would I go all-in Cuenca? No. But having some small exposure to this market offers very decent diversification. I like it.
Feel free to get in touch with Veronica
You can find out more about Veronica's realtor services in Cuenca here. She also helps people invest on the Ecuadorian coast. You can send her an email directly as well, just make sure to include your Whatsapp if you use it veronica@thewanderinginvestor.com.
Services in Ecuador:
If you want to read more such articles on other real estate markets in the world, go to the bottom of my International Real Estate Services page.
Subscribe to the PRIVATE LIST below to not miss out on future investment posts, and follow me on Instagram, Twitter, Linkedin, Youtube, Facebook, Rumble, and Odysee.
My favourite brokerage to invest in international stocks is IB. To find out more about this low-fee option with access to plenty of markets, click here.
If you want to discuss your internationalization and diversification plans, book a consulting session or send me an email.