Serbia is a country of nearly seven million souls, in the heart of the Balkans. Belgrade, its capital, is also the regional business hub. This was always the case historically, whether in royalist or socialist times during the Yugoslavian period. I like investing in core, tier-one real estate, as it is a great way to preserve and grow wealth over time. So is making a real estate investment in Belgrade, Serbia, a good move?
Table of Contents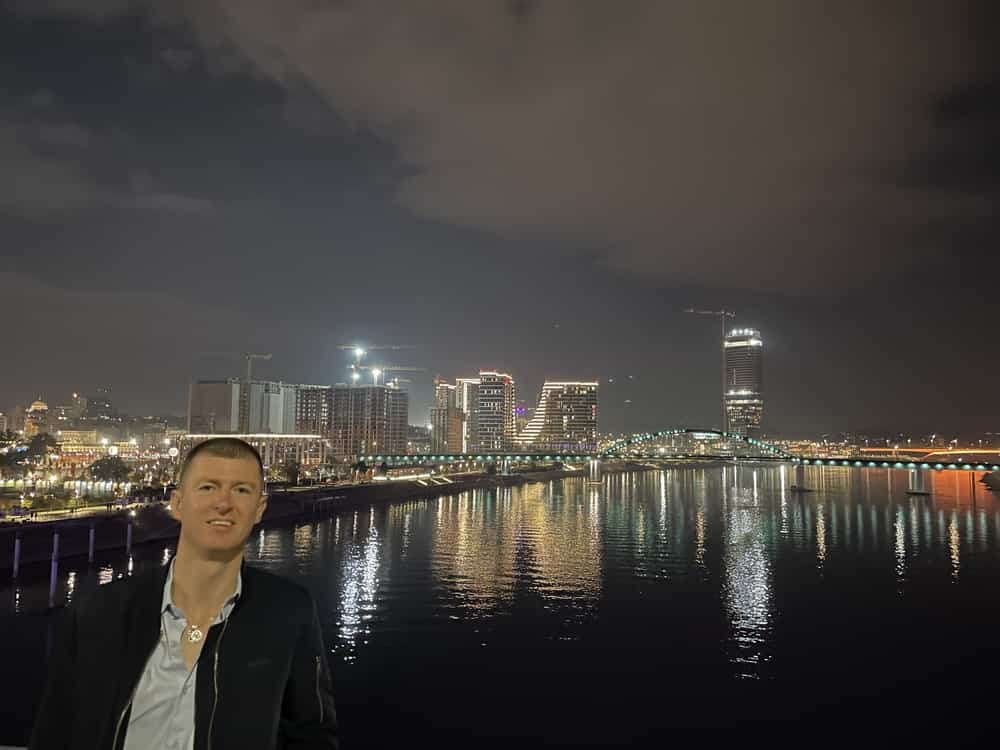 Serbia is a unique geopolitical play – between East and West
Since the days of Tito, the Yugoslav communist dictator, Serbia has been sitting in between the western and eastern powers, trying to play a complicated balancing act.
Maintaining such policy of course leads to inevitable setbacks and constant pressure. But with a set of geopolitically inclined politicians, and decades of experience in the matter, this policy is starting to yield long term dividends.
According to the IBM Global Location Trends 2020 report, Serbia maintained its global number one spot as the country that creates the most FDI jobs per million inhabitants. It achieved this ranking four years in a row. Impressive.
The source of investments is very diversified.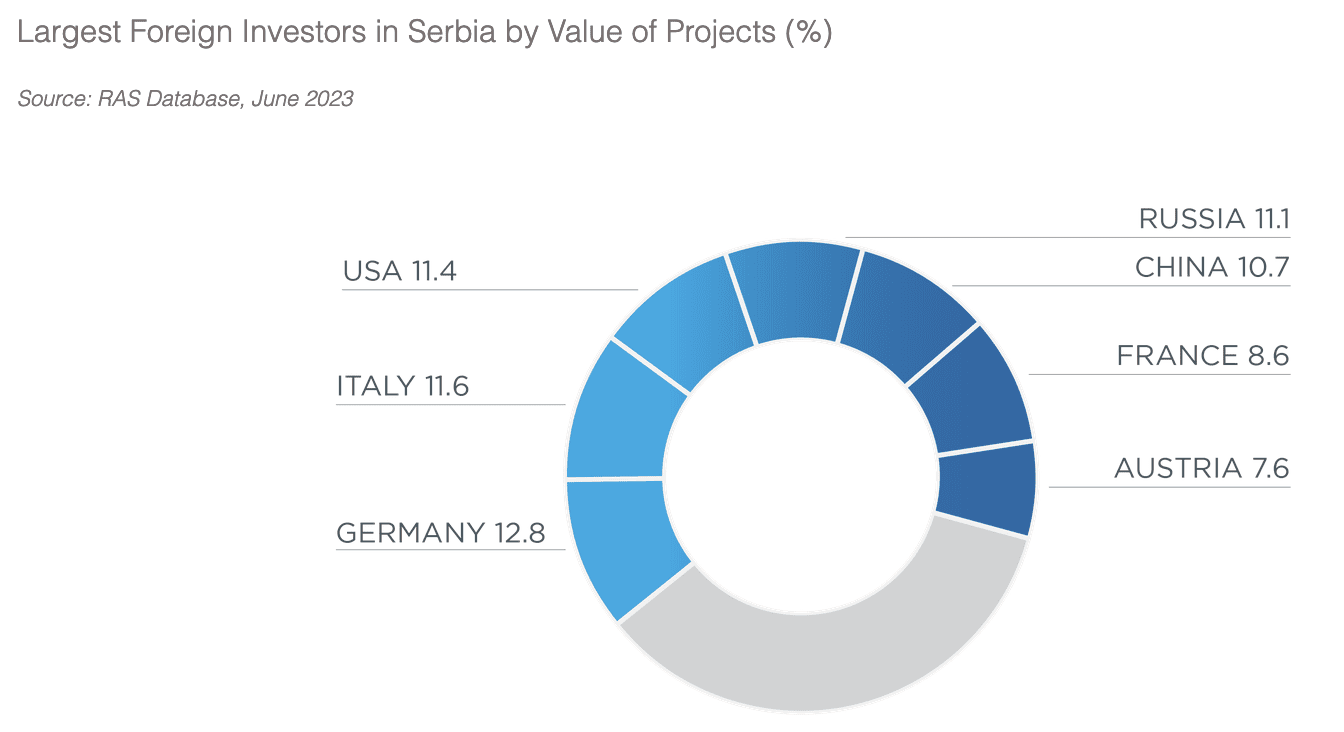 Notably, China has been the source of a lot of growth.
The trajectory has been impressive too, bar 2020 which was a down year due to obvious reasons.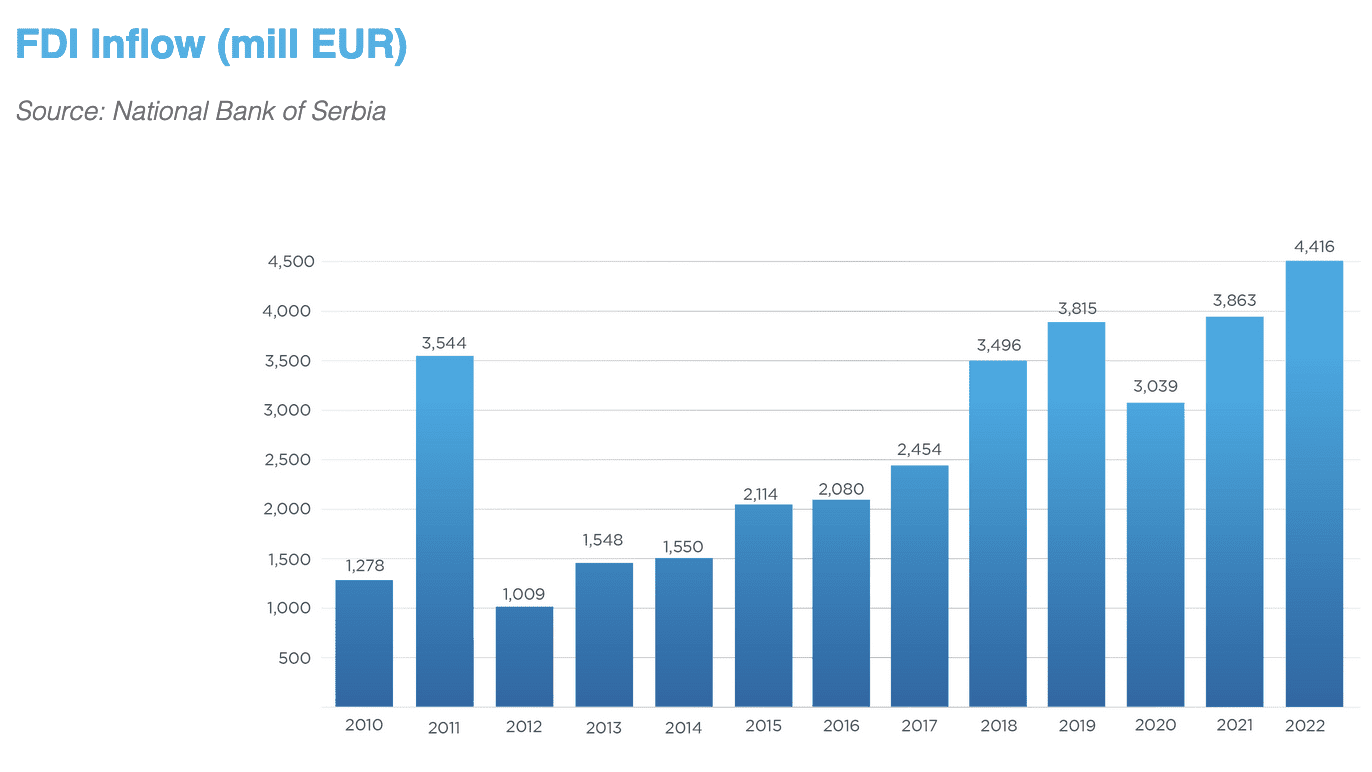 This foreign policy was very evident in the country's vaccine policy. While most of the EU was running around like headless chickens, Serbia already had deals with the Russians, Chinese, and British. Later on, it added the American options as well. Serbian residents signed onto a portal and could choose for themselves which vaccine they wanted.
Serbia signed free trade agreements with Turkey, the Eurasian Economic Union (which includes Russia), the other non-EU Balkan states, has nearly free trade with the EU, and preferential agreements with the US and Japan. Additionally, it is a member of the Chinese Belt & Road initiative which is resulting in a lot of infrastructure development for Serbia.
Finally, Serbia also has one of the few passports granted visa-free access to the EU, Russia, Japan, and China, an impressive feat.
Well done, Serbia.
An increasingly high value-add economy
Serbia is not some backwater. It is a country with a highly qualified labour force, a booming IT scene, and a strong industrial base.
It is visible in Serbia's export mix.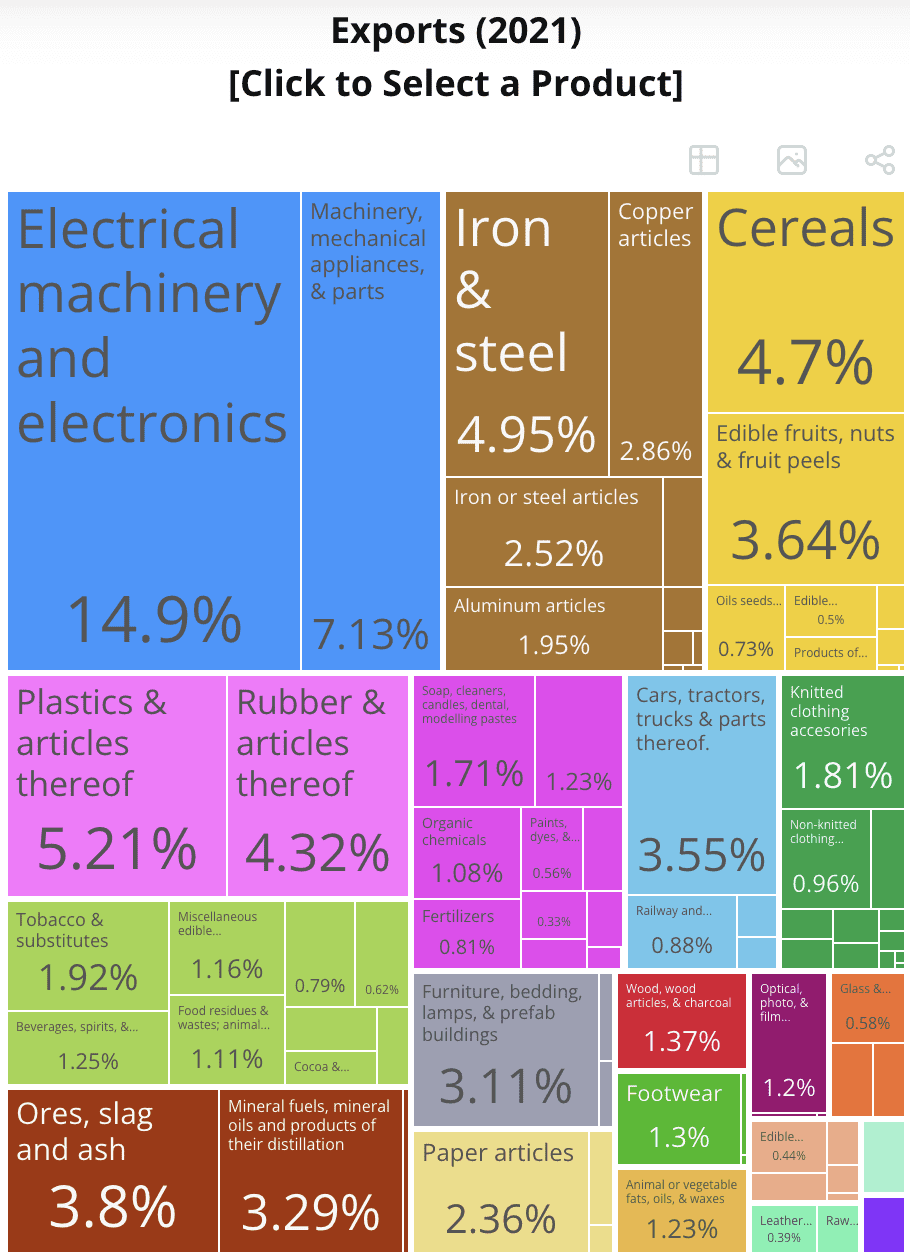 Source: OEC
Decent government finances
Serbia has been doing a relatively good job at managing its debt levels over the past few years, on the back of strong GDP growth.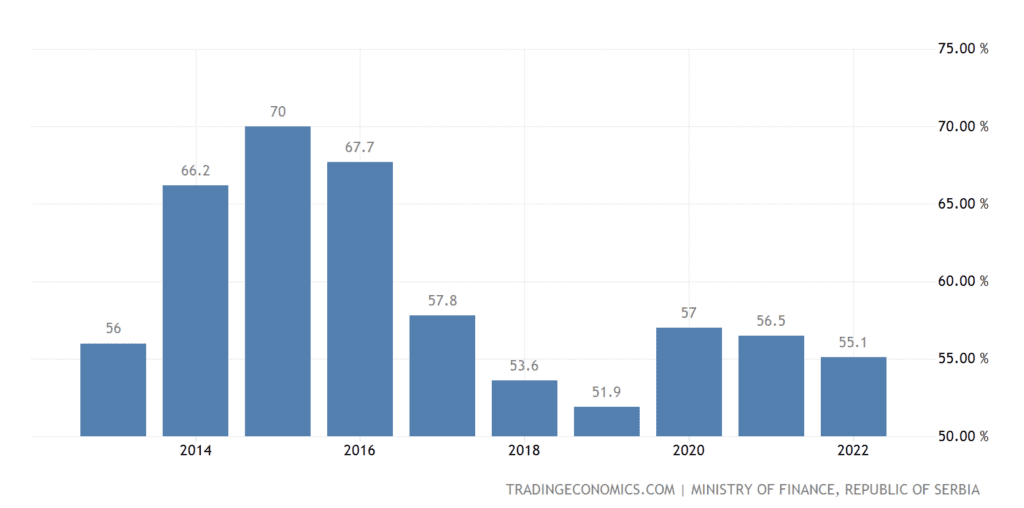 The main issue on the financial front is the persistent current account deficit.
However, it is more than covered by the high FDI numbers. Serbia is essentially covering its current account deficit by making itself attractive to foreign investors.
Serbia's vulnerability to the energy crisis
Serbia imports most of its energy needs. Its large 2022 current account deficit was due in large part to the energy crisis in Europe.
The core issue isn't the source of electricity as it is mostly produced locally thanks to historical Yugoslav policies of striving for economic independence. Two thirds of the electricity uses coal which is mostly produced in Serbia with a few regional imports from Montenegro, Bosnia and Bulgaria. The rest is mostly hydropower as there are quite a few large damns in the country.
The issue is rather the import of gas and oil. Serbia has historically had very good ties with Russia. When the Russia/Ukraine war started as all Western countries were imposing sanctions on Russia, Serbia managed to stay out of it and even cut sweet deals with Russia to get discounted oil & gas. However due to large EU pressure, Serbia is being forced to abandon Russian oil and to opt for more expensive Iraqi oil instead.
It is gradually being forced to move away from Russian gas as well, with EU subsidies, and is signing deals with suppliers such as Azerbaijan.
Overall though, access to energy is a key risk as a landlocked country which is trying to balance its interests between two blocks throwing hits at each other. It's a key vulnerability for Serbia, both politically and economically.
So it is taking learnings from Turkey's strategy which is also highly dependent on imported energy. Serbia is thus building many pipelines to other countries in order to become a transit hub, and diversifying its options.
It is building pipelines to Hungary, Bulgaria, Bosnia and already has existing pipelines to other neighbouring countries such as Croatia, Romania and North Macedonia.
Is it a great situation to be in? No, but the country is trying to mitigate the risks.
Serbia has a poor demographic outlook, which is hardly bullish for the real estate market in Serbia
This chart is sad:
The causes of this demographic decline are two-fold:
A low fertility rate of 1.5 children per woman.
Emigration. Serbs emigrate en masse to Western European countries such as Germany, Austria, and Switzerland.
However, Belgrade's growing population makes the case for focusing your Serbian real estate investment in Belgrade
Serbia's demographic decline with not impact Belgrade, the growing capital of the Balkans. If I were to make a real estate investment in Serbia, it would be in Belgrade.
Real estate in Belgrade is expensive compared to other regional markets
Deloitte shares interesting data on the price of new builds. In 2022, the average new build:
€2,587 per m2 in Belgrade (population 1.4 million)
€1,693 per m2 in Bucharest, Romania (population 1.8 million)
€1,262 per m2 in Sofia, Bulgaria (population 1.4 million) *2021 number
€2,862 per m2 in Budapest, Hungary (population 1.8 million)
Price have gone up significantly in all cities in 2022. But overall, I don't see why Belgrade would command such a large premium over comparable cities such as Sofia and Bucharest, which are both wealthier and part of the EU.
The discount to Budapest, visible in the new build segment, partially skewed by most new builds being in "New Belgrade", does not quite apply to the core historical center of Belgrade. In this part of the city, prices for pretty, historical buildings are comparable to those in the best districts of Budapest.
Are Belgrade historical buildings worth more than Budapest's? In my opinion they shouldn't be. The city has less potential for tourism, and the reality is that we are dealing with a country with a per capita GDP of $9,400 versus Hungary's $18,500.
By all measures, making a real estate investment in Belgrade means buying into a market that is either over-priced, or ran ahead of itself.
Relatively high prices compared to local income in the Belgrade real estate market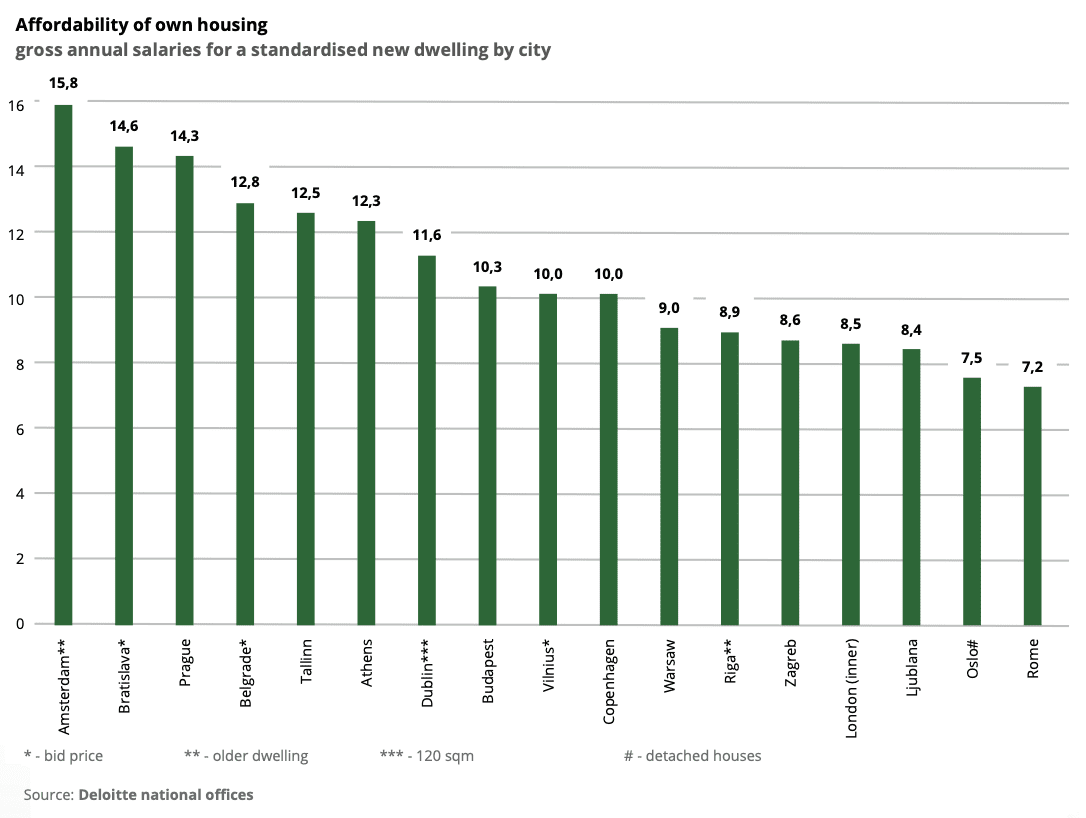 Real estate prices in Belgrade are relatively high to local incomes. It does not mean that the ratio will worsen to reach the ratios of cities with an even worse position, but it does show that prices are already high as they are.
Rents in Belgrade have shot up massively due to the Russia/Ukraine war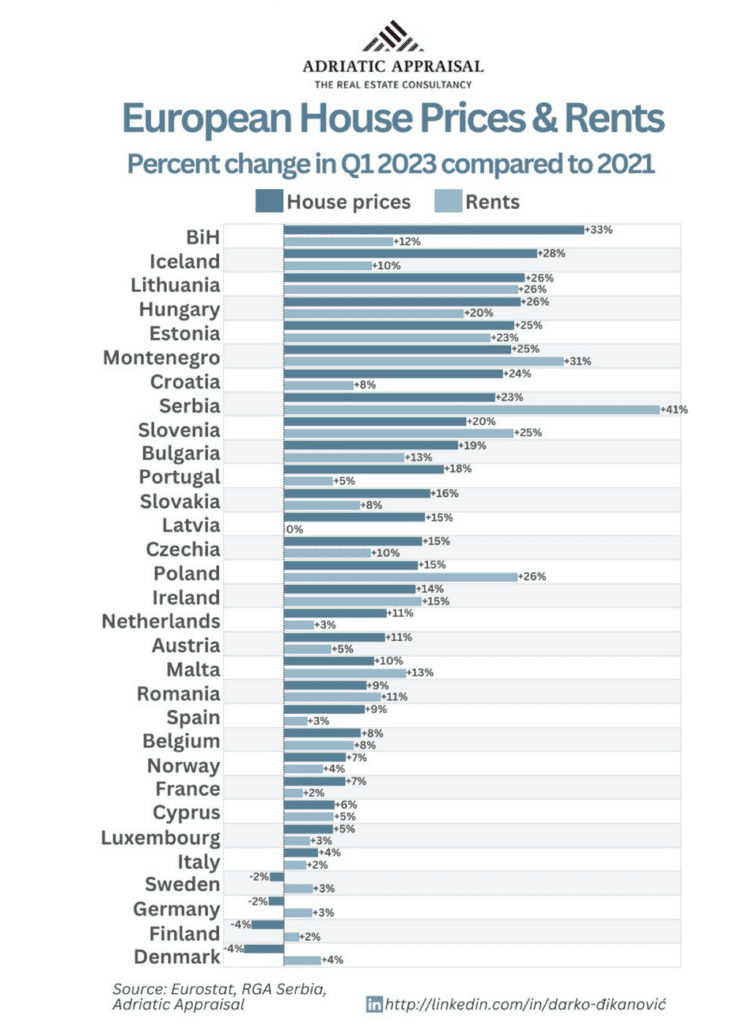 It's really hard to come up with reliable, durable Belgrade rental yields and capitalization rates because the market is in such a flux. Why?
Because of a massive influx of Russians fleeing conscription and the war. Serbia is one of the few countries in Europe that still accepts Russians and with flights to Russia. It's also relatively easy to obtain residency in Serbia.
It is estimated that 200,000 Russians have moved to Serbia since the war, both legally and illegally. Most are in Belgrade. When I was walking around in Belgrade as recently as October 2023, I could hear Russian everywhere.
The impact on the rental market has been massive and is the reason for this spike in rental prices. Serbs are complaining about it. But how durable is this? I don't know. Only 1/6th of these Russians became legal residents, so many risk being transient, move somewhere else, or go back home eventually if the situation improves.
There is a bit of a clash between the typically liberal anti-Putin Russians, and the generally pro-Putin locals.
Mortgages for Belgrade real estate are cheap, at about 3-4% for the local market. They are also available to non-residents
API Bank offers non-resident mortgages over 20 years at 6m EURIBOR + 5.00%. Locals currently can get the same for 6m EURIBOR + 3% with the largest local bank. Is it attractive? It's quite expensive and makes it hard to reimburse the mortgage using cash flow from the property.
But the real estate market in Belgrade is not a clear-cut case of bubble / over-valuation
Before I elaborate on this point, I must first say that finding properties for sale in the historical parts of town is a challenge, unlike in Budapest where thousands of properties are for sale. In Belgrade, historical properties at market prices can get sold within days. Working with a good real estate agent is key (details on a good Belgrade real estate agent).
This being said, the market in the center of town is not driven by the "average local" who comprises these statistics. Who is buying in the center of Belgrade?
Diaspora Serbs sitting on booming assets in the US, Canada, Germany, Serbia and Switzerland like to buy prime property "back home".
Corruption money, of which there is plenty, gets laundered in local real estate.
Local IT workers who earn serious $ or € online, and are thus completely disconnected from the local labour market.
Russians
Finally, there are few other options for locals to invest their savings in. The capital markets are nearly nonexistent, and confidence in banks is low. So what do people do? They buy what they know – real estate.
So sure, the real estate market in Belgrade does not make for a particularly appealing investment, and prices have run ahead of themselves, but I doubt we are likely to see a very hard crash. Maybe a small correction, and stagnation, whilst Serbia grows its way into fairer valuations.
Overview of key neighbourhoods to make a real estate investment in Belgrade, Serbia
When you arrive in Belgrade you are bombarded with ads for new buildings, and everyone you speak to has a very strong opinion on the real estate market and where to invest. A strong opinion does not mean that these people are right. People in the Balkans just have strong opinions – it's part of their communication culture.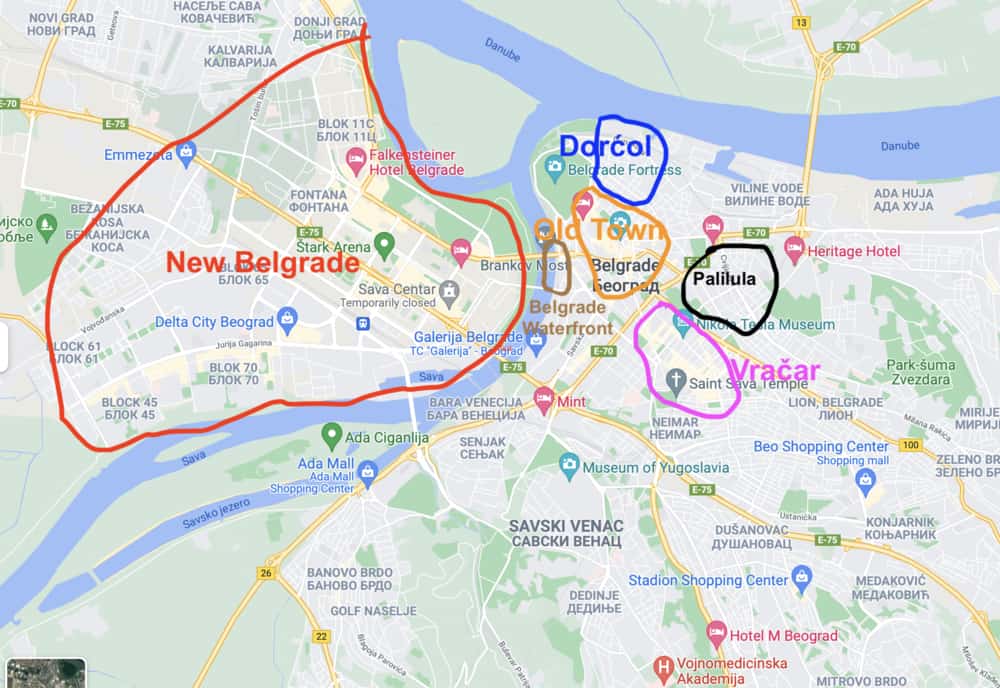 Investing in property in the "old" parts of Belgrade, Serbia
Old Town
Highest per m2 price in Belgrade along with Vraćar. This area is a sure bet. It's the heart of historical Belgrade, and loaded with tourist activity. However, from what I could see, it is not the nicest place to live. There are many shops around, but not necessarily the best, and it can feel overtouristed. Parking is also extremely problematic. Locals with a lot of money prefer to live in other areas. But still, it is a sure bet.
Dorćol
One can divide Dorćol into two areas – upper Dorćol near the Old Town, and lower Dorćol near the Danube river. Upper Dorćol is packed with historical buildings, without all the middle-of-the-range shops that can be found in the Old Town. These quaint little streets are lined with cool bars and restaurants, making it extremely livable.The price per m2 is almost the same as in the Old Town, with the difference being that it is better from a lifestyle perspective. I feel one gets more bang for buck here than in the Old Town, and more potential tenants. The play is to buy into a historical building and keep for the long haul.
On the other hand, lower Dorćol is not very popular amongst locals, and thus comes at a significant discount to upper Dorćol. It's easy to see why; upper Dorćol consists of beautiful historical buildings, while lower Dorćol mainly has buildings from the late Yugoslav years that are not looking in great shape at all. However, the opportunity here comes with buying into new buildings with parking.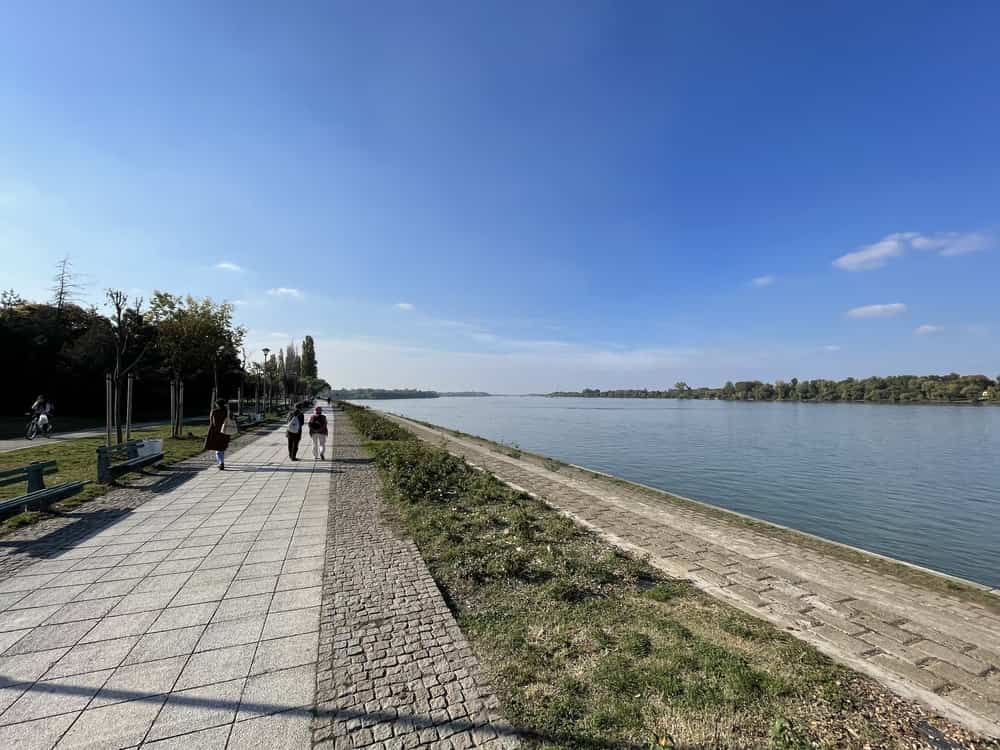 This is a great combination. One gets to live right next to all the cool areas, but still have good access (with a car), and be close to the mighty Danube. I believe that long term we should see a re-rating of lower Dorćol.
Vraćar
This one is a great mystery to me. It's one of Belgrade's most expensive neighbourhoods, where people want to be seen. Prices are comparable to Old Town and upper Dorćol. But objectively, it is an ugly neighbourhood. People from Belgrade will hate me for saying this, or say that I don't "understand" but it's fine. The whole neighbourhood is a random collection of ugly Yugoslav buildings (majority), some attractive historical buildings (minority), new builds, and cute cafes. I understand that people prefer it here to the Old Town due to ease of access and better public transport, but apart from the lovely Orthodox Cathedral, the neighbourhood is just ugly.
I would simply state that there is a gap between perceived value and objective value, and that upside is much more limited in the long run in this area compared to other areas.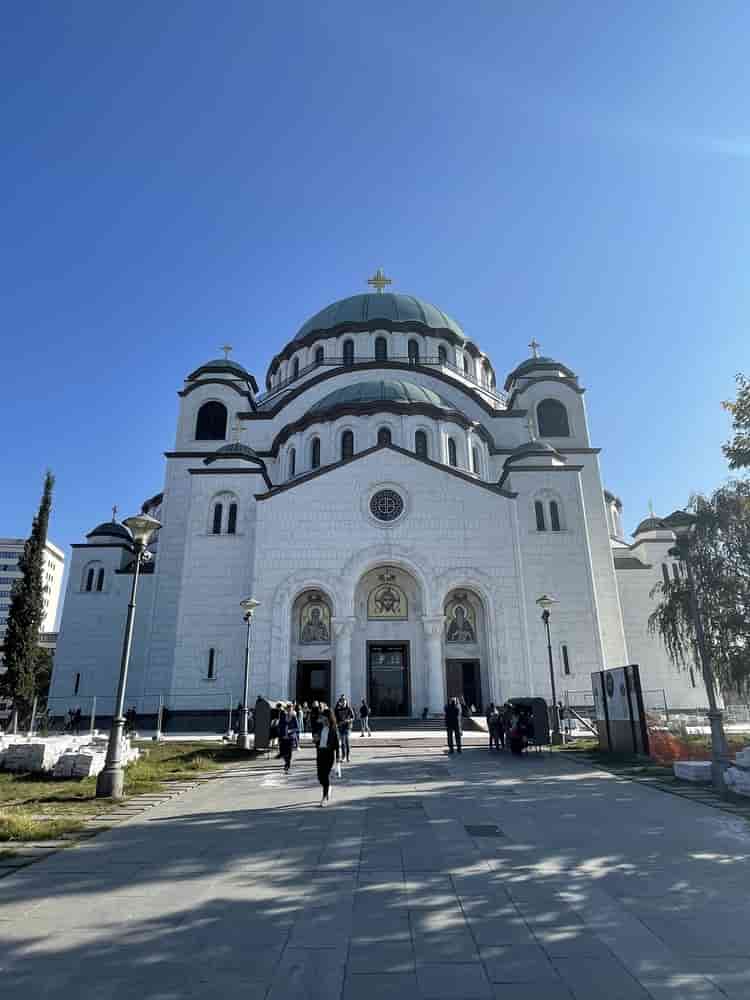 Palilula
Up & coming area. Currently ugly and packed with Yugoslav buildings, but its proximity to the center and parks make it an interesting play for those wanting to invest in new buildings. This is definitely an area that will improve over the years.
Investing in real estate in the "New" parts of Belgrade, Serbia
New Belgrade
This is the great debate in Belgrade: "New Belgrade or not". Most new developments in Belgrade are in New Belgrade. The two sides of the river are completely different. While "old" Belgrade is packed and dense, New Belgrade is comprised of (extremely) large avenues and free space. Parking there is a complete non-issue, which is a huge plus in a city where public transport is slightly underwhelming. Do note that Belgrade does not have a metro system, which is surprising for such a large city. Many local families like to move to New Belgrade because of parking, and more space for children, as well as the more modern amenities.
If I were to live in Belgrade with a family, I would prefer that side of town. If I was single and/or old, I would prefer the other side. That said, the question is whether or not New Belgrade is a good investment. I would tend to say no. A good place to live and a good investment are not always synonymous. In this particular case, there is simply too much available land in New Belgrade. So you have pockets of old Yugoslav communist-type blocks, then areas with buildings from the 1990s, then from the 2000s', etc. The core issue is that as new developments come online, older ones lose rental appeal.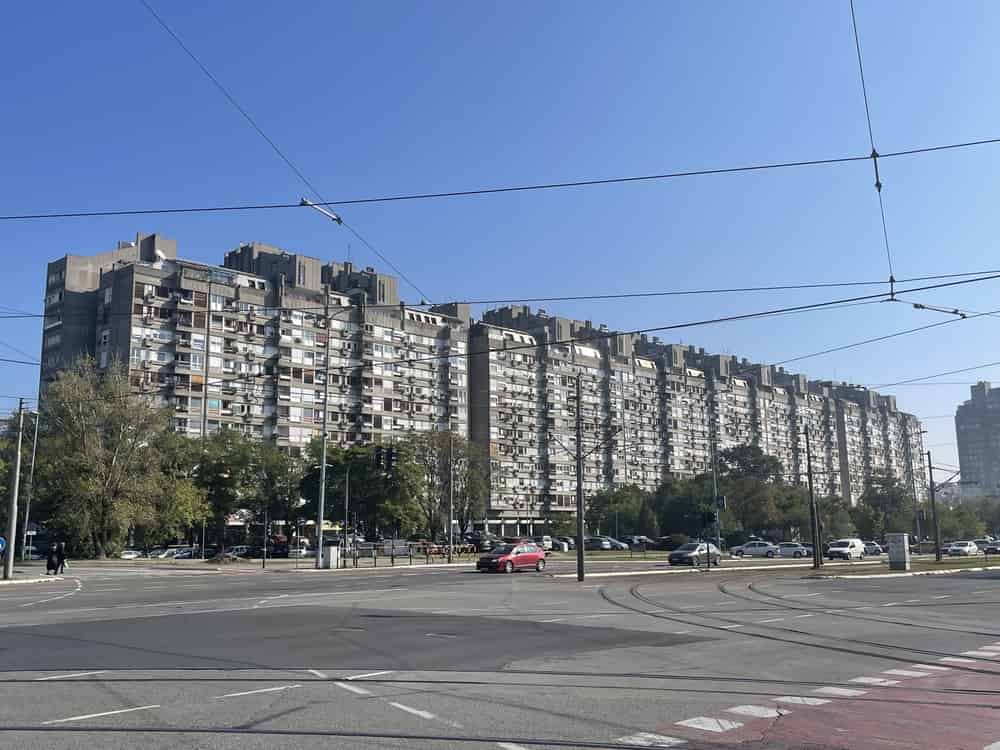 As an owner occupier or renter, it does not matter too much. But as an investor, this makes investing in New Belgrade a lot trickier and subject to the whims of what is considered "cool". Vacancy rates in older development seem to be quite high too. So unless you live in Belgrade, and can live and breathe the market, I would stay away from investing in New Belgrade.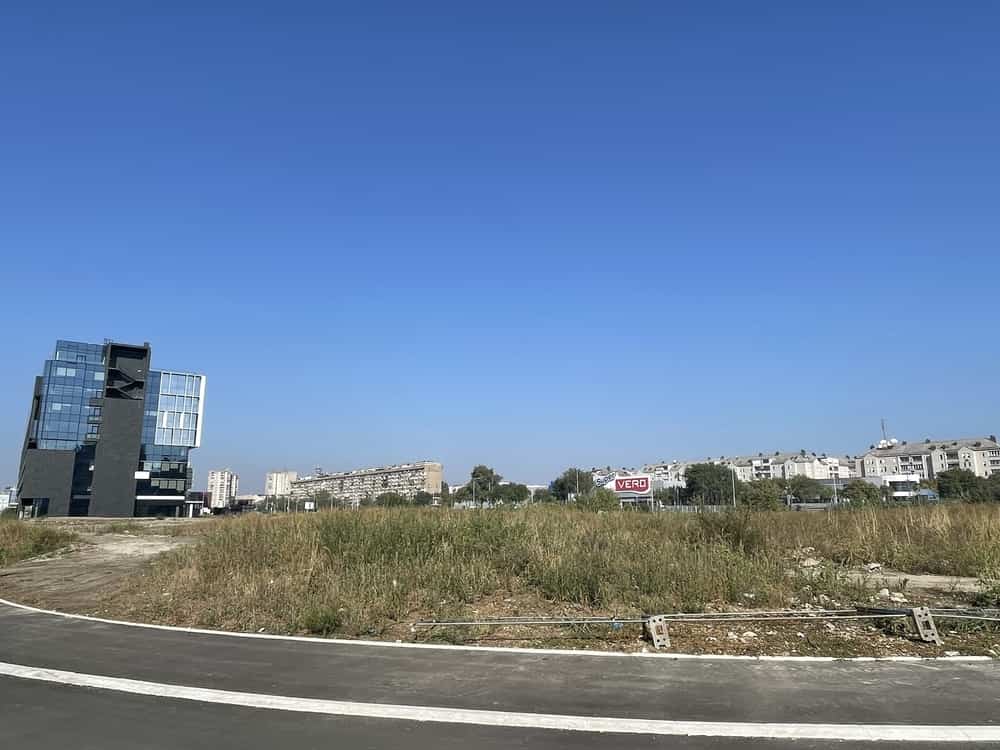 Belgrade Waterfront
This project is the highlight of the real estate industry in the Balkans. The Serbian government teamed up (1/3) with a large UAE developer (2/3) to completely reinvent one the banks of the Sava river. Old industrial buildings were destroyed, and now dozens of high-end buildings are popping up along a brand new promenade. All buildings have concierge service, some have gyms and swimming pools. There is even a tower being built to house the St. Regis hotel. Apartments in this particular building go for about €9,000 per m2. The Balkan's largest luxury mall was also built there and is already operation. Finally, a W Hotel is set to open in a few years.
Starting prices for apartments in some of the buildings are about €5,000 per m2. One can expect gross yields of about 3-4%. Personally, I made the mistake in the past of investing in such luxury developments. My key learning was that only three types of investors make money in such developments:
The developer himself.
The management company of the development.
Early investors who bought off-plan before it was clear the project would be a success.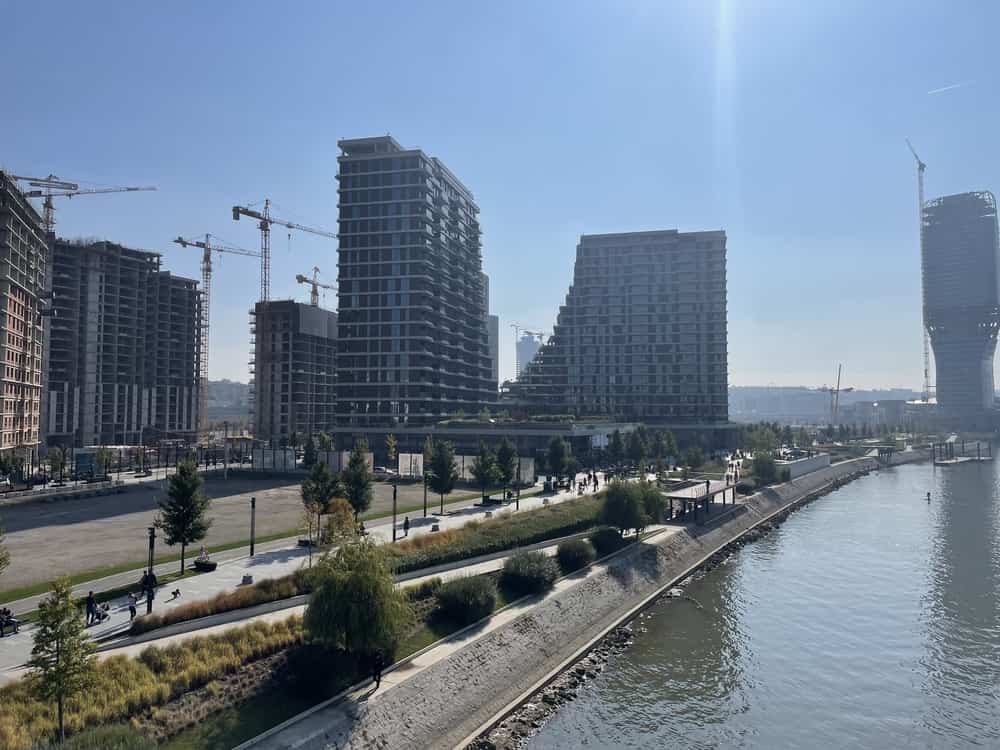 However in the case of the Belgrade Waterfront, I have to admit that yes the prices are high, but this luxury development is actually in the heart of Belgrade, and not some 20-30 minutes away from the core as such projects often are. I don't see much upside, nor do I see great value, but I don't see people overpaying massively for some of the more affordable units.
Overall though, if I were to make a real estate investment in Belgrade, Serbia, I would definitely opt for an apartment in the "old" part of Belgrade. I see better value there, though I use the term "value" in a relative way. However, from a lifestyle point of view, the Belgrade Waterfront is very attractive in its own way, which might be great for some people wanting to obtain residency in Serbia through real estate ownership.
Taxes when making a real estate investment in Belgrade, Serbia
Yearly property tax up to the value of 0.4% of the property. Typically the property tax is much higher as a percentage in new buildings than in old buildings.
VAT of 10% is typically payable when you buy an apartment in a new building. Do note that you can gradually recuperate VAT if you rent out the apartment, and buy it using a local Serbian LLC. My Belgrade real estate lawyer Mr. Sekulovic can help with this process.
There is a transfer tax of 2.5% on secondary market real estate in Serbia, to be paid by the buyer. Some minor notary fees are due as well, typically a few hundred euros.
Rental income gets taxed at a flat 20%. You can deduct a flat 25% as expenses from the gross rental income. The net rental income tax is therefore 15%.
A concrete example of a real estate investment in Belgrade, Serbia, with exact rental yield calculation
I wanted to look into historical buildings. My Belgrade realtora Stefan took me to this historical building in Vraćar. So granted, I did write that I don't prefer Vraćar, but the objective here is to do the numbers. Expect similar results in the Old Town and in Upper Dorćol.
This apartment is fully renovated, 115m2, on the first floor (not ground floor), in prime Vračar, in a historical building with high ceilings. We made a video about it together late 2021, but the numbers below are updated for late 2023.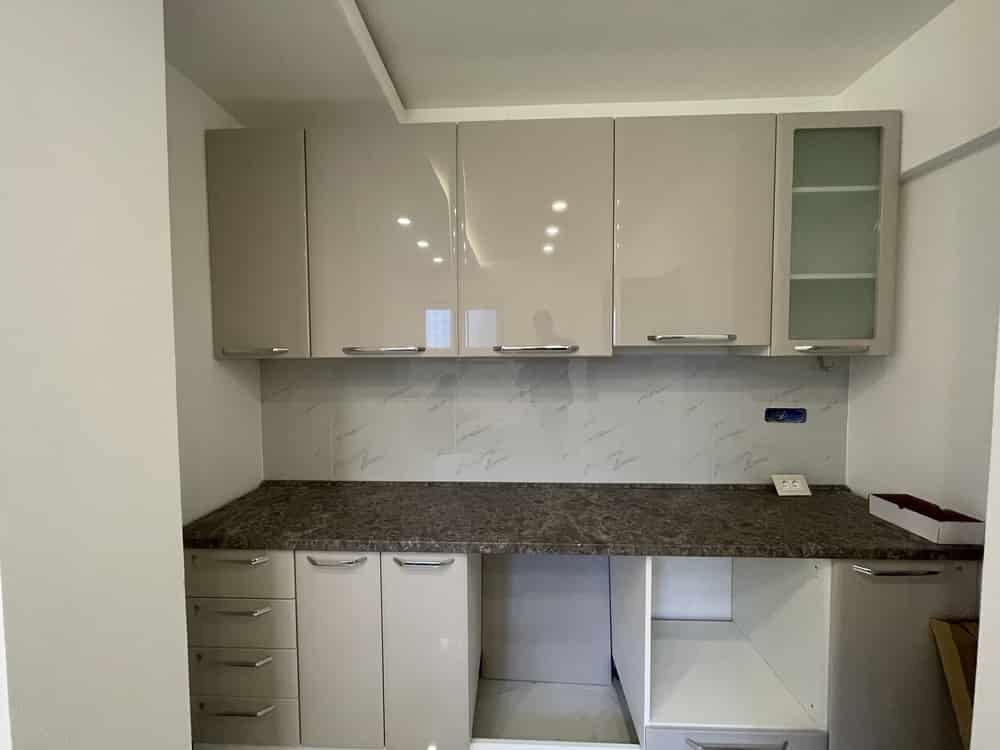 It would be going for €360,000. You can expect €1,400 rental income per month for this apartment, which is about €13 per m2. The average in Belgrade is €12 per m2. Seeing that this unit is in a premium location, in a historical building, and is fully renovated, this makes sense. It balances out the fact that it is larger, which typically implies a smaller monthly per m2 rent.
So the gross rental yield is 4.7%: (€1,400 x 12) / €360,000. This is typical of Belgrade.
Now let's look at the real, net net rental yield:
| | |
| --- | --- |
| Initial price | €360,000 |
| Negotiation 5% off (typical in Belgrade) | – €18,000 |
| Price after negotiation | €342,000 |
| Agency fees (on the secondary market buyers pay 2%, and sellers pay 2%) | €6,840 |
| Stamp duty / Transfer tax (2.5% of €342,000) | €8,550 |
| Lawyer fees (highly recommended) | €750 |
| Notary fees (rough estimate) | €800 |
| Furniture (typically rented out furnished) | €10,000 |
| TOTAL ALL IN COST | €368,940 |
| | |
| Yearly rental income with half a month of vacancy €1,400 x 11.5 | €16,100 |
| Property management (finding tenants + management) roughly 13% | €2,093 |
| Yearly property taxes | €200 (!!!) |
| Maintenance – newly renovated so should be lowish 7% | €1127 |
| Rental income taxes due (20% of €11,500 minus flat deduction of 25%) | €2,415 |
| Net, net income after taxes | €10,265 |
| | |
| Net, net rental yield on this real estate investment in Belgrade, Serbia | 2.8% |
Will I personally rush back to Belgrade to make such a real estate investment? No. But the lifestyle aspect is amazing.
Who is a real estate investment in Belgrade potentially interesting for?
As we can see, it's not particularly attractive for investors looking for yield and/or strong capital appreciation. I see Belgrade as a niche for:
People who want to live in Serbia, and want to obtain residency through real estate ownership in Serbia. In this case you buy your own apartment to live in for parts of the year.
Diaspora Serbs who want to have real estate "back home". Home is home. And if you want to park some money in Serbia ahead of your potential retirement there, then why not? Also, you probably have family and/or friends who can help you manage the property.
People who are residents of Serbia and who don't spend much time in Serbia, which can be an issue when renewing. In such cases, showing that one has multiple properties in Serbia can help with the renewal process by demonstrating stronger links to the country.
High Net Worth Individuals who want Serbia exposure, want prime Belgrade real estate, and see it a a highly diversified way to park money into real assets in a non-Western European country with interesting long term prospects. In three words: Wealthy, patient capital.
Russians.
A few words of caution when buying real estate in Serbia
Make sure to use a good lawyer. Many properties have both visible, and hidden liens on them, as well as mortgages. Also, many properties have not been legalized, which means that you could be making a real estate investment that does not have the proper building and/or usage permits. Finally, some properties did not go through the proper courts during an inheritance process.
I met a lot of real estate agents in Belgrade; Stefan was my favourite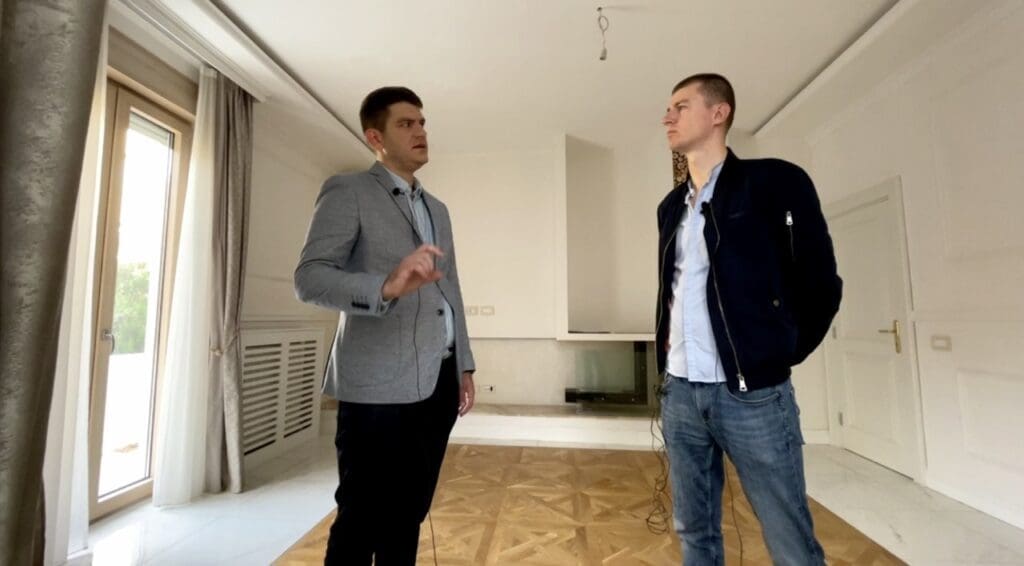 I travel around the world full-time looking at investments, as well as citizenship and residency options. I've met my fair share of real estate agents who talk nonsense. I immediately liked Stefan because he told things as they are, and did not over-promise. After chatting with him, I realized why. His background is in Law. he used to work as a law associate at a large, local law firm so he is precise when he communicates. Feel free to find out more about Belgrade real estate agent Stefan's services. You can also reach him by email: stefan@thewanderinginvestor.com. Make sure to include your Whatsapp number as well.
Conclusion
I personally will not be making a real estate investment in Belgrade, Serbia, but there is definitely a space for some people who have other objectives than mine. Personally I prefer the real estate markets in Montenegro and Budapest.
Services in Serbia:
Articles on Serbia:
If you want to read more such articles on other real estate markets in the world, go to the bottom of my International Real Estate Services page.
Subscribe to the PRIVATE LIST below to not miss out on future investment posts, and follow me on Instagram, Twitter, Linkedin, Youtube, Facebook, Rumble, and Odysee.
My favourite brokerage to invest in international stocks is IB. To find out more about this low-fee option with access to plenty of markets, click here.
If you want to discuss your internationalization and diversification plans, book a consulting session* or send me an email.