We've all heard the mainstream narrative about the world moving towards a green revolution, revolving around renewable energy. This green revolution is meant to be our saving grace to save the planet and ourselves. By extension, traditional fossil fuels such as oil and coal are not only evil, but a terrible investment as they are running towards extinction.

Governments agree by subsidizing the green transition with trillions in support. Many large banks agree by not financing new fossil fuel projects. Activist investors bully large oil majors into moving away from oil, and into renewables. Even central banks like the ECB talk of adding "fighting climate change" as one of their mandates.

Trader Ferg has a large following for his contrarian investing views. I myself got involved in the energy trade earlier this year (see my interview with John Polomny).

Trader Ferg openly talks about investing in Coal and Oil assets. Coal stocks have recently gone absolutely parabolic.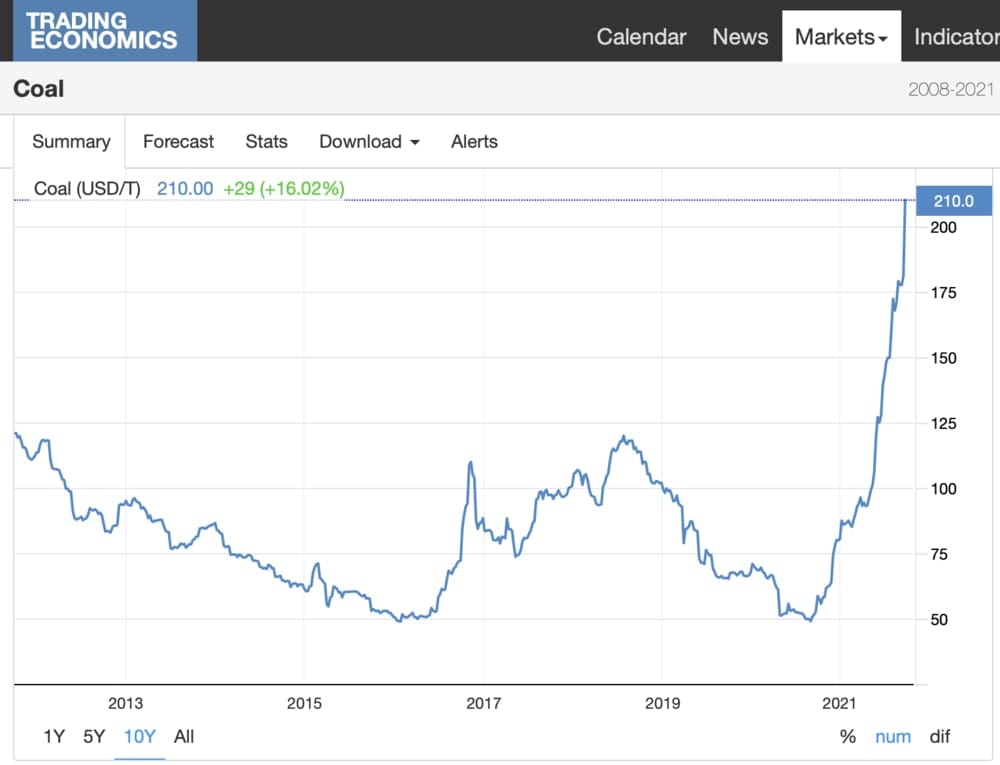 This is just the commodity. Many coal stocks have gone up 4x-5x.
He believes that the oil bull market is just getting started.
In this 35 minute discussion, Trader Ferg elaborates on his anti-ESG thesis, why he invested in coal and oil, how he invested, and he even goes on to mention many of the stocks he has bought for his own portfolio. Obviously, it is not financial or investment advice; he simply shared what he is doing with his own money.
I absolutely loved this interview. I didn't need to ask too many questions because of how in-depth he went. He clearly knows his investment thesis in & out.
You can watch the interview here.
Many of the stocks he invested in are listed in Australia. My favourite broker to access the Sydney stock exchange is IB. You can click here to find out more about this low-cost brokerage.
I recommend you follow Trafer Ferg on Twitter (here).
Also, he recently interviewed me for the private investment research platform he is involved in – Crux Investor.
To a World of Opportunities,
The Wandering Investor
Subscribe to the PRIVATE LIST below to not miss out on future investment posts, and follow me on Instagram, Twitter, Linkedin, Youtube, Facebook, Rumble, and Odysee.
If you want to discuss your internationalization and diversification plans, book a consulting session* or send me an email.
*a consulting session is a discussion about your portfolio and objectives. It does not constitute legal, financial, tax or investment advice.