Video: Playa del Carmen Real Estate Investment market overview & case study
Table of Contents
I've spent the past few months in Mexico and have been looking into the number of Airbnb investments in the Riviera Maya area. In the further text, you can find a case study of Airbnb investment opportunities in Playa del Carmen as well as some other important information about it.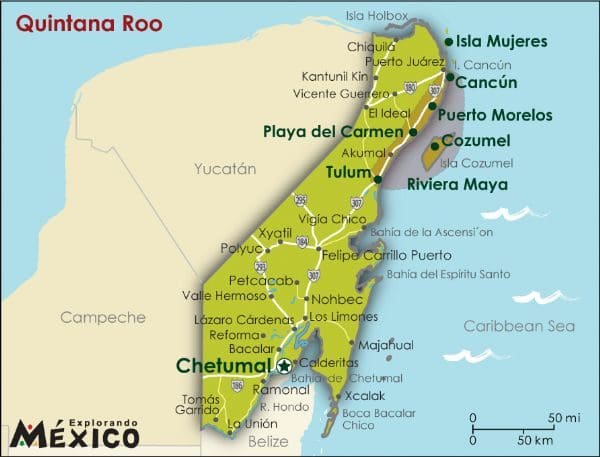 There is a lot to like in this region of Mexico; great weather, amazing Caribbean beaches, Cenotes (picture below), Mayan archeology, activities, restaurants, bars, etc. The list goes on.
Specifically, I've been staying in an Airbnb in the lovely beach town of Playa del Carmen which has been growing massively for the past 20 years, and continues to grow.
But is Playa del Carmen's Airbnb investment a good idea?
In this video, I elaborated on the catalysts for Playa del Carmen going forward and sat down with Luigi to discuss the market in detail and to do a case study of a studio apartment in terms of exact Airbnb numbers. We looked at the monthly turnover, and all costs in detail to get a net ROI for this Playa del Carmen Airbnb investment.
I also wrote a whole article describing all the different neighbourhoods in Playa del Carmen that are interesting to invest in, for both long term rentals and Airbnb.
A Youtube tip
Many people don't know this, but you can accelerate the speed of videos within Youtube to 1.25x or 1.5x. It's quite useful when videos are a little long.
Who is Playa del Carmen real estate right for?
Airbnb investment opportunities in Playa del Carmen are a good option for people looking for a mix of decent yields, low destination risk, a place they can potentially use part of the year, local property management talent, and USD income.
For people who are hoping for quick capital gains, this is not the right destination.
Feel free to get in touch with Luigi
Luigi from Montreal helps investors find investment and Airbnb properties in the Riviera Maya area (Playa del Carmen, Tulum and Cancun). You can find out more about him and his services here.
In the next few weeks content shall be published on Tulum and Cancun real estate.
Stay tuned.
To a World of Opportunities,
The Wandering Investor
Other services in Mexico:
Articles on Mexico:
Subscribe to the PRIVATE LIST below to not miss out on future investment posts, and follow me on Instagram, Twitter, Linkedin, Youtube, Facebook, Rumble, and Odysee.
My favourite brokerage to invest in international stocks is IB. To find out more about this low-fee option with access to plenty of markets, click here.
If you want to discuss your internationalization and diversification plans, book a consulting session* or send me an email.
*a consulting session is a discussion about your portfolio and objectives. It does not constitute legal, financial, tax or investment advice.

Full transcript of "Case study of an Airbnb Investment in Playa del Carmen"
LADISLAS MAURICE: Hello, Ladislas Maurice from thewanderinginvestor.com. So I've been spending a few months in Playa del Carmen here in beautiful Mexico. It's a really cool little town. I like it a lot here. And a lot of people have been asking me about the real estate market here in Playa del Carmen. So what we're going to do here today is we're going to go meet up with Luigi, my buyer's agent here from Canada. And he's going to show us the typical condo investment that people like to make. And we'll run through all of the numbers in detail in terms of gross income, all the fees, all the costs, etc., to come to a net-net rental yield, so a very realistic number. Because there's a lot of I wouldn't call it misinformation online, but a lot of people going around saying you can make a ton of money in Playa del Carmen and Cancun, etc. That the yields are fantastic. So the yields are very decent, we'll see. But we'll look at some very realistic numbers.
Why make a Real Estate Investment in Playa del Carmen
But, first, from a macro point of view, why do I like Playa del Carmen? Well, what we're seeing is, increasingly, people, especially North Americans, want to live overseas, they want to live somewhere a bit cheaper, where things are less political, because that's an ongoing issue, especially in the US and Canada. People are sick of all the politics and they just want to live in peace somewhere else. And Mexico is right nearby. Same time zones, very good amenities, life is generally very affordable. It's not cheap-cheap. It's not a Columbia, but it's definitely a lot more affordable than the US or Canada. And the beaches are wonderful. I mean, just look at this. This is like everyday life here. You know, every day for the past few months, I've just been going to the beach, the water is really warm. It's nice.
And the airport, the Cancun Airport is a one hour away from here. So it's very accessible with tons of flights on a daily basis to everywhere in the US, to Europe. So it's very well connected. And the city itself, Playa del Carmen, is very walkable. So unlike a Cancun, for example, where you generally need a car, here in Playa del Carmen, you don't need a car, you can just walk around. It's a cute little town. It's very walkable. Personally, I rented a car because I got to place a bit farther away, and I like having a car. But it's very possible to live here without ever renting a car.
So this apartment that we are going to see is a five-minute walk away from the beach along Fifth Avenue, which is the main street we're going to go see with all the restaurants, all the shops, all the bars. It's a fun place, especially in the evenings. So the location is amazing. We'll go through all the exact numbers. And one thing I'd like to add about the whole Riviera Maya, is that, sure, you know, there's a lot of tourism from the US, there's a lot of internal tourism as well from national tourism from Mexico. And people tend to forget that Mexico is a massive country of 130 million people. It's a very large economy. There is a lot of money locally. So when you buy an apartment here, you're not just targeting the US and the Canadian market, and, to some extent, the European market, you're also targeting the local market and the local market is large.
Drivers of the Mexican Economy
Long-term, I see, look, when you look at the Mexican economy, taking a step back, it's been pretty sluggish over the years. There is nothing particularly impressive about the Mexican economy, they could have done a lot better. They're always a bit slow with reforms. But at the end of the day, there are a few positive catalysts for the economy. One is the country has a lot of natural resources. And as it would appear that we're entering into a phase of lack of supply of natural resources, Mexico is in a good position to be able to produce more of them. And it's been generally fairly friendly towards mining.
And secondly, with, and this one is really important, and this is something that few people are discussing at this point, is that with the whole re-shoring that's happening in the sense that large Western companies are trying to essentially decouple increasingly from China because of the political risk because of tensions, they're going to have to find new places to manufacture. So a lot of them are going to India, to Vietnam, etc. But you know, a lot are considering coming back to the US or, even better, coming to Mexico, because this place is a, you know, in the north of Mexico essentially the whole place is a large factory. And they benefit from the free trade agreement with the US, with the Canada, labor costs are low.
So, I think we're going to see, in the medium term, a lot more industry moving into Mexico, which is definitely a positive for the Mexican economy and, naturally, for local tourism, okay. So again, but you know, we also have to look at the potential negative issues with tourism, if the economy worldwide enters into a big recession, then obviously people have less money to fly down to Mexico and go on holidays in Playa del Carmen and in Cancun and all that. So got to bear this in mind. But overall, in terms of catalysts, I see digital nomads, people who want to work away from North America, they want to work in a place that's close to home, good weather, affordable, and where it's easy to obtain residency, such as in Mexico, I've done quite a bit of content on this. So that's one aspect.
Also people that want to just live outside of the West, in an environment where they feel it's more peaceful. So they're not necessarily digital nomads, but they could be retired people. So a lot of retired Canadians and Americans are moving to Mexico, because life is more affordable and more pleasant in many regards, and healthcare is actually very good and very affordable. And then, yes, the whole aspect with reshoring for industry, and then natural resources production in Mexico.
Interview with Luigi, my real estate and Airbnb investment advisor in Playa del Carmen and Tulum
LADISLAS MAURICE: So Luigi is originally from Montreal, and you've been living in Mexico for how many years now?
LUIGI: I started living here in 2006, but I left for a couple years. So yeah, about 13, 14 years.
LADISLAS MAURICE: Cool.
LUIGI: Yeah.
LADISLAS MAURICE: Fantastic.
LUIGI: Yeah.
LADISLAS MAURICE: And what I really liked, so I talked to a number of real estate agents here, and what I liked about Luigi's approach is that, similar to mine, he's very investment-focused. So as soon as I started asking about numbers, he was out there calculating, etc., etc., going through the numbers. And this is actually very valuable because here on this channel, we don't focus really on lifestyle properties but on investment properties. So this here is a, we were discussing, is a typical kind of key in hand investment. You buy a condo, it goes on Airbnb, and you don't really think about it too much, right?
LUIGI: That's right.
LADISLAS MAURICE: It's prime.
LUIGI: It's prime, yeah. So there's a couple of ways that you can buy a property here. So you can either get it equipped, which means it comes with just the kitchen equipment, others are furnished, and others are turnkey. And when you can buy a property that's turnkey, literally, you get the key, you put it on Airbnb, you find a property manager, and it's ready to go.
In which neighbourhoods to make an Airbnb investment in Playa del Carmen
LADISLAS MAURICE: So they make it very convenient to invest in real estate here. And before we go into the numbers, I'd like to say a few words about the market here in Playa del Carmen. In many ways, it's a bit like Dubai, where there's a lot of space to build. So it's very important, when you come here, to invest in the core or near core areas, because if you start investing behind the main road, so below, there's an article where I analyzed the whole real estate investment market here in Playa del Carmen, there's a map, where I say, you know, those are the interesting areas, etc.
If you start investing a bit too far away, where you can get some really affordable properties, like really cheap and that look very nice, the problem is, as soon as you buy something, a year later, there's a brand new development that shows up. So you're never going to get interesting rental yields in those areas, and you're probably also not going to get any capital gains because there's always going to be something newer and better that's being built. And literally where we are in this whole region is essentially just jungle, where you can just you cut down the trees, it's endless, and you can just build development after development after development. So investing in Playa del Carmen is really about understanding where exactly to invest.
The dynamics it depends from street to street. So it's not even possible to say, oh, you know, like investing in a European city where you say, oh, in this district, you know, it's all good. Here, you really need to look at every single street and understand is this an investable street? Yes, or no? Has it peaked? Does it have potential, etc.? So it's important to just to have a good realtor with you, who understands the market, or else you'll just buy something off plan, and you'll have a nasty surprise later on. And there can be quite a lot of nasty surprises, like there could be a bar that you don't really see during the day, and then it just shows up at night on weekends and then your guests just can't sleep. So it's very important to understand all of this.
LUIGI: Absolutely. Yeah, you hit the nail on the head. So there are specific– I mean, Playa is not huge, it's not a gigantic city. It has grown quite a bit. When I moved here it was about, you know, 40,000 people living here. Now we've gone up to 220,000 and 230,000. So it's grown. But there are still very specific small little areas where I would focus on in terms of an investment. And then of course, we are a beach town, people want to see the water, they want to be close to the beach. And then Fifth Avenue is our famous street where all the little less shops and restaurants and boutiques, and that's where all the action is. And you can walk kilometers on Fifth Avenue.
So you want to be close to specific areas. And so, definitely, you might see great deals, realtors might want to sell you certain properties at a really good deal. However, you may not get the return that you're looking for.
LADISLAS MAURICE: And every little area has a very precise target market. So here, when you're buying prime, you're buying prime, you're getting the best, but it's possible to also make very decent investments a bit farther away, not past the highway, but a bit farther away, where there you target a bit more longer term digital nomads, etc. So there are many different markets. And each unit, depending on its age and the amenities and its location, targets a different market. So it's not an easy market to understand. So that's very important to know.
LUIGI: Absolutely.
Price of this Airbnb Investment in Playa del Carmen
LADISLAS MAURICE: So let's go into the numbers of this Airbnb investment in Playa del Carmen, because when I first came here and I saw apartments, I was surprised because I thought it's quite expensive on a per square meter basis in terms of dollars. So this apartment off plan would cost how much?
LUIGI: So this particular unit, if you were to purchase it in a presale, which is a great entry because you are getting much cheaper than the end of construction, so this particular unit would be around $150,000. It's 40 square meters. It's a studio, it was designed for exactly that type of market, where those who are not necessarily going to spend a lot of time in this unit, maybe they have a little kitchenette so maybe they want to heat up a breakfast or make a coffee in their unit. But really, they're out all day. So this is this specific design. It's a high turnover, people come in, they're out all day, they use the bathroom, they sleep here, and that's pretty much it. So it's 40 square meters, doesn't have to be too big.
The market has shifted, and I wanted to mention a little bit because after COVID and so on, a lot of people traveling, a lot of people living in Mexico a lot longer than just a week, they're staying two, three months. So some of the studios now, the newer studios, are starting to accommodate a workstation, a co-working in the building, or an area where people can work on their laptops. So the layouts have changed a little bit. So we're moving with the market. So $150,000 gets you a studio in this particular area. And just so you know, we're right off of Fifth Avenue here right now. So we're right in the heart of everything. So everything is close by here.
Digital Nomad trends for Real Estate
LADISLAS MAURICE: So core-core, over three-and-a-half thousand dollars a square meter, not cheap. So I think this is very important when you mentioned about buying units now with a workspace. This is absolutely something that people want. I know in all the apartments that I'm currently buying, renovating, I always make sure there is a separate desk with a comfortable chair and good internet access so that people can work.
LUIGI: Absolutely.
LADISLAS MAURICE: Because it is a trend that I discussed a bit earlier, digital nomads and people moving here for a few months. Yeah, because when I look at the market here, I see, and we were discussing this, two interesting plays. So one is buying really completely off plan, presale, paying cash up front, getting a good discount, and getting these apartments that are designed for people who work remotely. And the other one is buying into the older buildings, like 10, 15 years old, not two years old like this, where the price per square meter is a lot cheaper and you have a lot more space and you, instead of getting a studio, you get a one or two-bedroom apartment. You don't necessarily have the pool, but then you can target a different target market, people who want to stay longer who want the space. So quite different, but then you own a lot of space and square meters, which I find interesting.
LUIGI: Yeah. And–
LADISLAS MAURICE: But this, this right now, like, for example, you're still paying for new but it's designed for pre-COVID and pre remote work, this, for example, I, personally, would not really touch this specific Airbnb investment in Playa del Carmen. That's why, as an investor.
LUIGI: Yeah. So again, it all depends on the visitor. If someone's coming in for a week and they just need a place to stay, this does a good turnover. But we're seeing Playa del Carmen received, and let's just talk about that real quick, Playa had a huge influx of Americans, Canadians, a lot of Canadians, and Europeans arriving during COVID, because it was one of the places where they didn't really see a lot of restrictions and if there were, they were very short-lived. And so people were still living quite comfortably here. And so there was a large influx.
And so because we saw that, then the market and the builders and the designs have to shift to accommodate those co-working spaces and those spaces to be able to work in your own unit. Nobody wants to walk into an apartment and see your laptop on the dining room table, everybody wants to have their own little space to work at. So going back to what we were talking about with the older buildings, I think it's happening all over the world, where the newer buildings are getting smaller and smaller and smaller, the older buildings have a lot more space. And so if you're looking for space, then, yeah, older building, perhaps, is a better investment. The new buildings are designed to really have that turnover and where there are shorter visits, where people may not be too interested in having two or three bedrooms.
So that's why this style unit was very popular pre-COVID. Studios are still extremely popular, but they're being built a little bit bigger to accommodate that workspace so people can stay two or three months.
LADISLAS MAURICE: That's very important. And it is one of the trends. So especially if we're going to enter a world of inflation, and higher energy costs, and higher flight prices, we may potentially see less tourism, but more people moving to other places longer term to live in nicer countries, in nicer settings, where it's still relatively cheaper than staying in Western countries. So in this case, you definitely want your Airbnb investment in Playa del Carmen to be able to target, still, people who just come for a few days, whether there's a workspace or not, they'll still want the place. But then you still have, as a Plan B or potentially as a Plan A, the digital nomad space, so you're able to target two types of people with such apartments.
LUIGI: Absolutely. And you're able to accommodate both. So you're leaving yourself open for both markets, which is really important. And I think that I think we are going to see more and more of that. I think a lot of people and especially in Canada, a lot of people are coming here and spending a lot more time. Typically, we would call them the snowbirds, they would come here for five or six months of the year, now they're staying all year round. For whatever reason, we don't need to discuss that. But they're coming here and they're enjoying themselves and they're staying, and it is cheaper. It is much cheaper. I mean, the gas prices are still cheaper here, cost of living is cheaper here. And the quality of life, you know, we're outside all the time. We have the beach.
LADISLAS MAURICE: It's amazing. It's really cool.
LUIGI: It's really cool also, yeah.
LADISLAS MAURICE: It's really cool.
LUIGI: Yeah.
LADISLAS MAURICE: And there's also increased liquidity. The exit, if you ever want to sell, because then you're not just selling, essentially, this is a hotel room, you'd be selling an actual apartment where people– because a lot of people, it's a request I see increasingly coming through for people who want to buy apartments in Montenegro, or people who want to buy apartments in Medellin and Turkey. Same here, I'm pretty sure the market is people say, "Hey, I want to buy an apartment, I'd like to stay there a few months of the year. And then the rest of the time I want to put it on Airbnb." So this is a very good candidate for such an investment. You're one hour away from Cancun Airport, extremely well connected. You get some very decent rental yields when you're away. When you're here, life is very pleasant.
And, importantly, this is very important, when you make an airbnb investment in such a building here in Playa del Carmen, or just anywhere on this coast, where it's mostly investors who bought, you're not going to be dealing with issues of Airbnb restrictions. Because it's one of the issues when you invest in large cities, increasingly. So in the Western world, that's clear, Airbnb restrictions. So you want to buy something in like Paris and put it on Airbnb, not going to work. If you want to do it in Budapest, you can but your agent needs to go through a very thorough process to enable you to do it. It's possible, but it's cumbersome.
LUIGI: And COVID as well, it's very difficult.
LADISLAS MAURICE: Yeah. In other markets, like Colombia, you need everyone in the building to agree. So that's essentially impossible unless the building was built with that purpose in mind. In that case, you need to rent it out for at least a month at a time. But here, seeing that it's tourist orientated, and that literally everyone is an investor, you won't be facing this issue. So you'll always be able to put your apartment on Airbnb.
LUIGI: Absolutely.
LADISLAS MAURICE: That really reduces the risk in terms of your Airbnb investment in Playa del Carmen. And this is what Mexico offers compared to other Latin American countries. When I look at this, over three and a half thousand dollars a square meter, it's not cheap. I mean, that's like prime Budapest. Do I prefer to own a gorgeous apartment in core Budapest or an apartment here? I mean, it's completely different.
LUIGI: I guess it comes down to your own opinion, you know. I've never been to Budapest, actually, so I have no idea what it's like but–
Limited geopolitical risk in Mexico
LADISLAS MAURICE: But what this place offers is essentially you get low political risk, generally, in Mexico, and it's a market that is very much linked to the US dollar in terms of income. So pretty much, you know, you set your prices in US dollars here, when you put it on Airbnb. You don't put it in pesos, you put it in US dollars because you're targeting mostly a USD market. So from a stability of income, it's there. And political risk, generally, in Mexico is quite low. So it's not like investing in Colombia where the risk is higher but things are a lot cheaper, too. So this is more when you want relatively low political risk. There's a few catalysts, which I discussed on my way here, that are positive for the whole area, and also an easy place to obtain residency where the yields are decent.
And this is very important. When I look at a market like this, yes, it's very much linked to the North American market, but with a lot less leverage. So I don't believe that by, if I were to invest here in Playa del Carmen, I wouldn't expect massive capital gains, because, let's face it, $3,700 a square meter for prime, that's not cheap. So how far can capital gains go? I don't know. But you know, a lot of the upside has already happened, I feel. But I certainly think that there's less downside. So the fact that interest rates are just going up in the US, and Canada, etc., in Western Europe, that is absolutely not a positive for the real estate markets there. But here, the reality is, there's not much that is being bought with leverage and mortgages, it's mostly a cash market.
There is some element of Americans and Canadians who managed to get credit lines back home and that make an Airbnb investment in Playa del Carmen, so there is a bit of a bit of an element of leverage. Mexicans who buy here, typically, because it's not cheap, are Mexicans that have the cash to invest. So it's a market that's very much cash-based. So as interest rates go up in Western countries, and the markets will probably go down price wise, here, the impact will be minimal. So in a world of rising interest rates, counter intuitively, buying in a place like Mexico here on this specific coast, where it's mostly a cash market, you're less likely to see a crash in the market than you are in other countries.
So just as if interest rates were to go down in the US, again, the impact would be lesser on the market here than in the US. But it's also but when it goes down in the US, the leverage to the downside is minimal as well. So in many ways, in a down market, this is a safer place to park your money.
LUIGI: That's a good point. And actually, as realtors down here, this is what we're seeing. So because of the situation, and there's a lot of people who are investing in Mexico and in this area, specifically, a lot of Canadians and Americans, a lot of Europeans, Ukrainians, Russians, and some of those investors saw, a year and a half ago, two years ago, where we were going with interest rates. And so they decided, well, if, interest rates are going to go up here, we can sell a portion of our assets in our country, come here and buy a lot more for their cash. So when you're doing the exchange rates.
So we're seeing a huge influx of investments here in this area, because of the reason, because of higher interest rates in the United States and Canada, people are taking their money out of Canada, United States, and coming here, and investing because the prices, like you're mentioning, are still pretty stable. Per square foot for a brand new unit it might be a little bit more expensive. But you can also get some resells for a little bit, so older buildings that you're saying for a lot cheaper. And then as you were saying, as well, and I completely agree, if the interest rates start to drop in the United States and Canada, then that opens up the door, again, of people taking secured line of credits on their properties in Canada, United States, and coming here and buying again, and buying two or three properties here and putting them on Airbnb and enjoying that rental income.
And so either way, we're in a great situation here, we're not getting impacted. In like Vancouver, for example, it's 20% 23% decrease in property values. Here, we've pretty much stayed stable. And so it's a great market. What can I say? Yeah.
LADISLAS MAURICE: There's real value in having the ability to invest in a market that is neutral, geopolitically speaking. So with the whole mess between West and East, I see, increasingly, people are worried. So you had Westerners that wanted to invest in the East because they prefer the fundamentals there like I did. I got caught up in Russian stocks. But guess what, it blew up in my face because of essentially Western sanctions. So now, do I necessarily want to invest in Western real estate with interest rates going up? No. Can I invest in the East? No, I reduced my Hong Kong brokerage account by 98% because I'm worried about things taking a bad turn there and again, getting caught up in sanctions.
So if you want to stay away from all of this, you have to invest in neutral countries. And Mexico traditionally is neutral. So it's got the benefit of having free trade agreements, and being close to the US, and benefiting from this relationship, and having mostly USD income when you invest here. But it's also neutral. So if Russians want to invest here, they can still invest here. If Chinese want to invest here, all good. Westerners, everyone is welcome here. And this is a very positive point. I mean, for the next few years, generally speaking, for Latin America, if the world continues to have all of these tensions, it's a good safe haven. Latin America has its own issues. It's another debate. But when the world is burning, generally, Latin America is not a bad place for your capital.
LUIGI: Yeah. And Mexico being part of North America, we're very close in terms of if we go into services and things that one would expect, the comforts of living in Vancouver, the comforts of living in Toronto, the comforts of living in New York, and in some of those, California, Florida. Florida is only an hour away. So we have a lot of the services here that you would come to get used to in your country. So you will feel very comfortable living here. But one of the things I want to say is not only Mexico is neutral, Mexico is a very foreign friendly place. They want foreign capital. Their borders are open through the entire COVID situation. So they're welcoming foreign capital. They've made it much more of a simple process for us to get residency, for foreigners to get residency. They've really stepped up their infrastructure here.
Things have changed. It's not like what it was when I moved here in 2005, 2006, where you couldn't even get Wi-Fi for months you'd have to wait. So things are very different. It's very friendly here. They encourage foreign capital. The process of buying property here for foreigners, which is a big question we always get, is quite simple. It's very simple, very stable, easy process, it happens hundreds of times a month. So, as a foreigner coming here, it is very safe. It is a very safe investment, for sure.
LADISLAS MAURICE: Cool. So numbers, so 150 off plan closing costs about 6%.
LUIGI: Yes.
Using a bank trust to make a real estate investment on the Mexican coast
LADISLAS MAURICE: Also, when you're a foreigner and you want to invest on the Mexican coast, I think it's within 50 kilometers of the water, correct?
LUIGI: Yeah. So there used to be restricted zones, the government change that. They were in place, they restricted them from the border and from the coast. They didn't want invasion, they didn't want foreigners to own all the prime land. They changed that. So now a foreigner can own in Mexico. However, they can own it through a bank trust, and we talked about that. So the bank trust is set up, the title sits in the bank trust. You have all the rights to the trust. You can transfer the trust to another foreigner, to another buyer, in essence. You, through letters of wishes, you direct the trust, you have beneficiaries of the trust, should there be death. So it's very simple, it's very safe.
The cost of having a bank trust here is $2,600. It's a one-time cost. And then there's an annual cost of $600 a year, which is $50 a month. And then the closing costs. So on $150,000 property, you're paying between five to seven, let's say, six in the middle. So on this property was $9,000 closing costs, and that's through the notary. So the notary public here is the highest level of law. The notary stamp on all legal documents is what you're looking for here. That's what protects you. And so the notary charges about 6%. So on this particular it was 9,000. So you're looking at, was at one-sixty one five total to get into this property.
LADISLAS MAURICE: Cool, perfect.
LUIGI: All costs, yeah.
Monthly revenues of an Airbnb investment in Playa del Carmen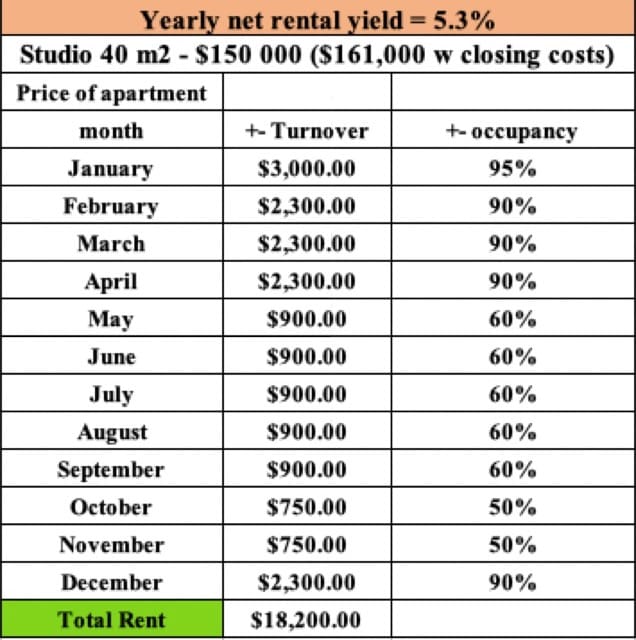 LADISLAS MAURICE: Now, let's go into the monthly estimates of this specific Airbnb investment in Playa del Carmen. Because what we did is we had the estimates for a few months of the year for this apartment. So we looked into all of the numbers in detail. And essentially, we looked, so gross income, it's about $3,000, in January, about $2,300 from February to April, then May to September, it's lower season, about $900 per month. October, November, $750. And then December, $2,300. And in terms of the occupancy rates, they're very high in the first four months of the year, then from May 1 to end of November, early December, about 60%. And then from December onwards, it's really good.
LUIGI: Really good, yeah.
LADISLAS MAURICE: So there's a lot of seasonality.
LUIGI: Well, to talk about seasonality, when I first moved here, it was very clear like black and white. So December 15 to January 8, approximately, that's where the Christmas and New Year's season. That's where we call peak season, that's where you're walking down Fifth Avenue and there's not a lot of room to walk. Everybody's here, great time. And that's peak-peak, and that's when, typically, you're paying almost double for a night. After January 8 till about the end of April, then you're what we call high season. Beginning of May, we used to see a complete die off and there was hardly anybody here. And then, again, July, August, Mexican holidays, Europeans are traveling, you would see a spike. And then September, October, November, it was pretty quiet.
Because we're seeing people are visiting all year round now, and there's flights coming in. And let's talk about flights, there's a lot of there are new direct flights direct to Cancun. It's unbelievable. We could talk about that after, the amount of people that arrived at the airport in Cancun just in the last eight, nine months. So, now we're seeing people here all year round. And because they're here all year round, friends are coming to visit, people are coming to visit, the word is getting out. So we're seeing less of a drop-off in May, and less of a drop-off in September, October, but we still definitely see there is a season.
So you could say like this unit, for example, January, February, March, April, you're looking at 90% occupancy, even a little higher. And then it could drop to, like you were saying, maybe 70%, 80%, 60%, it fluctuates. But definitely, September, October, November is our slowest season. So yeah, you're maybe looking at a 50% occupancy there.
LADISLAS MAURICE: Cool.
LUIGI: Yeah.
Costs of owning an Airbnb investment in Playa del Carmen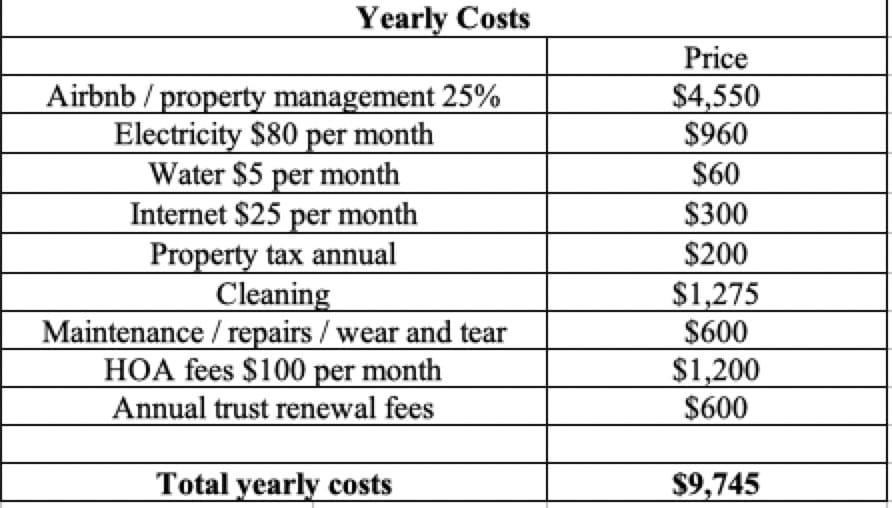 LADISLAS MAURICE: So in terms of Airbnb management fee, we're discussing agencies typically charge 25%, right?
LUIGI: 25% of the rental revenue.
LADISLAS MAURICE: Okay, so essentially $18,000 a year of gross revenue minus 25%. Other fees, so common charges are how much HOA here?
LUIGI: So the maintenance fees for the building here are typically across the board in Playa del Carmen is $2.5 a square meter. It, sometimes, go up to $2.8, maybe a little higher, depending on the size of the pools, the amenities, and so on. So this particular unit is 40 square meters, you're looking at $100 a month.
LADISLAS MAURICE: Electricity and water, how much per month?
LUIGI: Water is extremely cheap here, looking at about $5 a month. But electricity, that's a funny one. It depends on your guests for the month. People on vacation, they tend to forget, they walk away, they leave their conditioning on. But if you control it and you have signs on the door saying Please Turn Off the Air Conditioning, people are pretty respectful. So you're looking at anywhere between about $50 to $60, maybe up to $85 a month in electricity.
LADISLAS MAURICE: Okay.
LUIGI: Yeah.
LADISLAS MAURICE: Property tax?
LUIGI: It's a joke. Don't laugh. For all you who live in Vancouver, Toronto, New York, and those kinds of California, where it's $4,000 or $5,000 a year or more, here, it's about 4,000 pesos. So that's about $200 a year in property tax. (laughs)
LADISLAS MAURICE: Cool, perfect. That's a nice line item.
LUIGI: That's a dinner out in most countries, or cities.
LADISLAS MAURICE: Then we have the trust fees on a yearly basis that you mentioned, $600.
LUIGI: Yeah, $650 a month, yeah.
LADISLAS MAURICE: Internet is about $25 a month, roughly?
LUIGI: $25. If you want to get really, really high speeds, so if you're looking at digital nomads that need the really high speed, like podcasts, people recording videos, and so on, you might want to go to maybe 600 pesos, so maybe $30, or even $40 a month for the highest, highest speed here. Yeah.
LADISLAS MAURICE: Okay, cool. Then there's approximately $600 allowance just for maintenance in case like little things break, we can put that in the numbers. It's all here on the chart. And also cleaning fees.
LUIGI: Right. So depending on how many checkouts. So if you're getting guests that are staying a week, and you're booked all month, you're doing four cleanings a month. So four checkouts. If you're getting the two, three nights, two, three nights, two, three nights, you might have a higher cleaning, but you're looking at about $35 to $40 cleaning. So a year, you're looking at maybe about, at these occupancy rates, maybe we did the numbers about 1,200 to 1,300 a year in cleaning. Yeah.
LADISLAS MAURICE: Perfect. So essentially, when we take the gross revenue, remove all of the costs, and, again, we're being very conservative here with all of the numbers, we arrive at a net rental yield of about 5.3% per year.
LUIGI: Right.
LADISLAS MAURICE: I think this was just an example of a just vanilla investment in Playa del Carmen, and the actual numbers, because I see a lot of people saying, oh, you can make like 10% a year in Playa del Carmen, etc. Look, the reality is 10% net a year in Playa del Carmen is a bit of a stretch. So this is more of a realistic number. But can you do better? Yes. We were talking offline, there are whole buildings that are for sale. So for people that have a bigger budget, being able to buy an entire building that you control from A to Z and you can optimize everything, you can definitely get much higher yields by doing this. But that's for the larger budgets. You can also help people who want to want to do this. So–
LUIGI: Let me just interject. There are fewer units right on the beach, obviously, I mean beachfront property is limited, and then even the second row behind the beach. If you get into those types of units and you manage them properly, then your yield will definitely go up. And so the question is, what type of property and what location you're going to invest in. And that's what we do here. So that's where we help you find the best one for those investors that are looking for good ROI.
LADISLAS MAURICE: Cool. So for people who want to take money out of the Western world, who want to invest in a more neutral country but still get USD income, this is a very interesting option. For digital nomads, this is a very interesting investment in the sense that, from December till the end of April, you just milk it on Airbnb, and then you still have the apartment available the rest of the year for your own use. You can essentially live for free in a gorgeous area, good internet, good restaurants, nice beach, fun night life, and still get to milk it for a few months of the year, and get a decent ROI.
LUIGI: And one thing I wanted to mention, too, is the Cancun Airport from January to August this year had over 20 million passengers. That's insane. So in terms of tourism and just the general flow of the quantity of people coming to this area is just going to continue to grow. And so having money in this area, if you're looking to move money out of your current country, whether it be Canada, the United States, or anywhere in Europe, is definitely a great option.
Another thing I wanted to mention is different real estate markets around the world, obviously, prices vary. If I were to go buy the majority of the real estate in Canada, it's very difficult to find a small home in, let's say, Vancouver for less than a million dollars. So those who have that type of equity, or even if they have a mortgage and they were to sell and close out their mortgage and come here, typically, would have the type of income or the type of capital that where they'd be able to buy, at these prices, two units.
LADISLAS MAURICE: Yeah.
LUIGI: And so if you're in that situation, which we're seeing quite a few, so particularly in presales, investors will come and they'll buy two or three in a presale, you can get a better discount by buying two or three, with the builder, to get a discount. So they're able to still enjoy one of the properties, and then be here all year round and not lose any revenue because they have one or two more properties generating an income. So they can live a pretty good lifestyle here living in one unit and still have one or two units on the market. And you can do that if you are liquidating in some of those real estate markets like Vancouver, Toronto, or California, or any of those markets. So yeah, it's amazing. I actually love this market here. So yeah.
LADISLAS MAURICE: Fantastic. So if you're interested in finding out more about the Playa del Carmen real estate investment market, there's a whole article below where I analyzed all the neighborhoods and the like. And if you're interested in investing here, do get in touch with Luigi. There's his email and there is a link below with more information on his services. So Luigi, thank you very much for your time today. I really appreciate it.
LUIGI: It's a pleasure. Thanks, everyone. I appreciate it.