Anyone interested both in macroeconomics and real estate will inevitably consider an investment in Tirana, Albania as it is one of the cheapest capital cities in Europe. At first glance it looks like a great deep value play. But it is really?
Last year I wrote about real estate in Skhoder, a historical Albanian town near Montenegro, but this year I wanted to explore Tirana, the capital city.
Getting there wasn't easy
I decided to venture to Tirana a few weeks ago to visit a friend as I was already in Montenegro, where I am usually based during the summer. With bus connections between Montenegro and Albania not functioning due to Covid, and one-way international car rentals being complicated in the Balkans, I had no choice but to find creative alternatives for transport.
In case you're wondering, I was picked up within five minutes and fed throughout the trip. Lovely people.
A bit of background on Albania
If you read the Wikipedia page on Albania, you'll be left with the impression that the long communist period starting in WW2 until its demise in 1989 fostered great development and a solid economy.
In the aftermath of World War II and the defeat of Nazi Germany, the country became initially a satellite state of the Soviet Union, and Enver Hoxha emerged as the leader of the newly established People's Republic of Albania. Soviet-Albanian relations began to deteriorate after Stalin's death in 1953. At this point, the country started to develop foreign relations with other communist countries, among others with the People's Republic of China.

During this period, the country experienced an increasing industrialisation and urbanization, a rapid collectivisation and economic growth which led to a higher standard of living. The government called for the development of infrastructure and most notably the introduction of a railway system that completely revamped transportation.

The new land reform laws were passed granting ownership of the land to the workers and peasants who tilled it. Agriculture became cooperative, and production increased significantly, leading to the country becoming agriculturally self-sufficient. In the field of education, illiteracy was eliminated among the country's adult population. The government also oversaw the emancipation of women and the expansion of healthcare and education throughout the country.

The average annual increase in the country's national income was 29% and 56% higher than the world and European average, respectively. The nation incurred large debts initially with Yugoslavia until 1948, then the Soviet Union until 1961 and China from the middle of the 1950s. The constitution of the communist regime did not allow taxes on individuals, instead, taxes were imposed on cooperatives and other organizations, with much the same effect.

https://en.wikipedia.org/wiki/Albania
Even though it goes on to mention violent religious persecution, Wikipedia is essentially saying that communism in Albania was an economic success. In reality, the whole economy was centrally planned and Albania was one of the most isolated nations in the world.
Interesting fact: People were NOT allowed to own cars under communism. Car ownership was restricted to a few party bigwigs, resulting in Tirana only having a few dozen cars rolling the streets.
Communism was such a tremendous catalyst for human and economic development that 20% of the Albanian population emigrated within the first 10 years of its demise (1990-2020). Essentially, as soon as people could leave without being tortured if caught, they were out.
When you take into account people who wouldn't leave, like government workers (useless everywhere) or old people (can't go anywhere), it was a massive exodus of the working age population.
Wikipedia is not gospel. Always fact-check what you read there.
Bad demographics
We established that people are leaving the country. Even more tragic is that there are less and less people in Albania to begin with.
Essentially, Albania is a dying country.
Albania Population
source: tradingeconomics.com
This has to be balanced with that fact that the population in Tirana has been growing due to urbanization. The city is now home to approximately 800,000 of Albania's 2.8 million people.
However, the overall demographic decline is such that in the near future one can expect the population of Tirana to plateau and go downhill from there. Albania's population is expected to shrink by 52% by 2100 according to The Lancet.
This is hardly bullish for a real estate investment in Tirana, Albania.
The Albanian Economy
Albania is near the bottom of all economic rankings in Europe. In terms of GDP per capita (PPP), it is the 4th poorest country in Europe after Ukraine, Moldova, and the territory of Kosovo. At $14,000 GDP per capita (PPP), Albania is comparable to Iran, Peru and Botswana.
This ranking is in spite of relatively solid growth over the past 10 years.
Albania GDP Annual Growth Rate
source: tradingeconomics.com
The government has been continuously spending more than it has been earning, but has improved over the past 2-3 years.
Albania Government Budget
source: tradingeconomics.com
Unsurprisingly, government debt to GDP ratio has been yo-yoing in the past decade. You might think that the improvement of the past few years is due to the government's ability to manage the budget.
Albania Government Debt to GDP
source: tradingeconomics.com
However, the improvement was bigger than the gap between GDP growth and government deficit. The big change was due to the Albanian Lek strengthening, which lowered the debt ratio.
The improvement was mainly due to the local currency strengthening versus the euro. People often interpret this as a positive development. But the reality is that it exposes that a large portion of Albania's government debt is foreign denominated. Approximately half of Albanian government debt is euro denominated, which leaves the country vulnerable to external shocks.
Finally, Albania's biggest trading partner by far is Italy, a very troubled Southern European country. Italy is an external shock in waiting.
However, most official figures in Albania are dead wrong
Typically, I would do an analysis of the current account deficit, the balance of trade and capital flows in general. However, the numbers are notoriously unreliable for Albania. Even the GDP figures are probably wrong.
Why? Because this small Balkan country of nearly 3 million people is the heart of the narcotics trade in Europe. It is estimated that the drug trade would add another 50% to GDP figures. This drug trade is centered around three "pillars":
Locally grown marijuana – Albania is Europe's top Cannabis producer.
The transit of heroin from Central Asia to Europe.
The transit of cocaine from South America to Europe.
If anything, this is a big plus for the economy. Notwithstanding the moral aspect, the production and the transit of narcotics are very healthy for an economy. They are high margin businesses, which usually employ a lot of young people, do not involve inefficient government, bring foreign exchange, and require many of the proceeds to be reinvested locally.
Government's most useful features are to protect the external borders, sign free trade agreements, and ensure a free market economy internally through strong antitrust measures. In Albania's case though, the government is so weak and corrupt that there is a monopoly in the drug trade, meaning less competition and more internal problems.
Instead of being a legal business, monopoly mafias run the show, reducing the amount of foreign direct investment. There is no McDonalds in Albania, which is odd for a country in Europe. Typically, if McDonalds does not enter such a market it is because of corruption issues.
Also, because that industry is not legalized, it impacts the banking sector. Albania is in the High Risk Jurisdiction list by the FATF. This makes international banking in Albania a lot more bureaucratic and complicated.
As for the consumption of narcotics, this problem mostly gets exported.
The drug trade also promotes construction, as real estate is one of the easiest ways to launder money. This phenomenon partially explains all the real estate investment and construction in Tirana, Albania.
After the drug trade, migrant labor is the biggest export
According to the World Bank, remittances represent almost 10% of Albania's GDP. So in spite of tourism having boomed over the past years, thanks to Albania's stunning Adriatic coastline, remittances are a much larger share of the economy than tourism's 6%.
A large diaspora and remittances mean a lot of investment into real estate.
The real estate investment market in Tirana, Albania
When I arrive in a European city to analyze real estate, I typically like to check out the "historical" center to use as a benchmark. However in Tirana's case, there is no real area with residential buildings of historical importance (from a financial point of view). There aren't really any old buildings with notable historical architecture.
So what you find is mostly a mixture of low quality communist buildings, and post communist buildings of various quality standards.
Prices per square meter range from €500 to €2500 depending on the area and buildings.
It is clear that Tirana is experiencing a construction boom, with large buildings mushrooming everywhere.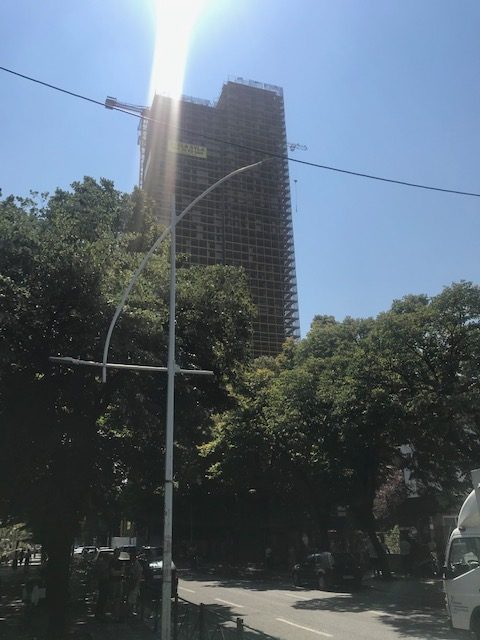 My first surprise was experiencing how slow and apathetic most real estate agents were. I visited a few real estate agencies, yet nobody was able to organize a viewing. The agents wouldn't even propose other apartments; they would just vanish.
I haven't experienced this anywhere before. Typically, agents are on my case hoping for a sale.
I finally found a proactive agent who showed me a few apartments. I wanted to see a middle class apartment targeting the local market, and the "best of the best".
The first one is located a 20-25 minute drive from the center, in a middle-class area between the Botanical Gardens and an artificial lake. It's a nice area with quality real estate being built, which will increase the desirability of the area over time.
The apartment itself is 105m2 on the first floor, and has an underground parking space. This is key, as both traffic and parking are troublesome in Tirana. It's available for €85,000 which is €810 per m2.
Overall, it's great value for an apartment in a reasonably good neighborhood, not too far from the center of a European capital city.
If you negotiate the price down to €80,000, and add €12,000 for closing costs, a bathroom renovation and furniture, you end up with a total cost of €92,000
You can expect to receive €400 per month. It must be noted that liquidity, both for sales and rentals, is low.
+ 1 year rental based on
€400 per month
+ €4,800
– 15% vacancy
– €720
– Management fees &
finders fees 15%
– €720
– Maintenance & various
(property tax, etc) 12%
– €572
– Income tax 15%
– €502
Net, net income
+ €2,370
Yield on total purchase
price of €92,000
2.6%
These are hardly inspiring numbers. It's possible to find better deals if you look hard enough, but given the low liquidity in the rental market, notwithstanding all the upcoming inventory, yields are unlikely to increase much. So while it's cheap, you end up with a relatively low-quality building in an okay neighborhood, producing very low yields. It's not a compelling investment.
I also wanted to see the best of the best and so was taken to a new building, right in the center, with a view of the whole city and of a nice downtown park. I specifically asked to see the penthouse on the top floor. This apartment is 193m2, going for €2500 per m2.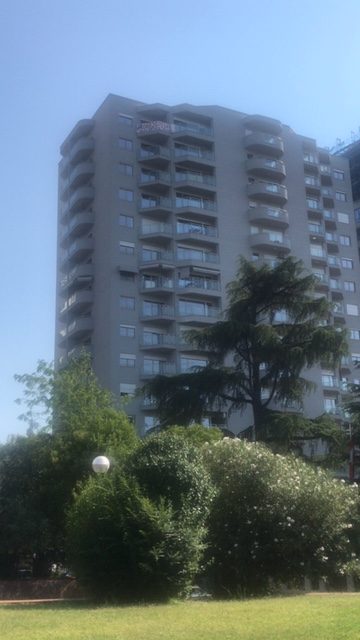 I was expecting the apartment to be finished, but it's on the purchaser to put the tiles, kitchen, bathroom, and pretty much everything. So yes, you get the best views in Tirana, but they come at a steep price. Add another €200 per m2 for closing costs, finishings, furniture, and the like. You easily get to €2,700 per m2 for this large 3 bedroom apartment.
For this price, you get the best in Tirana with a unique view that will never be obstructed.
In terms of rental revenue, you could expect €1300 a month, but again, liquidity is low. Needless, to say, the returns are pitiful. Your objective in buying this apartment is either lifestyle, or just buying AAA real estate in an emerging European country, hoping it is a good store of value, and maybe a source of capital gains in the future.
An important factor to take into account is that Albanians count the m2 differently than in most countries. They seem to take into account the whole surface (without excluding walls), and even a portion of the common area on the floor. So each apartment gets allocated a certain percentage of the corridor and space in front of the elevators, which effectively raises the "true" m2 price.
I don't see any immediate catalysts for an upwards re-rating of property prices in Tirana.
Also, don't forget the currency risk.
If you're seeking a real estate agent in Tirana to help you out with sales or rentals, Marjola was very helpful and stood way above the crowd of uninspired agents I encountered. You can send her an email (marjolarakipllari@realestategroup.al) or a WhatsApp (+355 68 203 9994).
Taxes on Real Estate in Tirana, Albania
It is noteworthy that Deloitte's tax summary on Albania is much, much longer than those on other countries. Apart from Albania's simple 15% capital gains and income tax rates, everything tax related is complicated. Albania hasn't gone through reforms unlike its neighbors North Macedonia and Montenegro.
Is an investment in Tirana Real estate, Albania, worth it?
No.
There are too many negative considerations:
Too much cash being laundered through construction and real estate, resulting in constant oversupply.
A large diaspora investing in real estate "back home", driving up the supply of rental properties.
Not enough potential tenants.
No short-term catalysts for any improvements.
Essentially, you'd buy an asset with little chance of short to medium appreciation, with very low yields, in an unreformed economy where managing a property from afar would be complicated.
Sure, real estate in Tirana, Albania, is good value, but for now it's more of a value trap.
A few interesting points to know about Tirana and Albania, beyond a real estate investment
There are rumors that Albania might launch a citizenship-by-investment programme, which sounds very interesting. It's not a bad passport.
Non-residents can open bank accounts in Albania by simply showing up at a bank, and can even get access to credit cards if they block some money. The service won't be amazing, and expect some complications with international transfers as Albania is on the High Risk Jurisdiction list of the FATF. It's a low-cost option nevertheless for nomads who struggle to obtain credit cards.
Food in Albania is THE BEST in the Balkans. Many Albanians went to work in kitchens in Italy and Greece, thus coming back with amazing culinary skills. Restaurants are also dirt cheap. I had a true feast in Tirana.
Americans have the right to stay in Albania for 12 months – there is a special visa regime for them. It can be a perfect base for Americans wanting to live in Europe full time. Tirana airport has many low-cost flights to cities all over in Europe.
I see the coast has some of the cheapest beachfront real estate in Europe. It sounds intriguing and promising. I'll probably go investigate at some point, but not this year.
At this point, I think the northern neighbour Montenegro has more potential. I wrote a whole article on the real estate investment market in Montenegro as well.
And now, it's onto North Macedonia to check out the local real estate market.
Other articles on Albania:
If you want to read more such articles on other countries, go to the bottom of my International Real Estate Services page.
Subscribe to the PRIVATE LIST below to not miss out on future investment posts, and follow me on Instagram, Twitter, Linkedin, Youtube, Facebook, Rumble, and Odysee.
My favourite brokerage to invest in international stocks is IB. To find out more about this low-fee option with access to plenty of markets, click here.
If you want to discuss your internationalization and diversification plans, book a consulting session or send me an email.
*a consulting session is a discussion about your portfolio and objectives. It does not constitute legal, financial, tax or investment advice.